Tom Hunting Says Glenn Tipton's Health Struggle Inspired Him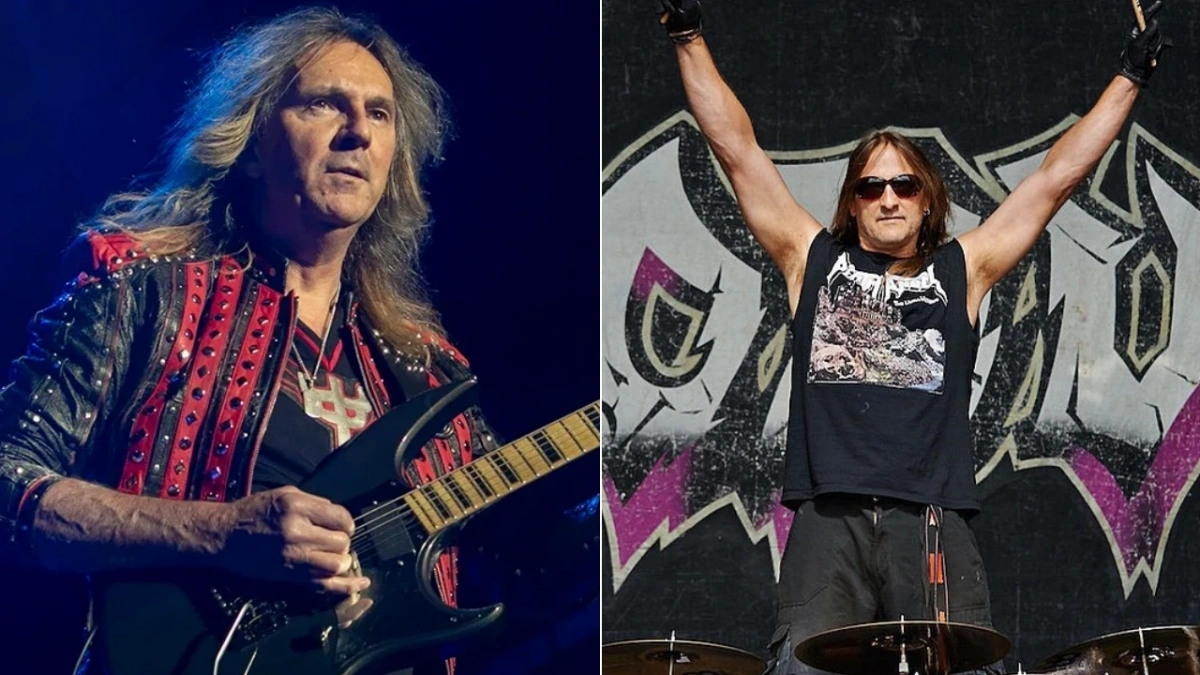 Exodus drummer Tom Hunting has opened up about his fight against stomach cancer. The drummer said that Judas Priest's Glenn Tipton's health struggle inspired him during that period.
You May Also Like: Exodus' Tom Hunting Recalls Cancer Treatment: "I'm A Lot More Lucky Than A Brave"
In April 2021, Tom Hunting announced that he was diagnosed with stomach cancer in that year's February. He started treatments immediately to get his healthy days back. After five months of treatment, Exodus leader Gary Holt gave the rock and roll community the good news, announcing Tom Hunting had removed all cancer and mesothelioma nodules.
However, in February 2018, Glenn Tipton was diagnosed with Parkinson's disease, which left him unable to play more shows with Judas Priest. During his recovery process, Tipton was the person that Tom Hunting followed to get into health. During his recent appearance on Backstage TV, the drummer first revealed his love for Priest and then respected Glenn Tipton.
"An incredible body of work," he described Judas Priest. "A to Z, everything's amazing. A lot of things come to mind."
As for his passion for Glenn Tipton, the drummer said: "I think about what Glenn's going through, and I think about how they talk about that and how they treat Glenn. It's very human shit that we're all gonna go through. I have my own battle. Glenn's having his battle. But they don't freak out about it; they just kind of deal with it. And he deals with it. It's inspiring."
He then also detailed his struggle against cancer. Hailing science, the 57-year-old drummer stated that he was lucky.
"I got diagnosed with cancer in February of 2021," he says. "They found a tumor in my stomach, and they immediately went to work on it. And I got great doctors at UCSF in San Francisco, and they removed my stomach and, yeah, they got it all out of there. So, I'm lucky. Science is amazing."
Elsewhere in the interview, the drummer talked about whether practicing was important to keep his breath in shape. Defending the fact that keep playing something sticks you to get better, Hunting revealed his practicing rituals.
"Practicing is important," he reveals. "I think the only way to do it is to keep doing it. So, when I'm home – I live in the high mountains in the Northern California. [That means] super high altitude, so, when I play and work out at high altitude, when I go to the lower elevation, that's much better."
Tom Hunting Respects Science
Months after he beat cancer, in February 2022, Hunting shared a few words to thank people. At the time, he once again hailed science, adding that not having to undergo chemotherapy anymore felt him great.
"I'm so grateful to the metal community," Hunting said. "It's a powerful force to have those vibrations behind you."
"Thanks to science, the medical science, they can't find any cancer in me right now. So that's awesome. They did surgery [last] July the 12th, and I'm adjusting to a new lifestyle — a different type of relationship with food. But life is good. I don't have to get any more chemotherapy 'cause they got it all. So that's an awesome thing."
"I don't even know how to thank everybody. There's no words to say how important [everybody's support] is. Fortunately, though, I get to live and say thanks to everybody."