Exodus's Tom Hunting On Current Health: "I Don't Have To Get Any More Chemotherapy"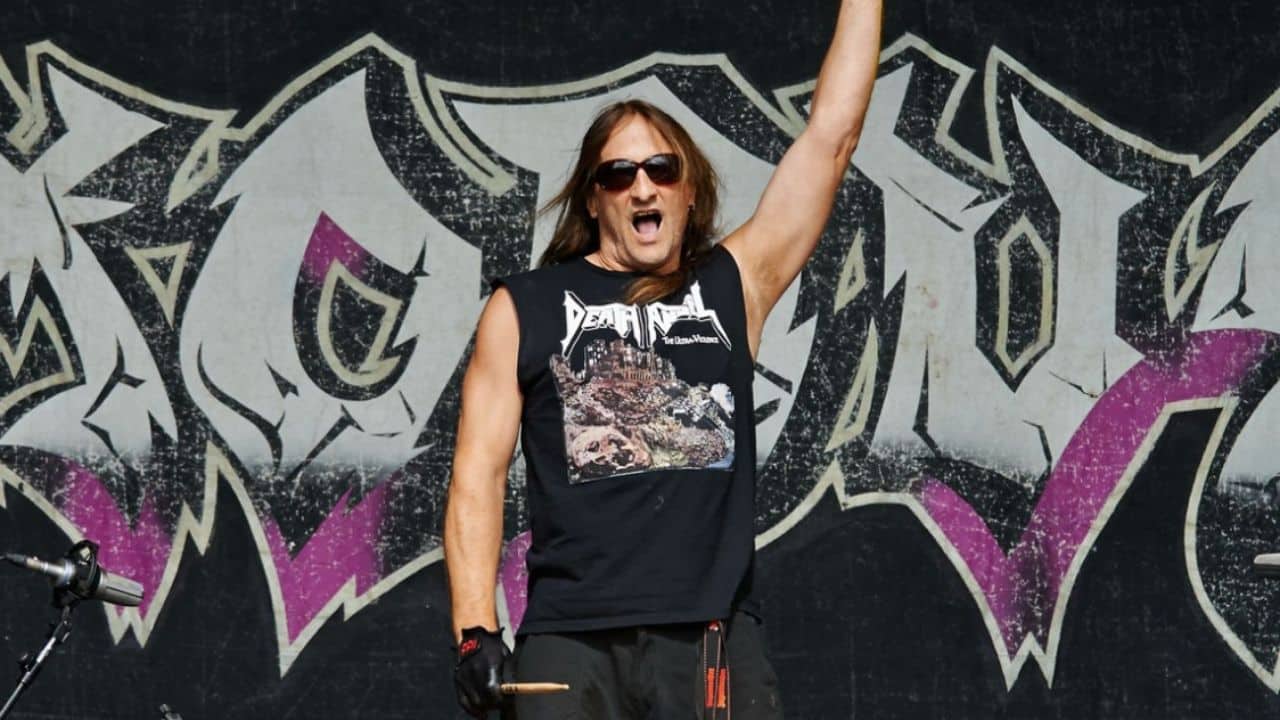 Exodus drummer Tom Hunting, who has been battling with Squamous Cell Carcinoma (SCC) of the stomach, talked about his treatment process and his gratitude to the metal community in a recent interview with iRock.cl's Pamela Calderón.
Born in 1965 in America, the legendary drummer Tom Hunting is the last remaining original member of Exodus. Tom, who had to leave the band twice due to serious health issues, took part in eight albums with the band.
Tom Hunting, who was diagnosed with cancer in February last year, managed to beat cancer with a difficult but fast process within months. In his past interviews, Tom thanked the healthcare workers frequently, saying, "I'm a lot more lucky than a brave."
Tom Hunting Says 'I Don't Even Know How to Thank Everybody'
However, Tom Hunting, who was the guest of iRock.cl recently, said that he is no longer a cancer patient and is slowly regaining his full health. The legendary drummer who beat cancer did not forget to convey his gratitude to the health workers and metal community.
"I'm so grateful to the metal community," he said. "It's a powerful force to have those vibrations behind you."
"Thanks to science, the medical science, they can't find any cancer in me right now. So that's awesome. They did surgery [last] July the 12th, and I'm adjusting to a new lifestyle — a different type of relationship with food. But life is good. I don't have to get any more chemotherapy 'cause they got it all. So that's an awesome thing."
"I don't even know how to thank everybody. There's no words to say how important [everybody's support] is. Fortunately, though, I get to live and say thanks to everybody."
Gary Holt Was Announced Tom Hunting's Beat Cancer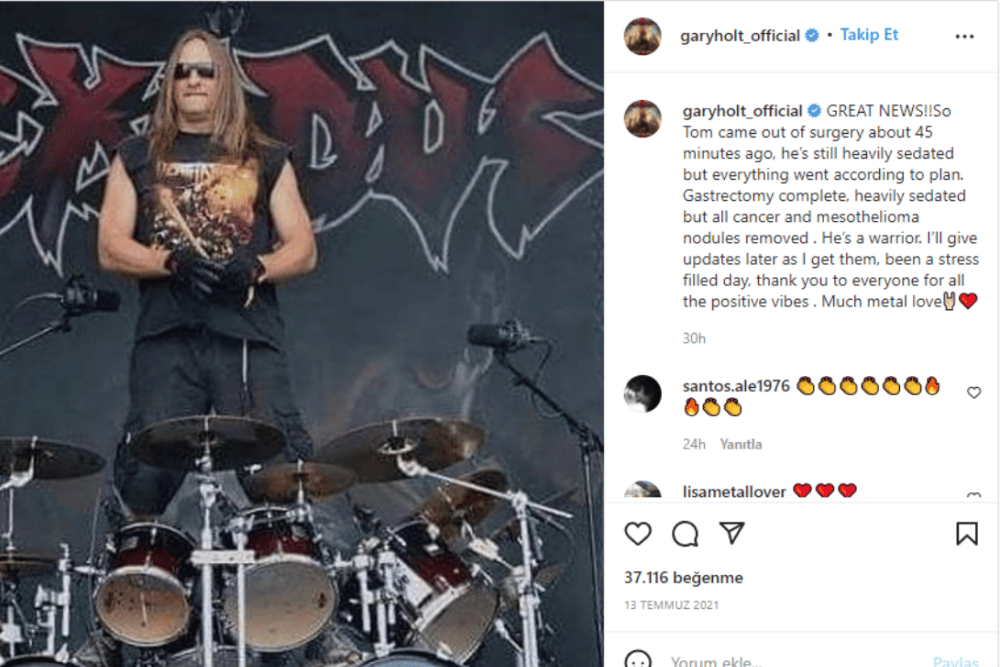 After Tom Hunting became cancer-free, his bandmate Gary Holt had shared the news with the fans by saying that Tom Hunting beat cancer and everything went well.
"Great news," Holt said. "So Tom came out of surgery about 45 minutes ago, he's still heavily sedated but everything went according to plan.
"Gastrectomy complete, heavily sedated but all cancer and mesothelioma nodules removed . He's a warrior.
"I'll give updates later as I get them, been a stress filled day, thank you to everyone for all the positive vibes. Much metal love."
In the following months, Tom Hunting had an interview with CMS and informed his fans about his health condition.
In the interview, Tom stated that the doctors did not find cancer in him and that he is now in a better condition than before, and expressed his gratitude to the health workers and science.
"It's just some stuff that some of us are gonna have to go through," Hunting says. "I'm very thankful for the science and what they were able to do to turn a bad situation around for me. I think I got lucky — I'm a lot more lucky than brave, that's for sure.
"As far as perspective changes, I definitely don't think I sweat the small stuff anymore as much, things that used to stress me out or whatever, it just ain't worth it anymore.
"But I'm in a good place now. I was able to rejoin the band, and that felt great. I got to do one show with them back so far, and we're doing another one next month."
"I don't have any limitations – dietary, physical or whatever I'm in a good place right now," Hunting admits. "I'm pretty lucky. They can't find cancer in me right now.
"And believe me — they're poking and prodding and doing screenshots of my guts and innards all the time. They use words like 'markers' and 'margins,' and all of my markers and margins are just good right now. They got it all; that's what they told me.
"I won't say [I'm] cancer free, because I don't wanna jinx it. But they're cautiously optimistic. They say I have a lot to celebrate right now, so I'm celebrating, bro."