The 10 Singers KISS' Paul Stanley Listed As The Best Of All Time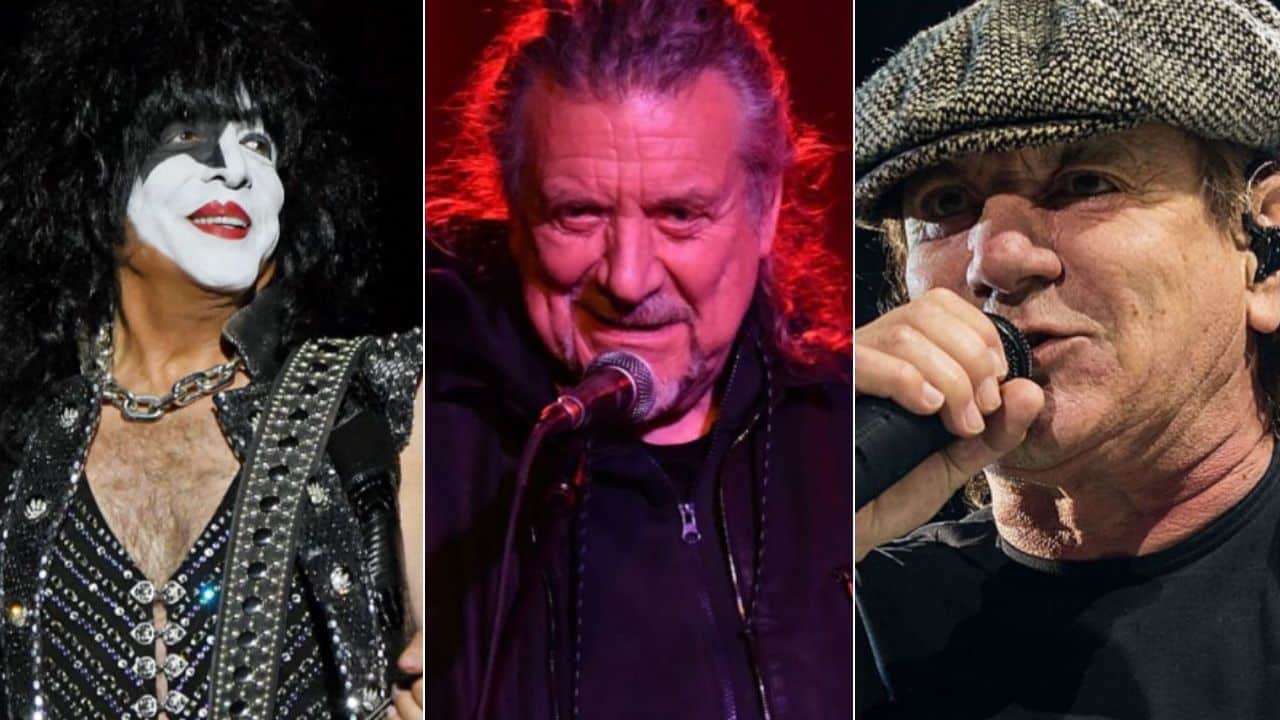 Paul Stanley has been the rhythm guitarist, songwriter, and co-lead vocalist of his co-founded rock band KISS since 1973. Contributing to the band's entire discography, Paul Stanley released 20 studio albums, 9 live albums, 14 compilation albums, 60 singles, 8 box sets, and many more things throughout his career with the band.
Out of KISS, Paul Stanley has released two different albums as a solo musician. Debuted in 1978 with self-titled Paul Stanley, the musician's second and latest solo album was released in 2006, named Live To Win. He also debuted with the release of Now And Then under the name of Paul Stanley's Soul Nation in 2021.
As he influenced numerous musicians in the community, Paul Stanley has admirations as well. Previously mentioned his love for Robert Plant, Steve Marriot, Ann Wilson, Rod Stewart, and Brian Johnson, Paul Stanley has recently shared a tweet through his official Twitter account to reveal his favorite singers of all time. In the tweet, Stanley wrote the following words before he revealed his favorites.
The Best Lead Singers Of All Time?? How about 11 off the top of my head…
1)Robert Plant
2)Steve Marriott
3)Freddie Mercury
4)David Ruffin
5)Rod Stewart
6)Paul Rodgers
7)Janis Joplin
8)Steve Perry
9)Brad Delp
10) Brian Johnson
10)Lou Gramm
11) Ann Wilson pic.twitter.com/2SLlUX2ClA

— Paul Stanley (@PaulStanleyLive) March 15, 2022
"The Best Lead Singers Of All Time??" Stanley asked. "How about 11 off the top of my head…"
The 10 Singers KISS' Paul Stanley Listed As The Best Of All Time
10. Lou Gramm
The list was starting with the former Foreigner vocalist Lou Gramm, who was a member of the band from 1977 to 1990 and 1992 to 2003. As a member of them, Gramm had released eight of nine studio albums with the band. He did not perform in the band's latest effort, 2009's Can't Slow Down.
Out of Foreigner, Gramm contributed to Black Sheep, Poor Heart, Shadow King, and Liberty N' Justice. In 1987 he released two different singles, Midnight Blue and Ready Or Not. In 1989 and 1990, he added two more singles to his discography, Just Between You And Me and True Blue Love, respectively.
9. Brian Johnson
Brian Johnson is known as the lead vocalist for the rock band AC/DC. He has been rocking with the band since his involvement after the death of Bon Scott in 1980.
Even though Johnson was replaced with Guns N' Roses singer Axl Rose due to hearing issues during the band's Rock or Burst in 2016, Johnson has appeared on the band's last eleven studio albums, out of seventeen.
In addition to his career with AC/DC, he also has four releases with his former band Geordie. Debuted with their 1973-release Hope You Like It, Johnson and the crew then continued it with 1974's Don't Be Fooled By The Name. In 1976 and 1978, they released Save The World and No Good Woman, respectively.
8. Steve Perry
Known for his two different successful tenures with Journey from 1977 to 1987 and from 1995 to 1998, Steve Perry is the eighth-best lead singer of all time for Paul Stanley.
As a member of Journey, Steve Perry has released seven different studio albums. In 1978, he debuted with the band's fourth studio effort, Infinity. His latest release with the band was the band's 1996 release, Trial By Fire.
7. Janis Joplin
Janis Joplin was an American musician who passed away at the age of 27 in 1970. She was an icon for her powerful mezzo-soprano vocals and electric stage performance.
Throughout her musical career, Joplin signed very huge things. Some of her popular songs were the cover versions of Summertime, Ball and Chain, Cry Baby, Down on Me, and Piece Of My Heart.
Thanks to her undeniable success, she was posthumously inducted into the Rock and Roll Hall of Fame in 1995. Janis Joplin is the seventh-best lead vocalist for Paul Stanley.
6. Paul Rodgers
The British-Canadian musician Paul Rodgers is the sixth greatest vocalist of all time for Paul Stanley. Being one of the inspiring musicians in the rock world, Rodgers has appeared with Free, Bad Company, The Firm, and The Law during his ongoing career. He also performed alongside Queen under the name of Queen + Paul Rodgers.
As a member of Queen + Paul Rogers from 2004 to 2009, the artists have recorded two live albums, one studio album, three singles, and two promo singles. While releasing nine different albums with Free, he contributed to Bad Company's 11 different releases.
However, as a solo musician, Rogers has released five albums. Debuted in 1983 with Cut Loose, his latest album was 2014's The Royal Sessions.
5. Rod Stewart
The British pop and rock singer Rod Stewart is another one listed as one of the greatest lead vocalists of all time by Paul Stanley.
At press time, Rod Stewart has released 32 studio albums, 4 live albums, 147 singles, 22 compilation albums, and many more things. Considered one of the best lead singers of all time, Stewart has sold more than 250 million records around the world.
Including numerous honors, Rob Stewart was inducted into the Rock and Roll Hall of Fame twice. At first, the musician was inducted into the hall as a solo musician in 1994. In 2012, he was inducted as a member of Faces in 2012. He was also inducted into the UK Music Hall of Fame in 2006.
4. David Ruffin
The American soul singer David Ruffin was one of the lead singers of The Temptations from 1948 to 1968. Throughout his musical career with them, Ruffin had performed on the band's classic songs, My Girl and Ain't Too Proud To Beg.
Being the fourth greatest lead singer of all time for Paul Stanley, David Ruffin was inducted into the Rock and Roll Hall of Fame in 1989 as a member of The Temptations.
3. Freddie Mercury
Born on September 5, 1946, Freddie Mercury had passed away at the age of 45 in 1991 due to AIDS. During his tenure with Queen, Freddie Mercury and his voice have been continuing to inspire young and new musicians, although he died three decades.
Freddie Mercury gained international fame for being the lead vocalist of the rock band Queen. The singer wrote numerous famous songs for Queen, including We Are The Champions, Somebody To Love, Bohemian Rhapsody, Don't Stop Me Now, Killer Queen, and Crazy Little Thing Called Love.
Paul Stanley was one of those who saw Freddie Mercury as an inspiration. For Stanley, Freddie Mercury is the third greatest lead singer of all time.
2. Steve Marriott
Steve Marriott were the core members of Small Faces and Humble Pie, separately. After his 32-year successful career, Marriott was inducted posthumously into the Rock and Roll Hall of Fame in 2012 as a member of Small Faces.
In 2019, Paul Stanley had talked about Steve Marriott. Describing him as a huge influence, Stanley had said "Marriott was the template for a lot of what I wound up doing during [our] KISS's concerts. The idea of being on stage and preaching the gospel of rock'n'roll, which is basically what he was doing … that was something I aspired to."
According to Paul Stanley, Steve Marriott is the second greatest lead singer of all time.
1. Robert Plant
Robert Plant is the greatest lead vocalist of all time, according to Paul Stanley. Being one of the core members of Led Zeppelin, Plant is an English musician who gained international fame for being the lead singer and songwriter of them.
Throughout his 12-year career with Zeppelin, Robert Plant had contributed to the band's 8 studio albums, which means he appeared in the band's every one of releases.
Kicking off his solo career after the breakup of Zeppelin, Plant has released his debut solo studio album in 1982, named Pictures At Eleven. Releasing eleven solo studio albums during his ongoing solo career, Plant has unleashed his latest solo album in 2017, named Carry Fire.
In 2019, while Stanley had talked about Robert Plant, he said that Plant's vocals blew him away.
"Robert Plant was singing like something from another planet," he said. "He was hitting notes effortlessly, and there was such bravado in everything they were doing. It just blew me away."
Also, in 2020, Stanley had taken his official Twitter to praise Robert Plant. Mentioning his admiration for Plant, Stanley had recalled his first seeing Robert Plant in 1969.
"Happy Birthday Robert Plant," Stanley tweeted. "Seeing you onstage in 1969 set the bar at a height I didn't know existed. Absolutely mind blowing. Many try to emulate. Many try to imitate. Kudos for your continuing on your musical journey without boundaries."
Happy Birthday Robert Plant! Seeing you onstage in 1969 set the bar at a height I didn't know existed. Absolutely mind blowing. Many try to emulate. Many try to imitate. Kudos for your continuing on your musical journey without boundaries. pic.twitter.com/TCl2BD24zp

— Paul Stanley (@PaulStanleyLive) August 20, 2020