Bruce Dickinson Recalls Near-Fist-Fight Moment With Steve Harris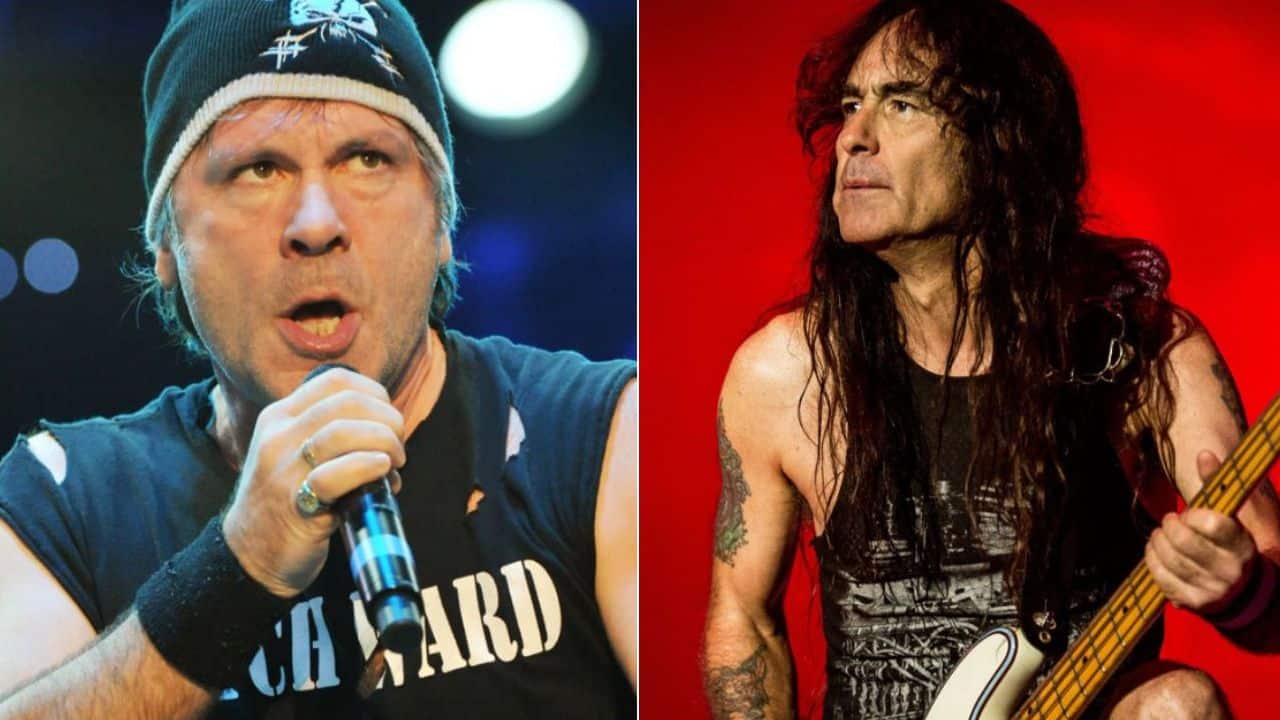 Legendary vocalist Bruce Dickinson was recently at Las Vegas' House Of Blues today on his spoken-word tour. During the Q&A part of the show, Bruce was asked if he had ever had a fistfight with any band members. Bruce said that he nearly came to blows after having problems with bassist Steve Harris soon after he joined the band.
Bruce Dickinson, who started his musical career with Samson, took part in four studio albums with the band. Joining Iron Maiden after Paul Di'Anno's departure, Bruce gained international fame and success as a member of the heavy metal pioneer. In addition to numerous albums and tours with Iron Maiden, he has released six solo studio albums to date.
Iron Maiden veteran bassist Steve Harris is known for being the band's founder and leader. Steve Harris, who has been the only permanent member of the band since its foundation, has also played the roles of keyboardist, backing vocalist, and primary songwriter as well as bass player. Releasing two solo studio albums during his ongoing career, Steve performed in the band's entire albums with his bandmate guitarist Dave Murray.
Anyway, Iron Maiden international singer Bruce Dickinson continues to share his rare behind-the-scenes memories. Bruce, who will finish his solo spoken-word tour in Canada at the end of this month, this time shared with his audience the problem they had with his bandmate, Steve Harris.
"Well, almost," the singer replied, to laughter from the crowd. "When I first joined the band, I was a very different animal to the previous singer.
"When I joined, I said, 'I know I'm the new boy, but here's the deal: when I sing, I kind of stand in the middle of the stage at the front, I do the singing bit, and then I go somewhere else… You can go anywhere you like, but when I sing, I want to sing in the middle.'
"So I've got my monitors down there and I'm singing away, and suddenly this maniac comes up and goes [mimes Steve Harris's foot-on-monitor pose]. Fuck off!"
Bruce Dickinson Says He Still Has Wounds
Stating that the disagreement they had with Steve Harris when he was new in the group went to the point of being pushed around, Bruce says he still has wounds.
"And then the roadies comes and they move my monitors off to the side," Dickinson continued. "I'm, like, 'Cheeky fuckers'. So I fucking move them back again. And this carried on for a while.
"In the end, what I did was I get and extra-long microphone stand… I had a microphone stand that was like a tank trap for bass players."
"And he'd jostle me – I've still got lumps out of my front teeth, and chips and cracks, of all the times he bashed my fucking mic into my teeth.
"So we nearly came to blows. But we came to accommodation in the end. I sing in the middle of the stage, we just take the stage twice as big."
During his March 3 spoken-word performance, Bruce Dickinson had answered if Black Sabbath existed without Bill Ward. Touching on his admiration for Ward, Dickinson described him as a jazz drummer. Even though Ward has a slightly mad personality, Dickinson added that he is a nice person.
"I'm a massive lover of Bill Ward's drumming style; I think it's inspired," Dickinson said. "'Cause he's not really a rock drummer; he's more like a jazz drummer playing rock.
"And I love that kind of style; it's kind of like drums that kind of wander around the rhythm and everything else. But he's on it; he's brilliant.
"And I met him. He's a lovely bloke as well. Slightly mad, but very nice. But then aren't we all? All of us are on the madness spectrum a little bit.
"Does Black Sabbath exist without Bill Ward? Well, it's not a matter of… I don't think Black Sabbath exist at all now. I think Sharon's made sure of that."