Phil Collen Reveals Whether Vince Neil Is Not Ready For Stadium Tour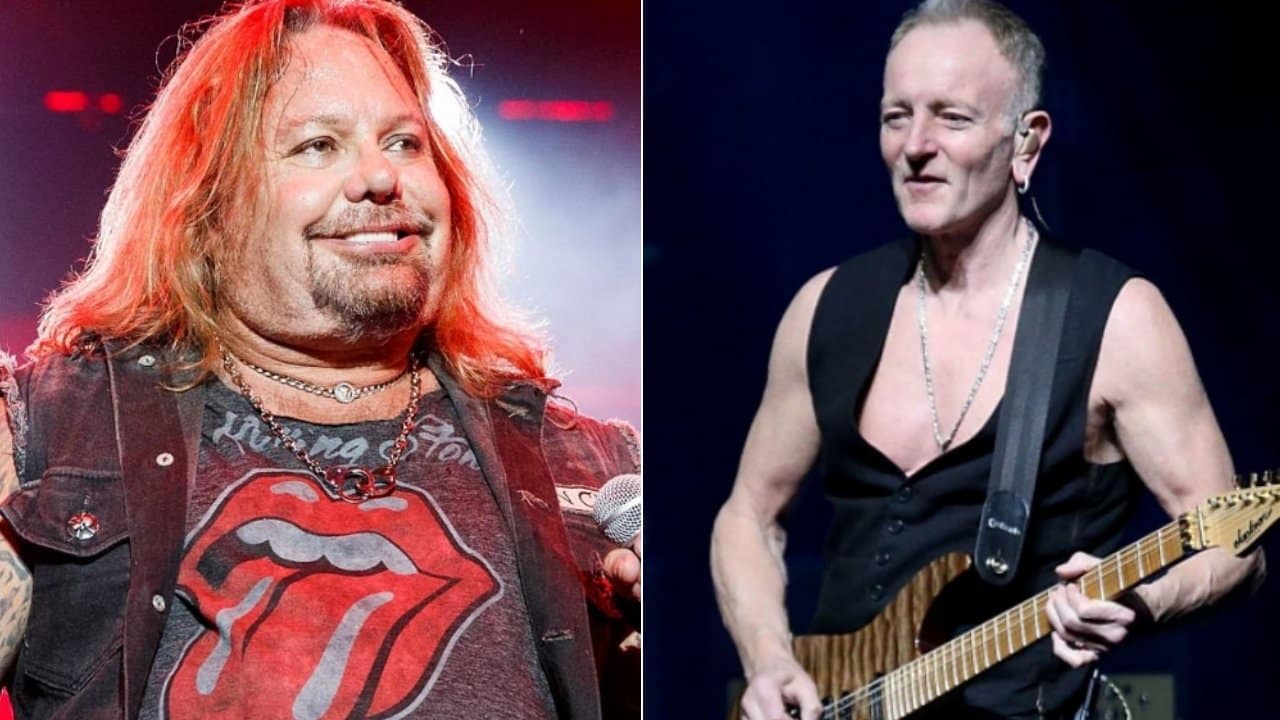 Def Leppard guitarist Phil Collen talked about their upcoming Stadium Tour and answered if Mötley Crüe singer Vince Neil is not ready for it.
As some of you might know, Vince Neil had been criticized heavily by rock and metal fans for a while because of his body shape. Although every one of Mötley Crüe's fans got excited when they announced their reunion with Stadium Tour with Def Leppard, they were devastated by Vince Neil's irresponsibility, as he lost his voice during his solo band's Iowa Festival show back in May 2021.
Since the band's reunion, Vince Neil dealt with serious issues like his near-fatal stage incident. This past October, he fell off the stage and broke his ribs while performing the Mötley Crüe classic Don't Go Away Mad (Just Go Away). Fortunately, he got his health back in a short time. Even though his incident made people upset, he made them happy after taking his health back in very little time.
These days, Vince Neil works hard to get in shape for the Stadium Tour, featuring Def Leppard, Poison, and Joan Jett & The Blackhearts. In September 2021, he updated his social media channels with a video showing off his special fat-burning workout. With that video, Vince Neil has won people's appreciation and excited them for the upcoming Stadium Tour once again.
Recently, Phil Collen, who is a devoted health and fitness fanatic that has a great body, once again commented about Vince Neil and his expected performance. When the interviewer asked him if he has concerns about Vince Neil not being ready to hit the road with them, he defended the Crüe singer.
"No," Collen answered. "I talk to Nikki Sixx all the time. We're friends. And I've known Vince forever. He's gonna be part of our team. The way I look at this whole thing… We wanna take this tour to the rest of the world — in Europe, Australia, Japan, all over the place, South America — so it's really important that everyone is part of the team.
"And we're inspired. Me and Joe – actually, all the guys – we're on the phone, and we start rehearsing in about a week.
"So, no. I think that Mötley Crüe are gonna be part of that team, as are Poison and Joan Jett [& The Blackhearts]. We all stand as one."
Phil Collen Adds Trainer 'Will Join Them And Hopefully Vince Neil Will Be Working Out'
Phil then continued disclosing an exciting fact about their upcoming Stadium Tour related to saving body shape. Saying that there will be a trainer that will help them during their trek, Collen hoped Vince Neil would be working out during that period. He also recalled touring with KISS and learning a life-changing lesson from them.
"The great thing, when you go out on tour with KISS, it's all about the show; it's not about trying to upstage anyone or do that," Phil continues. "Yeah, you can have a bit of that going on, but then you live and die by the show, and you wanna make that great.
"And that's a great lesson we've learned from KISS, and we apply that.
"So, no. I can't wait till we get out there. And hopefully Vince will be working out. We've got a trainer coming out. Yeah, it's gonna be really cool."
Back in June 2021, after Vince Neil walked off the stage after losing his voice, Phil Collen shared his thoughts about the singer. He hoped Vince would be getting in shape until they hit the road.
"He's got a year," he said. "But there's a lot at stake when you got out, and you wanna be your best, so, you know. Hopefully, we'll be working out together and all that stuff.
"That's the other thing – we do have a camaraderie, especially with Motley Crue, with Nikki. We were talking just before the tour, like, 'We're gonna work out together. We're gonna do all this stuff.'
"One of the things I learned from touring with KISS is that they really go a hundred percent about the show and every aspect of the show – different bands touring together.
"Our crews would be working together on the KISS tour so the show would look great. And I do feel a thing with that. If the show is even better, then it's even better for all of us – you want that to happen.
"But with Vince, I think he's got a year to go. Hopefully, everything is cool by then, you know? I hope so. Fingers crossed… I'll probably go on-stage with them as well at some point."