Halestorm's Lzzy Hale Explains Why She Admires Tobias Forge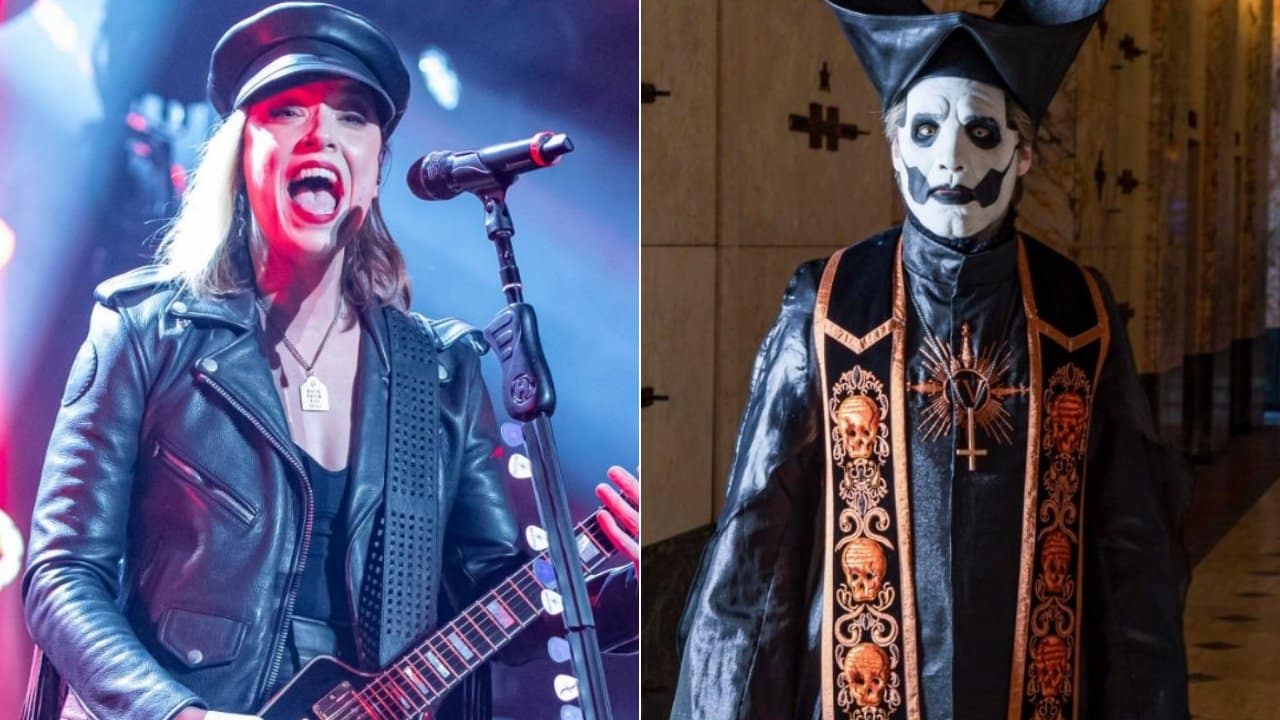 In a new interview with Rock Sound, Halestorm singer Lzzy Hale talked about her admiration for Ghost frontman Tobias Forge. She explained why she admires Tobias and praised him.
Lzzy Hale has been lead singer/frontwoman/rhythm guitarist for her rock band Halestorm since 1997. Debuted in 2009 with the band's self-titled studio album, Lzzy Hale contributed to the band's every release, including the band's latest studio named Vicious, which was released in 2018. She was the one who helped the band receive the band's one Grammy Award for the band's beloved song, Love Bites (So Do I).
In the rock community, there are great musicians Lzzy Hale picked as her favorites and influences. Ghost member Tobias Forge was one of those musicians loved by Lzzy Hale. Rocking the stage with Ghost since 2008, Forge has contributed to the band's five studio albums, which means he performed in the entire Ghost discography. He is also known for his stage names, Papa Emeritus and Cardinal Copia.
However, during her recent appearance on Rock Sound, Lzzy Hale praised Tobias Forge, showing off her appreciation for him. At first, she admitted that Forge is a smart person. Then, she explained why she admires him.
"He is a genius [person]," Hale said at first. "He's such a smart man. And if you get to have a conversation [with him], he's the most interesting person, I think, that I've ever met — very well spoken."
Lzzy Hale Explains Why She Admires Tobias Forge
Lzzy Hale then mentioned why she admires him. Admitting that Tobias Forge always has a plan, Hale said she tried to do the same thing with him, but she failed. Although they are completely opposite about that, Hale still admires him so much.
"What I admire about him… I don't think I know any other band that does this, but Tobias always has a plan — he's thinking about five years ahead, where he needs to be with this band and this project," she explained.
"I remember talking with Nick Raskulinecz, the same producer that just did our last record; he also did an album with Ghost. I remember him talking to me about how Tobias would show him all of these songs that were not meant for this specific record; they were meant for two records down the line. 'Cause he has a timeline and he has the story already figured out and all of the production already figured out. And [Nick] was, like, 'Oh, these are such great songs. We should record them.' And Tobias was, like, 'No. The world isn't ready yet.' [Laughs]"
"[Tobias has] done the same thing with me in the past where he's shown me some production drawings and little things that he's gonna be doing a couple of years from now. And then a couple of years would go by and we would go and see [Ghost in concert], [and we would be,] like, 'Oh, yeah. That was that thing he was talking about. That's amazing.'
"So just to be able to think like that I really admire, as far as just a career plan and a mission statement. Because I am completely not like that. I've tried the five-year-plan thing. And every time I make plans, we finally get to that point and something has changed, so I have to pivot and do something different. So I'm more of a living-in-the-now person. [Laughs]
"So we're the complete opposite, me and Tobias, in that aspect, but I definitely admire him for the way that he is."
Back in Lzzy Hale's fan Question & Answer session on her Twitter account, she named some of her musical heroes. In that tweet, she didn't mention Tobias Forge, but she named some artists that have her favorite albums of all time.
When a fan said, "Since you said I dare you… Name one or many artists who have influenced you in your music career," Lzzy Hale replied:
"Heart, Dio, Van halen, Alice Cooper, Janis Joplin, Pat Benatar, Sevendust, Metallica, Fleetwood Mac, Cinderella, Twisted Sister, Skid Row, Black Sabbath, Tom Petty, Alice In Chains, Pearl Jam, Sound Garden, Jeff Buckley, Bjork etc."
Heart, Dio, van halen, Alice Cooper, Janis Joplin, Pat Benatar, Sevendust, Metallica, Fleetwood Mac, Cinderella, Twisted Sister, Skid Row, Black Sabbath, Tom Petty, Alice In Chains, Pearl Jam, Sound Garden, Jeff Buckley, Bjork etc

— Lzzy Hale (@LZZYHALE) November 14, 2020