Joe Satriani Details His Phone Call With Alex Van Halen For Van Halen Tribute Tour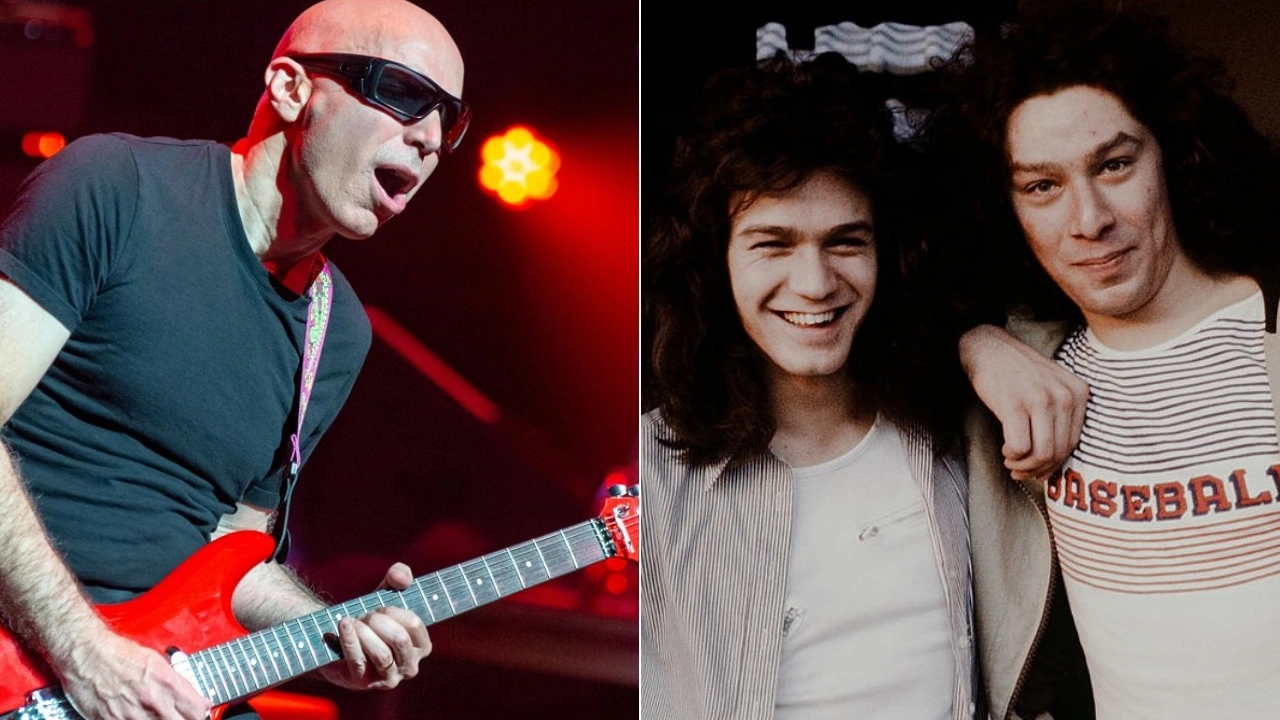 Joe Satriani recalled getting a phone call from Alex Van Halen, a founding member of the rock band Van Halen, to make a Van Halen tribute tour to honor the late guitar legend Eddie Van Halen.
Everything started when Jason Newsted leaked online that there was a deep conversation between Alex Van Halen and himself to make a Van Halen tribute tour. He told The Palm Beach Post that Alex contacted him to involve him in that tribute concert as a bass player. It hasn't happened because the plan had to remain secret as there was nothing an official statement about it, but the whole plan was turned upside down when Jason revealed the tribute tour.
Shortly after Newsted leaked the then-possible Van Halen tribute tour, Joe Satriani broke his silence to reveal that he had been talking with David Lee Roth and Alex VH to make something for the band. He also had commented on Jason's going public with the plans and said he was shocked because they "were all sworn to silence."
However, in his recent appearance on Out Of The Box, Satriani detailed his phone call with the drum legend, Alex Van Halen. Revealing his first reaction to getting asked to play Eddie's parts on tour, Satriani says one side of him was saying yes, and the other side was saying no.
"I get a call out of the blue from Alex Van Halen, who I'd never met until then, and he poses the unimaginable to me, which is to go out with a Van Halen tour [and] playing guitar," he says (via Blabbermouth). "And as I've told other people, I heard my voice saying, 'Yeah, I'll do that,' before my brain really thought, 'Don't say 'yes.' That's an impossible thing to do; you can't replace Eddie Van Halen. Nobody can.'"
Joe Satriani Reveals They Were Close To Make That 'Van Halen Tribute Tour' Happen
The guitarist then added that they both were joined by David Lee Roth when Alex brought him into the chat. He said they were close to making that happen at 'We Love NYC: The Homecoming Concert' in August 2021.
"And he brought Dave into the loop, who I'd met before but I can't really say I know the man… And we came close to doing that sort of coming out show that New York City was holding [in Central Park] last year," Satriani reveals. "And that would have been frightening, 'cause it was only three weeks away. And I was still listening to the Van Halen stuff, but still working on [my latest solo] album."
He then revealed there was no any bass player on the book for the concert. He recalled asking them whether Sammy Hagar and Michael Anthony would play bass for the band.
"So it wasn't like we were prepared," he continues. "There was no bass player. They hadn't really told me who was gonna play bass. And then there was the whole controversy about who should actually be in the band. And I was on the outside; I'm just some new guy. I was the one saying, 'Who's playing bass, by the way?' And, 'Is Sammy gonna come by?' And, 'Did you talk to Mike?'"
Joe Satriani met with Alex Van Halen when he traveled to Los Angeles. Saying that there was a problem with the Van Halen family to get solved, he kept asking them if he was the right guy. He was a huge Van Halen fan himself, but he was curious if he could play in Eddie's place.
"Again, I feel like I'm not close to the top of that queue. And many times I've told Alex, 'Are you sure? Me?' 'Cause I don't perform like Eddie. I'm just a superfan. And I can certainly play the stuff. But Eddie was such an original — just the way he ran around on stage and sang and played. It's amazing."
Months after the first impression of the possible Van Halen tribute tour, Eddie Van Halen's son Wolfgang made some comments on the issue to clear the air. At the time, he said that some people were hard to work with, adding that it would not happen.
"What I can say is that there was an attempt at doing something," Wolfgang says. "But, you know, I don't like to speak negatively about people, but there are some people that make it very difficult to do anything when it comes to Van Halen.
"Just, we made an attempt, and some people can be hard to work with, and made it not happen. It didn't even get to that point. It was in such an early stage that it never even got off the ground."
However, as a result, there have been many conversations on the subject since last April, but Wolfgang said the clearest one. The future is unknown, but for now it seems that there will be no Van Halen tribute tour.