Vixen's Lorraine Lewis Dishes on Femme Fatale, Nita Strauss, New Music, and More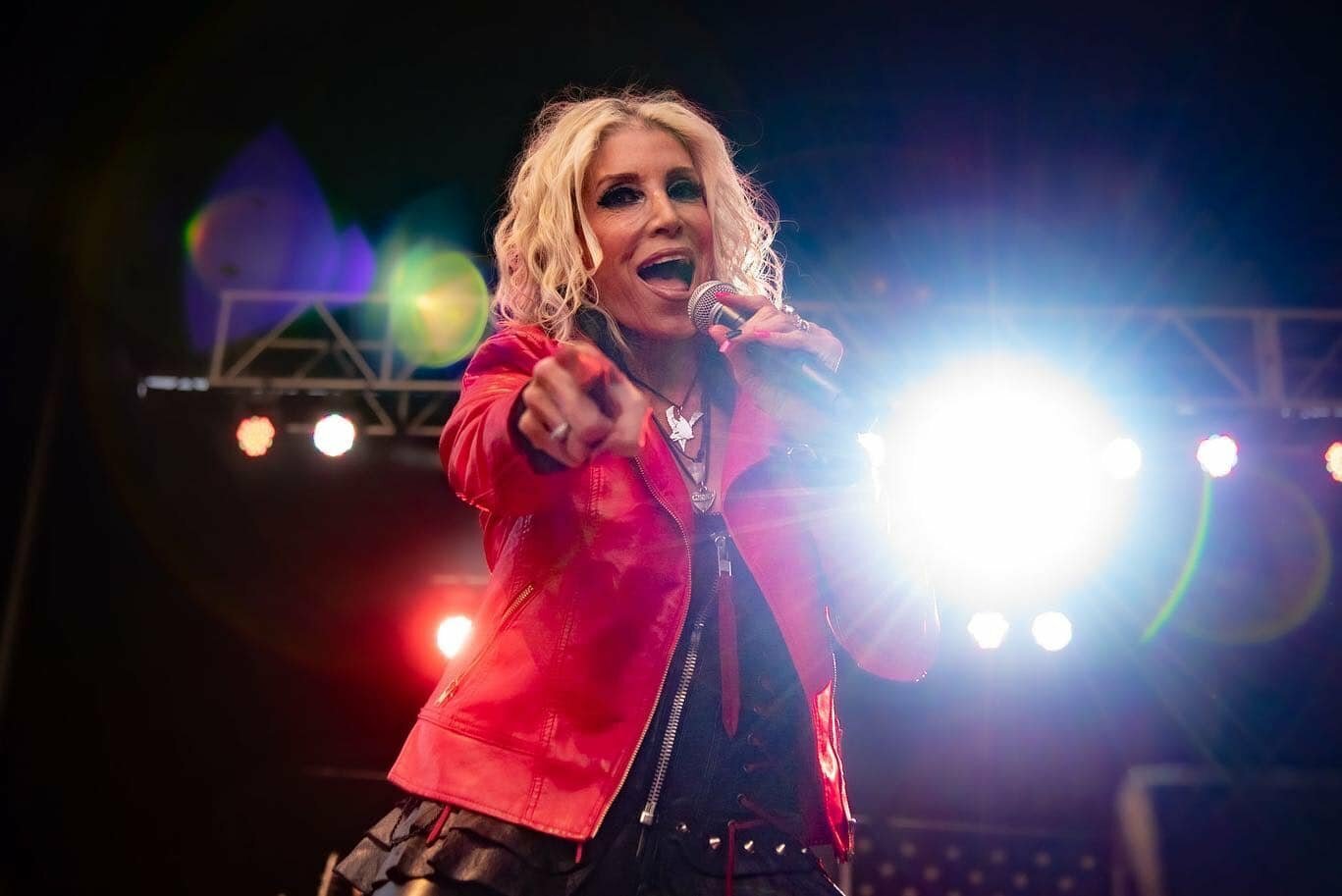 All images courtesy of Vixen/Lorraine Lewis
While cocksure frontmen and blazing axe-slingers often define the 1980s hair metal era, many female-led groups also made their share of noise.
Acts like Vixen, Warlock, and in the case of the sultry bombshell, Lorraine Lewis, Femme Fatale, provided an alternative to the testosterone-filled bombast. As Femme Fatale's leader and front person, Lewis dropped a bomb on the scene with 1988's Femme Fatale, providing scene mates, Vixen, some fierce competition.
But an unforgiving business and the impending wave of grunge foiled Femme Fatale's fortunes. Before the group could release its follow-up, Femme Fatale disbanded, quickly receding into the background for 23 years. But for Lewis, the story didn't end there, and in 2013, with the aid of young shredders Courtney Cox and Nita Strauss, Femme Fatale was revived and flying high again.
Femme Fatale was a hot ticket on the touring and festival scene for another six years but never came together to record another record. And in 2019, Lewis was faced with a decision when her old friends in Vixen came calling. Ultimately, Lewis defected to Vixen, laying Femme Fatale rest once more. But with its fiercest lineup yet, Vixen is set for big things in the coming years.
As she prepares for a busy year ahead, Lorraine Lewis checked in with Metal Castle to run through her history in music, the formation of Femme Fatale, her memories of the '80s hair metal era, joining Vixen, and a whole lot more.
What was the moment which first sparked your interest in music?
I always loved listening to music, especially with my dad. He didn't play an instrument, but he loved to sing. My grandmother was a singer and sang on the radio! It is in my blood, I guess, but the first memories I have are of me playing guitar in my living room and making up songs to sing when guests came over!
Who were some of your earliest influences that first shaped your style?
My earliest influences were artists like The Allman Brothers and Linda Ronstadt. I mean, I grew up in Albuquerque, New Mexico, so folk or country was on my radar. I also like Tina Turner, but when I saw Van Halen live, that was a turning point, and I wanted to be just like David Lee Roth.
What were some of your earliest gigs where you first cut your teeth?
I played in Top-40 bands in Albuquerque. I had a band called "Babe Ruthless," and we did covers like Benatar, Missing Persons, and '80s radio stuff. We were widespread, with lines around the block on a Tuesday night. It was pretty cool being a big fish in a little pond, but I wanted more.
Take me through the formation of Femme Fatale.
My keyboard player Cliff (who later became Mazzi Rawd) and I decided to move to L.A. after my girlfriend came back home from being in L.A. She told me there were no females that rocked like me in L.A., and she planted the seed that I should move there. A few months later, me and Cliff and a guitar player named Mick moved to L.A. to chase our dream of getting a record deal.
We tried to find players and put out ads, but no one fit my vision. I wanted hot guys with good hair; I mean, it was the '80s, after all. [Laughs]. Eventually, I gave up, called my bass player brother back home, and said, "You're moving to L.A., and you're going to be my bass player." That's really how things went. He brought Bobby [Murray] and Bill [D'Angelo] with him; the rest is history.
All images courtesy of Vixen/Lorraine Lewis
Femme Fatale's debut remains an enduring classic. Did the band have the record written, or did it need to be pieced together in the studio?
We had written about 15 songs, and we recorded 10 of them. Looking back, it's kind of ridiculous that we didn't spend more time developing, but MCA wanted us, and who were we to say, "We need more time to grow as a band." Hell no, we jumped right in, and you would have done the same.
Jim Faraci mostly served as the producer for the record. How did he shape the sessions most, particularly your vocals?
I love Jim Faraci; he was super cool and easy to work with. He really let me sing my ass off and let me be me! I liked that. It wasn't until we worked with Tom Werman that I was really pushed to my limits with different versions of "Falling In and Out of Love" and "Rebel." Those tracks are really in your face; not sure everyone has heard those recordings.
"Waiting for the Big One" served as the lead track. Take me through its inception.
"Waiting for the Big One" was to be our first single after the label said, "You don't have a single." [Laughs]. We reluctantly recorded it with the writer/producer team of Rick Neigher and David Cole but ended up loving the process.
MCA was known to have dropped the ball regarding many acts it signed in the late '80s and early '90s. Do you feel they were the right label for Femme Fatale in hindsight?
Yes. MCA was the right label, but I wish we could have gone on tour first, then recorded the record. We returned a unified, stronger band from being on the road for three months. The memories of sitting on the side of the stage and listening, watching, and learning from the incredible Robin Zander really shaped us. But the label loved us. Our team was passionate about us; I have no regrets about being on MCA.
All images courtesy of Vixen/Lorraine Lewis
Do you feel Femme Fatale was given a fair shot amongst the proverbial rock 'n' roll boys club?
Yes, we were given a fair shot, but the radio didn't play a lot of female-fronted rock at the time. Lita, Vixen, Doro, and Femme Fatale were all competing for radio airplay; it was just kind of archaic that rock radio was so male-dominated, but that's how it was.
What ultimately led to the initial demise of Femme Fatale in 1990?
The demise of Femme Fatale, well… the wheels started to fall off when one of our management partners got brain cancer. That was a heavy time. We had just gotten off the road and were trying to figure out our next steps. Our cheerleaders at MCA were let go around Christmas time, and the label was excited about Pretty Boy Floyd. At least, that's how I remember it. We lost our support at the label, which felt awful.
How did the conversations to reunite Femme Fatale in 2013 begin?
In 2013 Femme Fatale, I was asked to bring Femme Fatale to the Monsters of Rock Cruise. I was excited but had no real band at that time because Bill D'Angelo had passed away, Rick [Rael] and Bobby were back home, and Mazzi [Rawd] was nowhere to be found. So, I did what I always do – pivot!
I decided to go all female and got Courtney [Cox's] number and Nita [Strauss's] number from a guitarist named Angela Grant. I called them both and had no idea that they actually lived together. My original plan was to have one guitar player, but how could I pass up a chance to work with these firey, hungry, awesome young guitar players? There was a buzz about these girls, and it just made sense to have both on board. We met at a Starbucks on Ventura blvd, made a plan, and left very excited.
With all that talent, why didn't Femme Fatale ever release a comeback record and document the chemistry?
Nita and Courtney were busy with the Iron Maidens, and we talked about writing, but we never really got anywhere. Courtney and I worked on some riffs, and I thought they would catch fire, but in the end, I think we all had too much on our plates outside of Femme. I don't regret a thing, though. I love those girls forever for being my bandmates and so much more! I had just come out of a divorce, and getting back to music was the best medicine.
All images courtesy of Vixen/Lorraine Lewis
What was the sequence of events ending with you folding Femme Fatale to join Vixen?
Roxy [Petrucci] and I have been friends for years, and we even had a project called Roktopuss. Share [Ross] and I have also been friends for ages. I've got mad respect there. I took over vocals in 2018 when Janet [Gardner] was hospitalized, and there was talk about her leaving Vixen. I had no idea if that would ever really happen, but it was an easy decision when Roxy called in 2019. It's wild to think back that in the '80s, who would ever have guessed that I would join Vixen and keep the legacy alive? It's wild. Life is a gas!
What makes you the perfect fit as the new singer of Vixen, and how do you translate the old material while still putting your spin on it?
You'd have to ask them what made me the perfect singer for them. But for me, it was a no-brainer. And the fact that we do two Femme Fatale songs live is icing on the delicious cake. I do my best to honor the songs and the vibe, but I have my own voice and sound. I do my best to give the fans a show they'll remember while honoring the sound and legacy that is Vixen. All I can say is that I'm stoked to be able to be rockin' and rollin' with one of the most successful and popular bands of my era. I'm honored and intend to keep this train rockin' and rollin' for as long as the fans keep showing up.
Have we seen the last of Femme Fatale? Or will there be a third act?
There will be no third act for Femme Fatale, but I'm a lifer and love what I've accomplished. I am also so excited that Rock Candy Records in the U.K. remastered and reissued the Femme Fatale debut CD with four bonus tracks. It sounds killer and is available on my website and Rock Candy's website.
What's next for you in all lanes, Lorraine?
We have a single that is being mixed right now. We are writing and have more recordings planned with an eye toward releasing an album. I'm going to keep rockin' with Vixen and keep loving and living life. Most importantly, I plan to keep having fun. So, visit our socials and stay tuned for what we have coming up.
Image credit: Mark Weiss Photography
– Andrew Daly (@AJDWriter88) is a contributing writer for Metal Castle and may be reached at andrew@vinylwriter.com