Joe Satriani Confirms Exciting Detail On Possible Van Halen Tribute Tour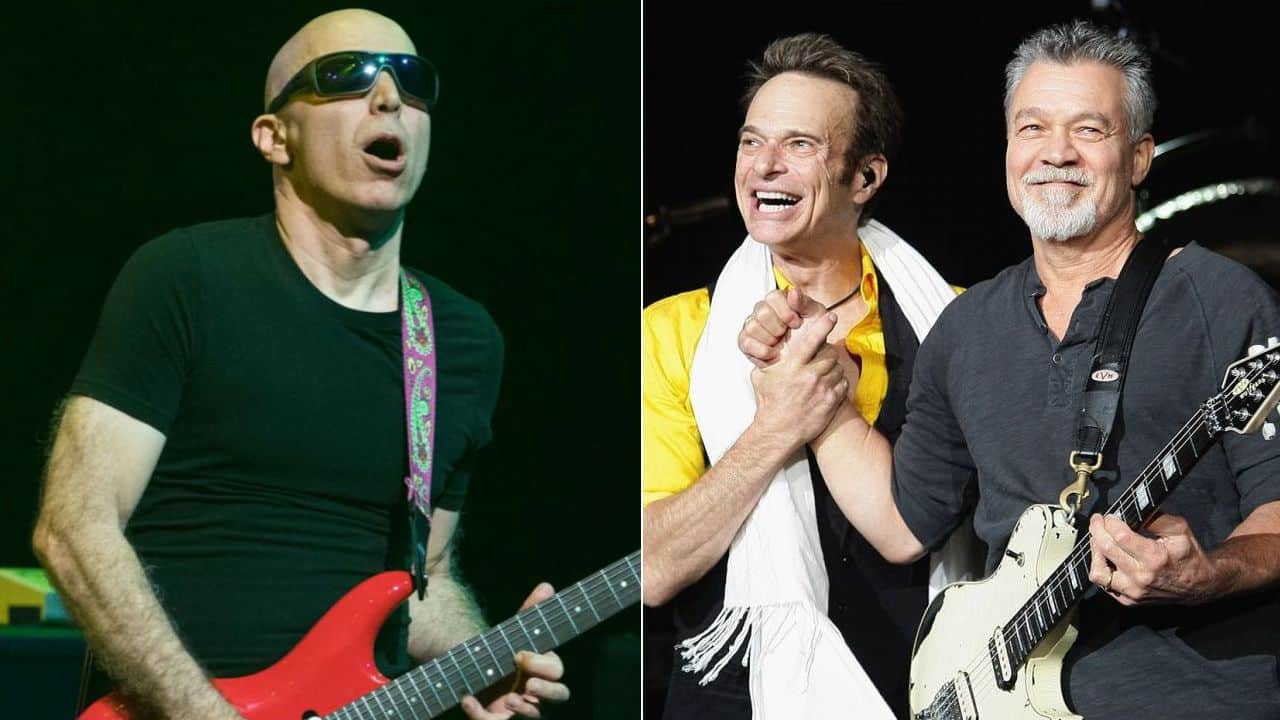 The world-renowned guitar mastermind Joe Satriani has confirmed exciting detail about a possible Van Halen and Eddie Van Halen tribute tour. He said that he has been talking with the remaining members, David Lee Roth and Alex Van Halen, about doing something about Van Halen.
Van Halen was a California-based rock band that began its career in 1972. Formed by Eddie Van Halen and Alex Van Halen, the band became one of the greatest rock bands with its hit albums in the late '70s. From the band's first gig to the last one, they were known for their energetic live shows, as they were credited with restoring hard rock to the forefront of the music scene.
In 2020, as David Lee Roth told in 2019 that the band is finished, Van Halen announced its disbandment after the death of the band's co-founder and guitarist, Eddie, which was one of the main members of the band with his contributions to every one of releases of it. Still being an influence on those who play guitar, Eddie was well known for popularizing his tapping guitar solo technique.
On April 15, former Metallica bassist Jason Newsted had said during his interview with The Palm Beach Post that Alex contacted him to talk about the Van Halen tribute tour, which was shocking. Days after Jason, David Lee Roth was also one of those who confirmed that he had been in touch with Satriani and Alex about the project.
Recently, during an appearance on Rock Of Nations With Dave Kinchen, Joe Satriani broke his silence on a possible Van Halen tribute tour and admitted an exciting detail about it. Saying that he has been talking with David Lee Roth and Alex for a while, Joe added that it would be a real labor of love for him.
"I've been talking with Alex [Van Halen] and David [Lee Roth] for about a year about doing something — a tour, something like that — that was gonna be a true tribute to Eddie [Van Halen] and the Van Halen legacy," Joe says.
"For me, it was a terrifying prospect of doing something like that, but I realized that it was something that would be a real labor of love for me. I was just so honored to take on the challenge."
Joe Satriani Admits They Were Shocked When Jason Newsted Disclosed Van Halen Tribute Tour
The guitarist then revealed his emotions about that possible Van Halen tribute tour. Saying that it would be great if they do that, Satriani admitted that Jason shocked them all when he disclosed the Van Halen tribute tour. According to him, it had to be secret because no one wanted to hurt fans' feelings.
"It's very complicated," he continues. "All I can really say about it is that if it does happen, I know we'll make it the greatest thing ever for the fans and we'll all celebrate together not only the great Eddie but the legacy that that band created, the amazing amount of music and the goodwill and good vibes they created as a band.
"These things are always happening in the music industry, and you're supposed to keep very quiet about it [laughs], because sometimes they don't work out. There's usually about 10 crazy ideas that float around and musicians are always, like, 'Okay, I won't say anything about this 'cause it may not work out. I don't wanna hurt this person's feelings or disrupt any other business plans.'
"So, yeah, we were all pretty shocked that Jason wanted to go public with it 'cause we were all sworn to silence. [Laughs]"
Back in August 2021, the band's former singer Sammy Hagar had commented about the current state of Van Halen after the death of Eddie. Saying that there is no Van Halen anymore after Eddie, Hagar also talked about David Lee Roth.
"I've invited the Diamond himself, when I did the Huntington Beach party – the High Tide beach party – I invited Roth, I told him he could headline the whole event," Hagar says.
"I'd play before him. Not because I feel like I'm less than him, but because I was trying to rope him in. But he's not a fun guy, he doesn't play well with others, I don't think – especially me, I guess.
"I'm not even sure he'd even want to do a tour again. Not that I would, because I definitely wouldn't from the last experience, but I don't even know if he'd want to ever dot hat again, I have no idea where his head's at.
"He's invited, anytime, anyplace, anywhere I go, and I would play the old Van Halen stuff, man, we know it. Me and Mike, I'd sing background vocals, let him do his thing, it'd be awesome, but I'm not sure it'll ever happen.
"And when you talk about this, you put the laugh symbols after everything I say about Roth. [Laughs] You make sure you put a 'ha ha ha' after it because it's so tongue-in-cheek to me, to think about him and not doing anything ever again.
"Because it's so silly now, I mean, now especially, after the death of Eddie, it's like, there's not a Van Halen anymore.
"So it ain't like we're competing for who's going to be in the band or anything like that. I don't know, it's silly, but who knows, I might run into him some time and we can meet as grown-ups and adults finally."