Bassist Robbie Crane Talks Ratt, Lynch Mob, Black Star Riders, and More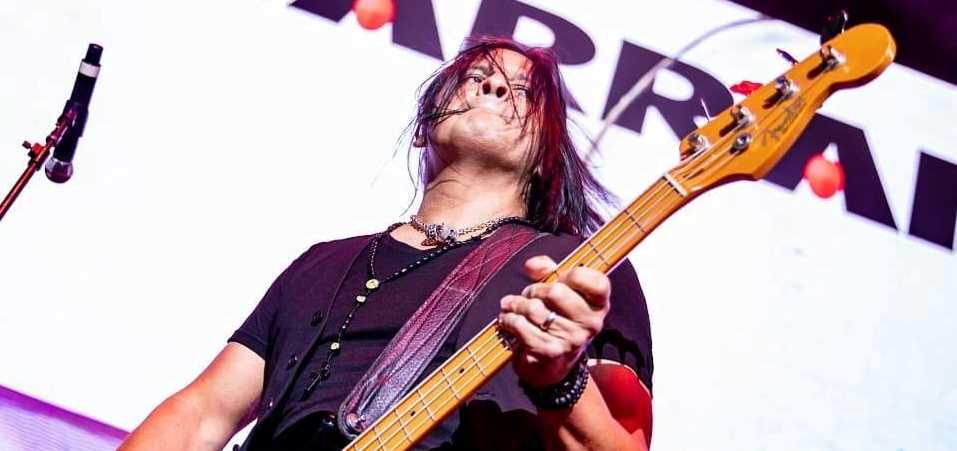 All images courtesy of Robbie Crane/Getty Images
From his days on the road as a teen with Poison to playing with Vince Neil to joining Ratt, Lynch Mob, and finally, Black Star Riders, bassist Robbie Crane has seen it all.
Through the fires of rock and metal fury, Crane has forged a reputation as a reliable and melodic four-stringer capable of covering any and all sonic fields. These days, Crane is still holding down the fort with Black Star Riders, who have new music afoot, and a tour to plan. Indeed it seems that 2023 will be another breakneck year of heavy metal mastery for one of the game's most reliable players.
During a rare moment of calm, Robbie Crane dialed in with Metal Castle in recounting his origins in music, hitting the road with Poison, working with Vince Neil, Ratt, and George Lynch, and what's next for Black Star Riders as they move into the new year.
What first gravitated you to rock and metal music?
It was KISS. In the mid-70s, my older cousin Richard lived across the street from me. He turned me onto Kiss, Judas Priest, Queen, Black Sabbath, etc. He played drums and still does. We'd play records as he played his drums, and I'd jump are his room with a baseball bat as a guitar, and I'd sing. We had the lightbox speakers going; I guess we were into it. [Laughs]. But that inspired me and still does. We came from a long line of musicians; our grandfather, uncles, and my dad all played guitar, bass, and piano. So. it wasn't too far off for me.
What was it about the bass that first drew you in?
Everyone in my neighborhood played guitar, including me. We needed a bass player, and my friend Serg could play Van Halen's "Eruption," and I couldn't, so bass it was. My dad played bass in bands into his 20's, so I was cool with it. I am thankful I made the move, although being able to play guitar would later play a pivotal role in my career.
Growing up in Hollywood, what sort of scene were you exposed to, and what were some of your early gigs?
I lived in West Hollywood on Genesee and Willoughby and later on Ogden and Willoughby. In the late '70s and early to mid-80s, the punk, metal, and glam scenes were in full bloom. The strip was a 15-minute skateboard ride away. I saw a lot of bands when I was a kid, and the Starwood was the closes venue to us at Santa Monica and Crescent Heights, but the Troubadour was our spot. I saw W.A.S.P.'s Dollar show and their Blood Drive show at the Troub. And I saw one of GN'R's first shows at the Stardust Ballroom opening for Poison and Ruby Slippers. I saw the Red Hot Chili Peppers at Gazzarri's and many other notable bands.
How did you first meet Poison's Bobby Dall and ultimately become his bass tech?
I was 15; my band played the Troubadour on a Wednesday. Poison's light guy Russ Lentz – there's a blast from the past for ya – liked my Ampeg bass amp. We became friends, and I ended up at their Palm Grove place one day and started helping out. Being a bass player, I set Bob's gear up, and away I went. Bob was always very cool to me. I spoke to him just before the Stadium Tour started. I learned so much from Bob and the Poison camp. I am forever grateful!
Were your parents nervous about letting you go out on the road at such a young age?
No. I don't think I ever asked. [Laughs]. I just said, "I'm going on tour with Poison and will do continuation work studies while I'm on tour." It was a different time and a different era. While I'd like to believe they cared about what I was up to, I know differently. I know my dad cared; he drove me to the Poison tour bus for my first bus tour in the Summer of '86, which was the Look What the Cat Dragged In tour with Loudness and Cinderella. What a blast for a 17-year-old me.
How did that experience shape you going forward as a bassist?
As a bassist, watching Masayoshi [Yamashita] from Loudness, Eric [Brittingham] from Cinderella, and Bob from Poison every night on that first bus tour changed my focus. I've always been driven, but something inside me changed on that tour. I knew that that was what I wanted to do. Bob was so cool when I eventually told him I wanted to follow my dreams as a player. He gave me his Risson bass cabs and a head and said, "Have at it. Call me if you need anything." I'm proud to say I've never called in that favor. I dig Bob! He's a great dude and friend!
All images courtesy of Robbie Crane/Getty Images
What's your wildest story from being on the road with Poison?
My wildest Poison tour story? Well, I have daughters now, so I will say that everything you've ever read or heard about the 80s and 90s touring scene doesn't do those times any justice. I was an out-of-control womanizer in a world that condoned that behavior. Not that I'm proud of that, it just is what it is. If you lived it, you'd know, sadly.
You joined Vince Neil for 1992's Exposed. How did you get the gig, and who else were you competing against?
I joined his band as the rhythm guitar player, and although I could play guitar, meaning, I had never played guitar in a band before that. [Laughs]. I played guitar on the 1992 video release of "You're Invited (But Your Friend Can't Come)" before Steve Stevens and then did the 1992 MTV Movie Awards with Steve. I was friends with Vince's brother-in-law Gary; he was Vince's assistant and lived with him, his wife Sharise, and their daughter Skylar. I'd always be hanging out at their house.
Anyway, when Vince went solo, he asked me to play guitar in his band. I don't think he knew I was a bass player. It wouldn't have mattered because Phil Soussan was the bass player already. I never auditioned, he asked if I wanted to play guitar in his band, and I said, "Yes!" A few months later, Steve Stevens joined, and off we went. The Exposed record was written while I was the second guitar player, so I didn't record any guitar with the great Steve Stevens. But eventually, they played bass on two of the bonus tracks for that record after Phil left.
What sort of state was Vince in around that time, having just left Mötley Crüe?
Vince was great. He was very driven and very focused. He knew exactly what he wanted to do and did it. He was the first guy at the studio and the last to leave. I dug his work ethic, and I'll always appreciate Vince for all he did for me.
You joined Ratt around '96 or '97, right? Take me through your indoctrination.
Yeah, it was the end of '96. I met Stephen Pearcy through Larry Morand. Larry had tour managed Vince, so when that ended in August of '96, Larry recruited me for a band called Vertex with Stephen, Al Petrelli, and Hiro [Kuretani] that he was working with. And then, when Vertex ended, Stephen asked me to join Ratt with Stephen, Bobby [Blotzer], and Warren [DeMartini] for the Collage recording sessions. After the record, we started touring and never stopped until 2012. Believe it or not, I grew up a lot during my time in Ratt.
The Vince days were crazy; that Dirt book ain't lying. The Poison days were awesome, but the Vince days… oy vey! Man, I needed a break. [Laughs]. I met my wife in '94 while playing with Vince, but I was way too wild to get into a serious relationship. So, we remained friends until I joined Ratt, and that's when we started dating and married in the early 2000s. Ratt was fun and good for me at the time, but I felt like I outgrew the drama and moved on in 2012. Not that there was much to move on from. I still talk to Stephen, Bobby, Carlos, Jizzy [Pearl], and John [Corabi]; I love those guys! Ratt were some great times!
Collage is a very underrated record. What do you recall regarding the sessions?
I agree. I thought Collage was a cool record. I walked into Audible rehearsal studios in Burbank in late '96 and started working on "Steal River" out of the gate. Being a massive Ratt fan, I was a bit nervous walking in cold to preproduction for a Ratt record with Bobby Blotzer, Warren De Martini, and Stephen Pearcy. I guess your musical instincts take over, and you do what you do. We had three days of preproduction. Then into the studio with Billy Sherwood producing. We tracked bass, drums, and rhythm guitars live in two days, and I was done. Next thing I know, we're on tour. Again, I had good times with Ratt; I used my black Fender P-Bass on every Ratt record that I recorded.
The self-titled follow-up sadly failed to land. To what do you feel caused the record to stall?
Honestly, that record sucked. The best thing about that record was Richie Zito. Stephen had a studio built at his house, and we wrote and demoed that and recorded like five times there. The first and second demos were great, and the four of us tracked live with Richie playing this keyboard thing. The demos should have been the record, but the label wanted us to track in a proper recording studio, so off to Rumbo Recorders we went. It came out stale as fuck.
We were over it by then because we'd been working on that record for a year or so. And we had booked the 1999 Poison/Ratt summer tour around the US, so we were focused on that. We didn't care about the record anymore, which sounded like it. Also, the best songs didn't make the record; we wrote like 40 songs, and the big co-written songs made the record. The band wasn't getting along; it was not a great time, yet it was.
All images courtesy of Robbie Crane/Getty Images
Your last record with Ratt was 2010's Infestation. In what tangible way did you most affect the sessions?
I wrote a lot for that record. I demoed a few songs, and I co-wrote one song called "Lost Weekend" with Stephen. Carlos [Cavazo] was awesome on that record; he's a badass. Elvis Baskette did a great job, too. But those dudes hate that record, and I understand why. Still, I think it's their best work since Detonator.
Ratt is sadly known for a certain level of dysfunction. Overall, what was your experience like? Why led to your departure?
I don't want to add to it. I wish them the absolute best. I want them to reunite and give all of us Ratt fans one more ride around the park. That's my hope for them. For me, I'd taken that ride ten too many times and needed to get off. I only stayed as long as I did because I wanted to make sure Juan [Croucier] was ready to come back to his band. I was thankful to see him come back.
Your work on Lynch Mobs Sun Red Sun is fantastic. How did you become involved?
Thank you! Sound Mountain Session, Sun Red Sun, Live From SugarHill, and Wicked Sensation Reimagined (not to be confused with the original record with Anthony Esposito and Wild Mick) are all great Lynch Mob records that I played on. I've said this before, but when you're invested and creating music with George [Lynch], the musical journey he takes you on, man, it's hard to explain unless you've experienced it.
I was invested in those records and feel like some of my best work was captured while recording with George, Oni [Logan], Scot Coogan, and Brian Tichy. It was a great time with badass musicians! I met George and Oni when they were first putting Lynch Mob together, and I played with them briefly when I was 19 but wasn't good enough yet. So, I took that home with me, worked hard, and later on in life, our paths crossed again, and I was ready.
George is known for lineup upheaval, and Oni, at times, brings turbulence to the studio. What sort of challenges did you face during the sessions?
Again, I don't want to add to any of that. I will say that in the studio – recording, and rehearsal – Oni and George were awesome. They were focused, creative, open, and driven. I think it's all captured in those recordings, and I believe that those records are a snapshot in time. If you listen closely, you can tell what the mood was. It was all good. I'm always open for a George jam whenever schedules permit, but George has a great band now.
These days, you're with Black Star Riders. You followed Marco Mendoza after his exit. How did you enter the fold?
I met Jimmy Degrasso, and he asked me to audition for Black Star Riders. For some reason, they picked me out of a few other badass guys! I'm still wondering why? [Laughs]. We just finished our 5th record and are preparing for its release and tour. I truly enjoy this band. They are a great group of people, and Marco's a badass too. I dig his playing and him as a human being. He is such a great dude!
Marco has a distinct groove and style. What have you brought to the band which has expanded its sound?
Yes, I think Marco is amazing. He can play any style, and like I said, he is a classy player and dude. I just do what I do. I have definitely taken from what Marco played and made it my own. He's inspired my playing on the other Black Star Riders records for sure.
Can you tell me anything more about the new Black Star Riders record?
Yes! We have a new record called Wrong Side of Paradise ready for release. I feel it's our best work yet. The single Pay Dirt is out, and we think it rocks. I can't say a lot more yet, but stay tuned.
In your career, you've often followed several notable bassists. Have you ever felt pressure to imitate them, or have you always felt comfortable in your own skin?
I've always been comfortable with who I am; you have to be. I just do what I do and think I'm respectful of what the player before me did, but I try to make it my own. I think my style depends on the instrument that is in my hands. I like to think that my style is fluid. I feel the moment and try to add to it.
What's next for you in all lanes, Robbie?
Well, I've been subbing for Jerry Dixon in Warrant since June of 2021 and am off to Vermont this weekend for dates. Black Star Rider's new record drops soon, and I'm excited to head to the U.K. for a Spring of 2023 tour! Life is good!
All images courtesy of Robbie Crane/Getty Images
– Andrew Daly (@AJDWriter88) is a contributing writer for Metal Castle and may be reached at andrew@vinylwriter.com