Wolfgang Van Halen On AC/DC: "They Were The Band That Dad And I Bonded Over"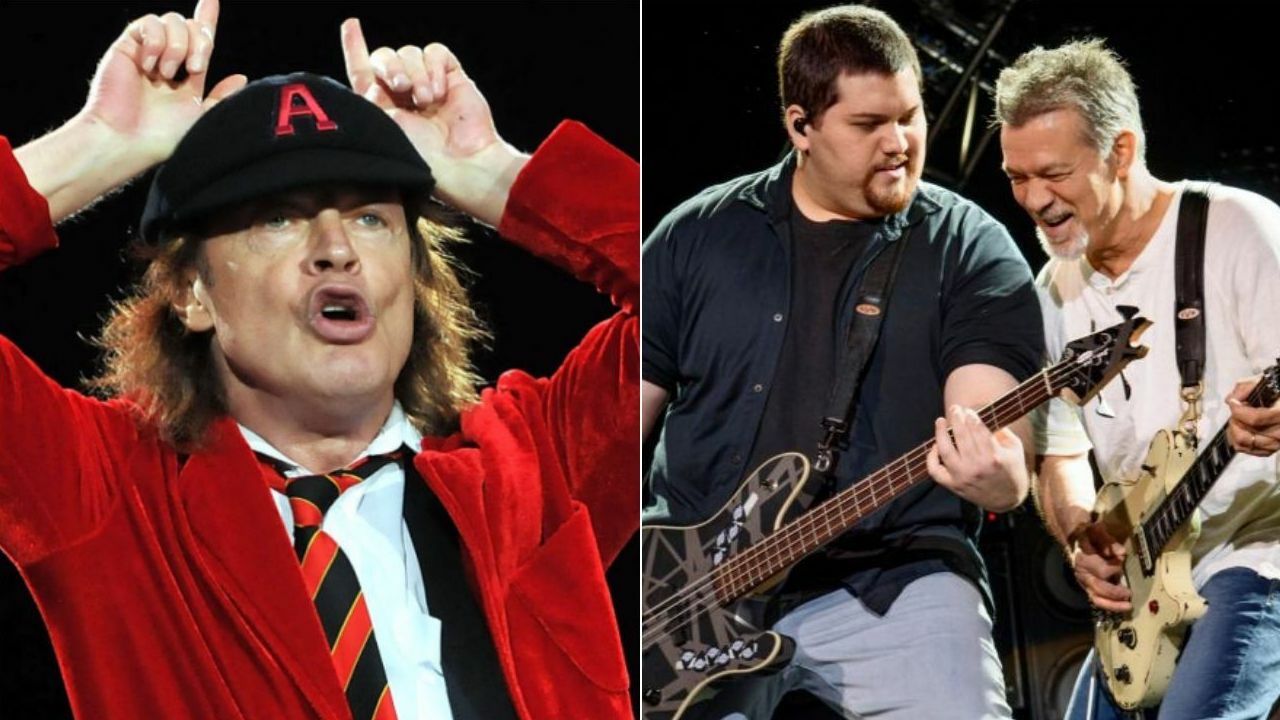 Mammoth WVH founder Wolfgang Van Halen, the son of Eddie Van Halen, has sent praising words for the rock pioneer AC/DC, saying that they were the band that his late father and he bonded in the past.
There is no doubt that AC/DC is one of the pioneers of rock music. Since its formation in Sydney in 1973, they have been continuing to create unique things that make them the best in the genre. With its classic songs like Back In Black, T.N.T., Highway To Hell, Hells Bells, Thunderstruck, High Voltage, and many more, AC/DC has been continuing to touch people's life since its early years.
The son and his father, Wolfgang Van Halen and Eddie Van Halen, were some of those who made a special connection because of AC/DC. After his father died on October 6, 2020, Wolfgang Van Halen had shared a tribute video, named Distance, to send his love to his father. Also, even though Eddie had passed away peacefully, Wolfgang still mourns him every time he interviews.
During his recent interview with Classic Rock, Wolfgang talked about his joining Tremonti band back in 2012, his father Eddie Van Halen, he and his father's connection related to AC/DC, his passion for Tool and Layne Staley from Alice in Chains. At first, the musician recalled the time he learned the entire Tremonti setlist the night before joining their tour.
"I happened to have been in New Jersey with my friends in Sevendust, where they were recording [2013 album] Black Out The Sun, I was just hanging out with them, and I happened to have some of my bass equipment with me because we were just jamming and stuff," Wolfgang said.
"And it was late one night that I got a call from Mark Tremonti. He was like: 'Hey, man, I heard you were in town. We need a bass player. Do you think you could come by?'
"And sure enough, I loaded my stuff in a pickup, and got there forty-five minutes later in New York, and I learned the whole set, and we started touring the next day!"
Wolfgang Adds AC/DC Was 'The Band That Dad And I Bonded Over'
Wolfgang then spoke touching when he recalled his late father Eddie Van Halen. When the interviewer took Wolfgang to his childhood that Eddie played him Big Balls by AC/DC, Wolfgang admitted he and his father connected to each other because of their music. He also said he is a huge fan of AC/DC.
"AC/DC was always the band that dad and I bonded over," Wolfgang says.
"Other than Van Halen being the most familiar classic rock-era band, AC/DC is definitely my band."
Elsewhere in the interview, Wolfgang mentioned his vocal skills. According to him, singing lead was the thing he had to work on the most. When he was asked which vocalists he looks to improve his singing, Wolfgang mentioned his favorite bands and singers, saying Layne Staley of Alice in Chains, Tool and Maynard James Keenan are some of his favorites.
"Growing up I was always a big fan of the grunge-era singers, Layne Staley from Alice In Chains being one of my favourites," he reveals.
"And I've always been a huge Tool fan. I love how Maynard [Keenan] can have a heavy voice but also the clearest voice possible.
"But I've never really tried to emulate another singer. I've been singing my whole life."
Back in November 2020, AC/DC guitarist and founder Angus Young had sent praising words for the late guitarist Eddie Van Halen. Saying that Eddie was innovative with his guitar style, Malcolm had also mentioned the first time they met.
"I would say Eddie was, besides his guitar playing to the world, he definitely was innovative with his guitar style," Angus said. "And to the world, he reinvented the way guitar had to be and he influenced a lot of people out there.
"I think the first time I met him was in the '90s when we did some touring through Europe and we did some shows together. And he was just such a warm person. The first thing you notice about him was as soon as you saw him he had a big smile, like a big laugh and give me a big hug.
"Always excited to see you. To the music world, it's a big loss. But again, for those of us lucky to have met him, it's probably an even bigger tragedy. And also for his family and everyone close to him.
"When you heard the news that cancer had come back to him, you're praying that the guy would get through. But that's how I always remembered him. And I also remember seeing him when we toured in America, and he came out to Los Angeles.
"And he came to the shows to see us. He was still the same; big smile, happy, and he was ever so happy to see us. And he was very fond of Malcolm. It is a tough thing and he definitely leaves a big hole. And if you knew him, he does leave a big hole in people."