Charlie Benante Opens Up The Pantera Reunion With A 'Fan Eye'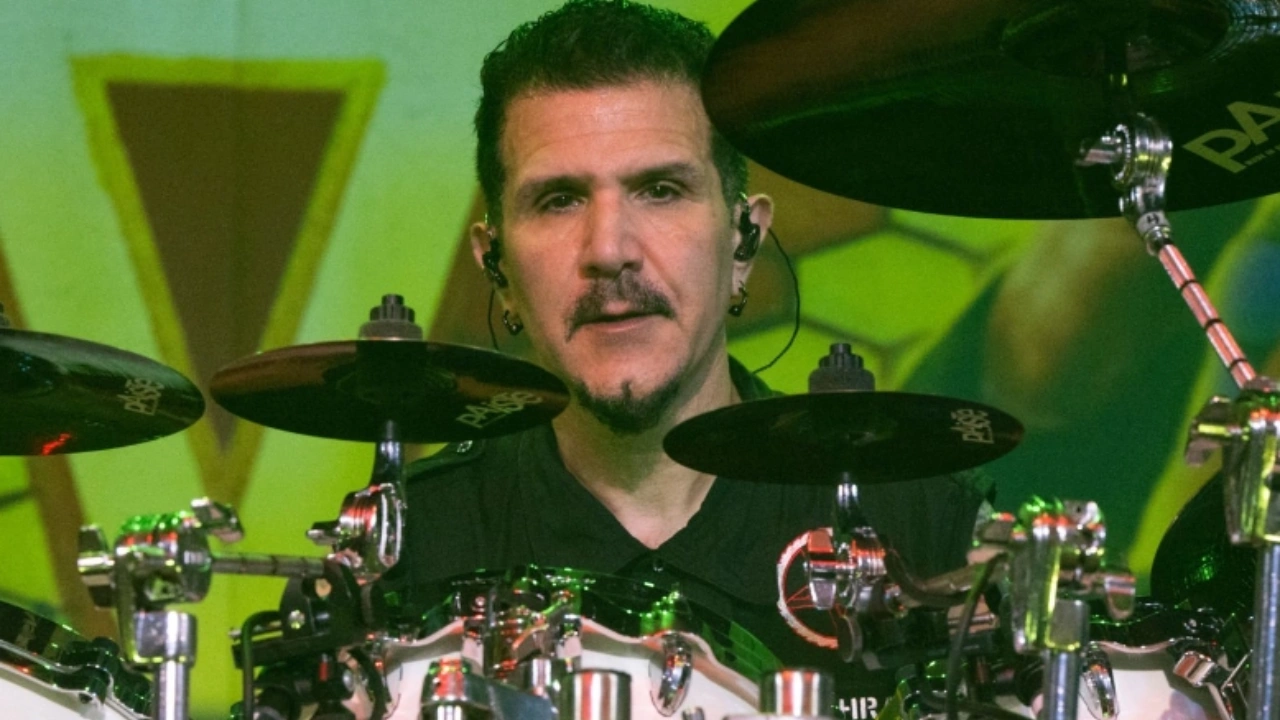 Charlie Benante, who has been originally playing drums with the thrash metal band Anthrax, has opened up about the Pantera reunion and mentioned their first show in 21 years.
It was rumored in July 2022 that the remaining members of Pantera – Rex Brown and Phil Anselmo – had plans to reunite in the future. The rumor came true shortly after the first leak, and Charlie Benante and Zakk Wylde were announced as the drummer and guitarist, respectively. On December 2, 2022, Pantera played its first show in two decades and rocked the audience at the Hell & Heaven Metal Fest in Mexico.
Their show in Mexico attracted huge attention from too many people. Furthermore, there were rock artists that reacted to the reunited Pantera's first show. Paul Stanley was one of those people who commented, saying that "Dime and Vinnie would be proud" of what they have done.
Clip of @skisum today on #trunknation talking 1st @Pantera show this past weekend.Full clip on my FB & IG. Full interview now on demand @SIRIUSXM app. Just enter Trunk Nation in search. Check out full interview. Great stuff & of course we talked @Anthrax too pic.twitter.com/OhbnZPosEp

— Eddie Trunk (@EddieTrunk) December 7, 2022
However, in his recent interview with SiriusXM's Trunk Nation With Eddie Trunk, Charlie Benante shared his opinion about the first show of the band after years of inactivity. He reflected on the show with a fan eye, saying that there was a moment they had an exciting connection before they played A New Level.
"Basically, we get up there and there's a big kabuki curtain in front of us and the four of us just up there," Benante said (transcription by BM). "And Philip came up to the drum riser and we just had this moment where we were shaking hands. We were so excited. And then I looked to Rex and I looked to Zakk, and the four of us just had this connection. And before I knew it — boom — we were right into playing 'A New Level'."
Afterward, Benante revealed that he was excited about the whole show from its first rhythm. He admitted that he enjoyed every piece of music they played at that night, recalling the words he told his bandmates in Pantera about a month ago.
"And it was off from that point," he adds. "And I was looking at the setlist, and I saw the next song coming up, and I was excited about that song. And then that song would finish, and I looked down, and I'm, like, 'Oh, I fucking love this song. Yeah!' It was that all night for me — just getting super hyped up about the next song and what was coming up. So I enjoyed myself.
"One thing I spoke to those guys about months ago, I said, 'Man, let's just try and be in the moment and just enjoy it.' And that's what we all did — we just kind of enjoyed it."
Charlie Benante's First Comments On His Show With Pantera
This was not the first time Charlie Benante talked about Pantera's reunion show. After he played drums with the band on December 2, Benante took to his social media account to share his first thoughts on the show. Admitting that he was nervous, Benante was in love with the setlist.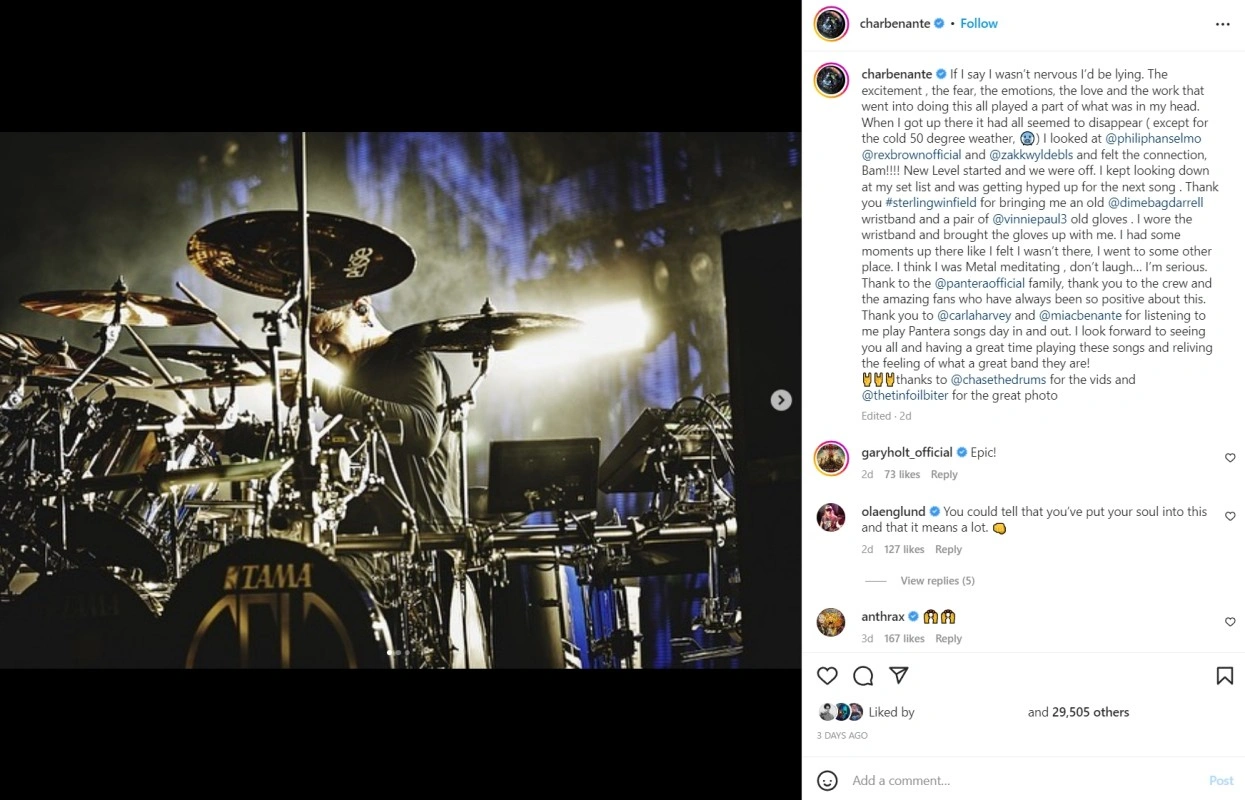 "If I say I wasn't nervous I'd be lying," he writes. "The excitement, the fear, the emotions, the love and the work that went into doing this all played a part of what was in my head. When I got up there it had all seemed to disappear (except for the cold 50 degree weather) I looked at @philiphanselmo @rexbrownofficial and @zakkwyldebls and felt the connection, Bam!!!!
"I kept looking down at my setlist and was getting hyped up for the next song. Thank you #sterlingwinfield for bringing me an old @dimebagdarrell wristband and a pair of @vinniepaul3 old gloves. I wore the wristband and brought the gloves up with me."
He then thanked the Pantera crew and his family for supporting him in his way, saying: "I had some moments up there like I felt I wasn't there, I went to some other place. I think I was Metal meditating, don't laugh… I'm serious.
"Thank to the @panteraofficial family, thank you to the crew and the amazing fans who have always been so positive about this. Thank you to @carlaharvey and @miacbenante for listening to me play Pantera songs day in and out. I look forward to seeing you all and having a great time playing these songs and reliving the feeling of what a great band they are!"