The 10 Singers That Keith Richards Listed As The Best Of All Time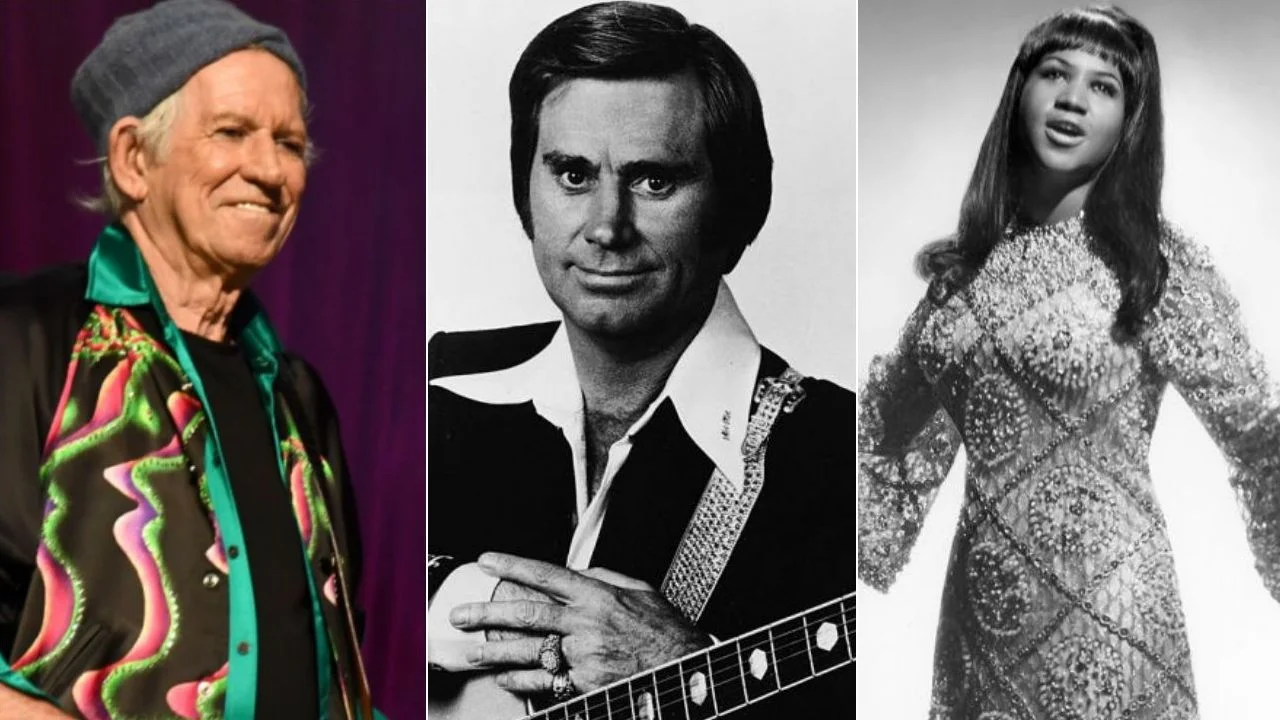 Over the years, although the choices have been changed over time, some music legends have come up with artists they consider better than themselves. In a 2008 pool made by Rolling Stone magazine, some artists had chosen their favorite singers. In addition to the favorite lists of James Hetfield, Alice Cooper and Ozzy Osbourne, Keith Richards was one of those musicians who voted to pick his favorite singers.
Keith Richards is widely regarded as one of the best musicians in the history of rock. The 77-year-old artist, who gained international fame for being a member of his band The Rolling Stones, is just one of the few musicians who has made a huge impact on rock music.
To date, Keith Richards has played in every one of The Rolling Stones' albums. The Rolling Stones, who have released 30 studio albums during their ongoing career, had released its debut record in 1964, named The Rolling Stones/England's Newest Hit Makers.
However, Keith Richards' favorite 10 singers include legendary names such as George Jones, Buddy Holly, Willie Nelson, Toots Hibbert, Muddy Waters, Aaron Neville, and Sam Cooke. Keith Richards' favorite singer of all time was Aretha Franklin, according to the list.
The 10 Singers That Keith Richards Listed As The Best Of All Time
10. Gram Parsons
Born on November 5, 1948, Gram Parsons was an American songwriter, guitarist, and pianist. Recording huge stuff as a solo musician, he is also known for his releases with his band International Submarine Band, The Byrds, and The Flying Burrito Brothers. Even though he passed away on September 19, 1973, his musical legacy has been continuing to be an inspiration for everyone.
Although his musical career lasted 10 years, Gram Parsons put his name in the history of rhythm and blues, soul, folk, and rock in gold letters. He was ranked number 87 on Rolling Stone's list of the 100 Greatest Artists of All Time.
Gram Parsons was the 10th favorite singer of Keith Richards.
9. Muddy Waters
Muddy Waters was a blues singer-songwriter that cited as the father of modern Chicago blues. Born on April 4, 1913, Waters had passed away on April 30, 1983, at the age of 70.
Throughout his legendary musical career, Muddy Waters had released fourteen studio albums. Debuted in 1960 with Muddy Waters Sings Big Bill, his final album was 1981's King Bee.
His respectable musical career was honored by 6 Grammy Awards, 4-time Rock and Roll Hall of Fame induction, 5 Blues Foundation Awards, Grammy Lifetime Achievement Award, and many more.
Furthermore, his musical legacy influenced music genres such as rock music and rock and roll.
8. Aaron Neville
The retired R&B and soul singer Aaron Neville was a platinum-certified American musician from 1960 to date.
Throughout his musical career, Aaron Neville had released 18 studio albums. His platinum-certified albums were 1991's Warm Your Heart, 1993's The Grand Tour, and Aaron Neville's Soulful Christmas.
Furthermore, there were some beloved songs that helped him to gain success. 1996's Tell It Like Is, 1991's Everybody Plays The Fool, 1993's Don't Take Away My Heaven, 1994's I Owe You One, 1997's Say What's in My Heart were some of those songs.
7. Toots Hibbert
The Jamaican singer Toots Hibbert had reached world prominence for being the lead vocalist of the Toots and the Maytals.
Born on December 8, 1942, Toots Hibbert had passed away on September 11, 2020. Since his early days to date, Hibbert's musical style has been continuing to be an inspiration for all artists.
Some of his beloved albums include Funky Kingston, Toots In Memphis, Reggae Got Soul, and Time Tough. Also, he won a Grammy Award in 2005 with his band's classic album True Love.
Toots Hibbert was the 7th favorite singer of Keith Richards.
6. Willie Nelson
Willie Nelson was the 6th favorite singer of Keith Richards.
Nelson is an American musician and activist who gained international fame with his hit albums, including Shotgun Willie, Stardust, and Red Headed Stranger.
During his ongoing musical career, Willie Nelson has released 71 solo studio albums. It's huge, right?
Some of his beloved albums as follows:
1963's Here's Willie Nelson
1971's Willie Nelson & Family
1975's Read Headed Stranger
1978's Stardust
1980's Family Bible
1986's Partners
1994's Moonlight Becomes You
If we forget, you can share with us in the comment section below!
5. George Jones
George Jones is an American musician who achieved international fame for his long list of hit records, including his best-known song He Stopped Loving Her Today.
Born on September 12, 1931, and passed away on April 26, 2013, George Jones was one of the greatest musicians of all time. Throughout his musical career, Jones' discography featured 87 studio albums, 3 live albums, 8 tribute albums, and 43 compilation albums. He also has numerous hit songs.
His number-one country hits include 1959's White Lightning, 1961's Tender Years, 1974's The Grand Tour, 1981's Still Doin' Time, 1982's Yesterday's Wine, 1983's I Always Get Lucky With You, and more. He had more than 160 chart singles throughout his 60-year career.
George Jones was the 5th favorite singer of the Keith Richards.
4. Buddy Holly
Buddy Holly was an American music figure who was activated as a musician from 1952 until his passing in 1959.
Throughout his musical tenure, Buddy Holly had released two solo studio albums. Debuted in 1958 with his self-titled Buddy Holly, the musician had released his second and final album in 1958, named That'll Be The Day.
Some of his beloved songs from the debut album include Look at Me, Everyday, I'm Gonna Love You Too, and Listen to Me.
3. Sam Cooke
Sam Cooke was the 3rd favorite singer of Keith Richards.
Cooke was an American singer who was commonly referred to as the King Of Soul. As for his musical successes, Cooke is considered to be a pioneer and one of the most influential soul artists of all time.
Debuted in 1958 with his self-titled Sam Cooke, the musician had released eleven studio albums throughout his solo career. His latest album was released in 1964 and named Ain't That Good News.
His beloved hits included A Change Is Gonna Come, You Send Me, Wonderful World, Chain Gang, Twistin' the Night Away, Cupid, and Good Times.
2. Jimmy Cliff
Jimmy Cliff was a Jamaican reggae and soul musician who's been activated since 1962.
Over the years, Jimmy Cliff released numerous albums. His some of successful albums were 1969's Jimmy Cliff, 1972's The Harder They Come, 1978's Give Thankx, 1985's Cliff Hanger, 1999's Humanitarian, and 2021's Rebirth.
With Rebirth, he won a Grammy Awards for Best Reggae Album.
Some of beloved Jimmy Cliff's songs include, Wonderful World, Beautiful People, Many Rivers to Cross, You Can Get It If You Really Want, The Harder They Come, Reggae Night, and Hakuna Matata.
1. Aretha Franklin
Aretha Franklin was the favorite singer of Keith Richards.
Born on March 25, 1942, Aretha Franklin was a singer, pianist, and songwriter that referred to as the Queen of Soul.
Debuted in 1961 with her Aretha: With The Ray Bryant Combo, Aretha Franklin's hit albums included I Never Loved a Man the Way I Love You, Lady Soul, Spirit In The Dark, Amazing Grace, Sparkle, and more.
Her hit efforts such as I Never Loved a Man (The Way I Love You), Respect, (You Make Me Feel Like) A Natural Woman, Chain of Fools, Think and I Say a Little Prayer have been influencing numerous artists.