Metallica's James Hetfield Cries After Elton John's Heartwarming Comments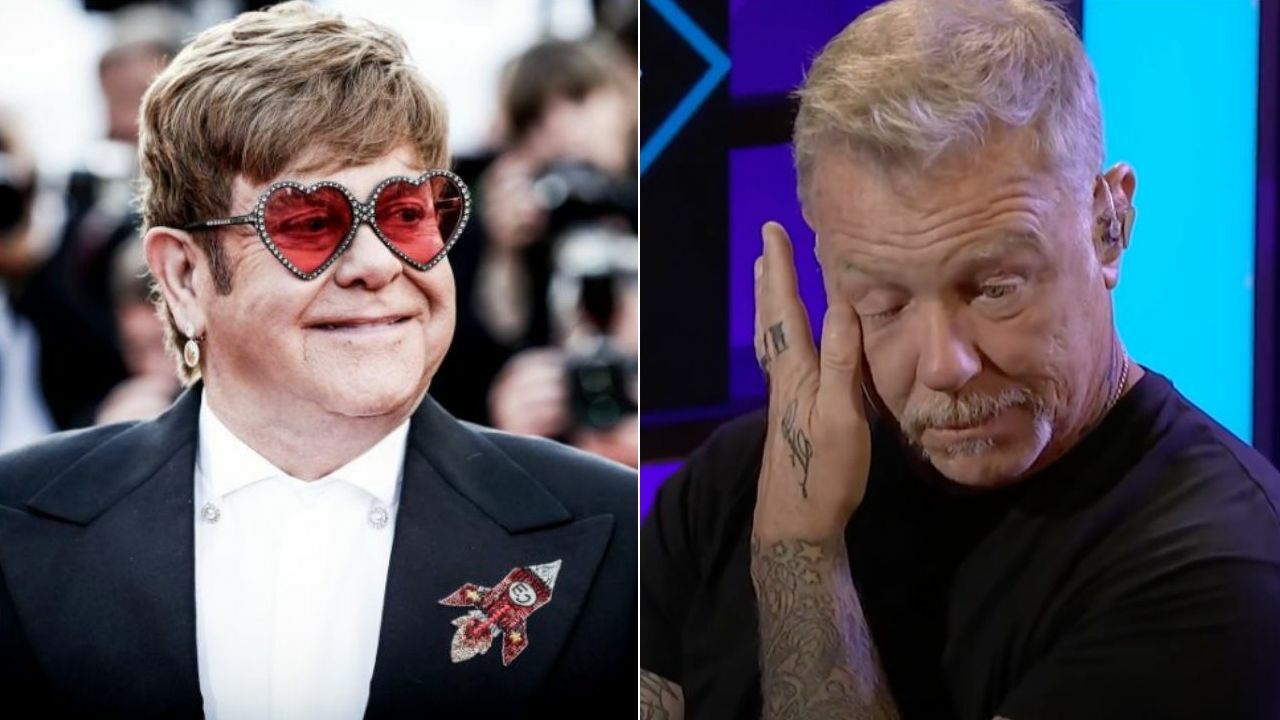 James Hetfield cried after Elton John's heartwarming words for Nothing Else Matters.
Metallica frontman James Hetfield cried after the 5-time Grammy Award-winning musician Elton John praised Metallica and their classic song Nothing Else Matters.
Metallica had announced this past June that they would have been bringing a new massive reissue of The Black Album, titled The Blacklist, on September 10, 2021. Detailing the album, Metallica had said that they would be working with 53 massive artists, including Elton John, Miley Cyrus, Corey Taylor, J Balvin, Ghost, and many more artists.
This past Tuesday (September 9), Metallica and Miley Cyrus had shared the stage on The Howard Stern Show to perform their collaboration in The Blacklist album. The celebrities had collaborated on Metallica's Nothing Else Matters and made fans exciting.
However, on the show, Elton John, one of the performers of the Nothing Else Matters, was asked what he thinks of the band's classic song. As you know, their cover version was starting with a piano sound. When they touched on how they decided to be started the song with piano, Elton revealed how the idea came out (as transcribed by MetalCastle.net).
"Well, that idea came from Andrew Watt who produced the track and played the guitar on it," he said. "And he said, 'I want you to start the song and finish the song because I don't want it to star with the guitar, because that's how the original record had started.'"
James Hetfield Cries When Elton Says This Is One Of The Best Songs Ever Written
Later then, Elton John touched on the emotion of the song. Writing by the band's frontman James Hetfield, John told that Nothing Else Matters is one of the best songs ever written. After Elton made those heartwarming comments, the frontman James Hetfield cried.
"And, listen, this is one of the best songs ever written, to me," Elton says. "It's a song that never gets old. Playing on this track I just couldn't wait because the chord structure, the melodies, the time changes – it's got drama written all over it. So, I just thought it was a great idea to start with piano."
Concluding his words, Elton explained why he liked Nothing Else Matters so much.
"Their songs aren't just heavy metal, they've beautiful songs," the musician said. "And, this is such a melodic song. It's just fucking great, actually."
Hetfield Reveals A Life-Changing Experience About Nothing Else Matters
Just before Metallica and Miley played Nothing Else Matters side by side, Howard Stern asked a question to James Hetfield. Saying through the frontman that he didn't even want to present this song to the band because he was ashamed of it, James confirmed it. Later, he revealed a life-changing experience about the song.
"Yeah, absolutely," he said. "That was one of those, very vulnerable places, and, you know, that was just the last thing, especially, [the] late 80s…
"We built this reputation of tough guy. And, you know, 'we're made of stone, you can't hurt us,' blah, blah, blah…
"And this is one of the most vulnerable things, and obviously, the tougher the armor, the bigger the heart you want to show and what you're afraid to.
"So, I was shocked when Bob Rock and Lars Ulrich both said that is beautiful, that's an amazing song. It was a life-changing experience to be, 'Okay, playing this for them.' And them accepting it."