Eric Clapton Reveals Anti-Lockdown Song's Story: "It Had Been 18 Months Since I Had Kind Of Been Forcibly Retired"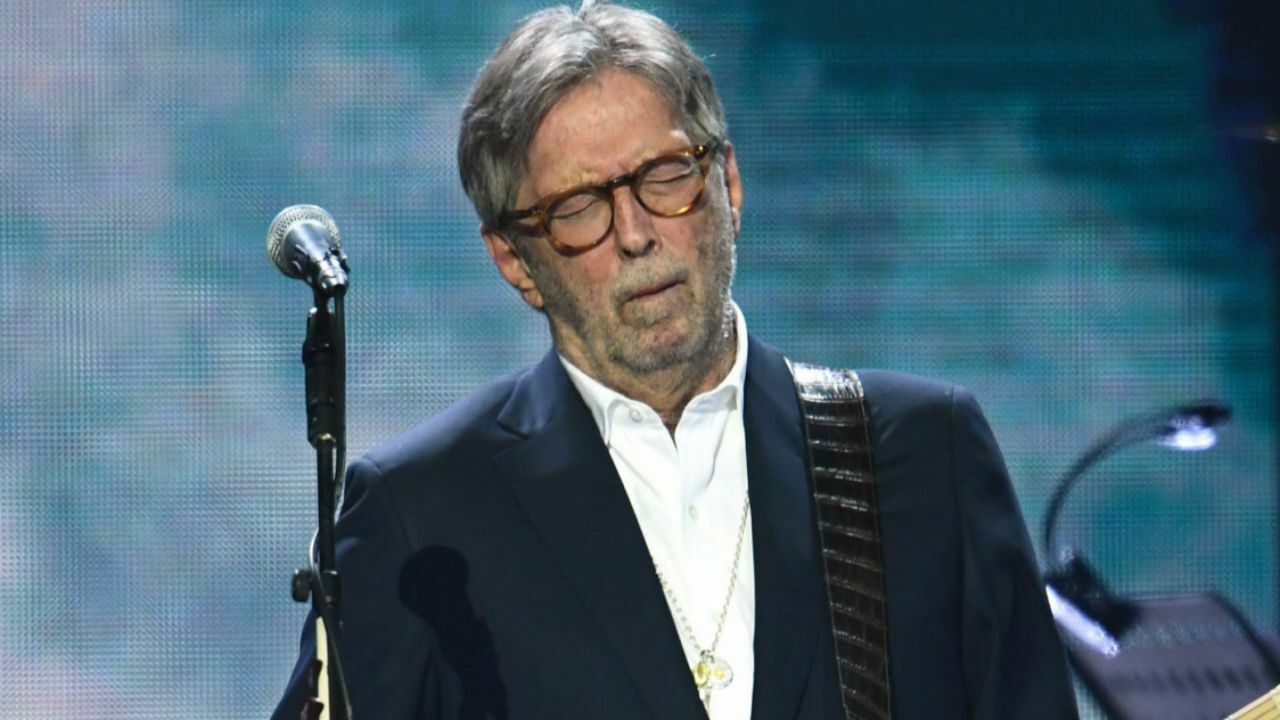 In a new interview with The Real Music Observer, the talented musician Eric Clapton has revealed how the making idea of the mostly-discussed anti-lockdown song Stand And Deliver came about and claimed his career had almost gone away.
Eric Clapton came to world prominence for being one of the most influential rock guitarists in the community. Debuted in 1970 with his self-titled studio album, Eric Clapton owes his fame to his huge discography, which includes 24 solo studio albums, 21 compilation albums, 16 live albums, 14 soundtrack albums, and more.
Awarded the Grammy Lifetime Achievement Award as a member of Cream in 2006, Eric Clapton has sold over 290 million records around the world, which means he is one of the best-selling music artists of all time. Also, the three-time Rock and Roll Hall of Fame inductee Clapton collaborated with great talents such as B.B. King, Carlos Santana, and J.J. Cale
One of Clapton's collaborations includes his anti-lockdown song Stand And Deliver with the music talent Van Morrison. As some of you might know, Clapton released that song to show off his stand against the proof of vaccinations that requires playing live shows.
However, during his recent online appearance, Clapton revealed the main idea behind the making of the song. Addressing his stance against COVID-19 policies, Clapton stated that he got a rumor that Van Morrison was acting against COVID-19 policies. Saying that his career had gone away, Clapton added that no one wanted to describe their feelings about their standing against COVID policies at the time.
"My career had almost gone anyway," said Clapton. "At the point where I spoke up, it had been almost 18 months since I had kind of been forcibly retired. And I joined forces with Van.
"I got the tip that Van was standing up to the measures. And I thought, 'Why isn't anybody else doing this?' And we go back; I've known him since we were kids.
"And I contacted him. I said, 'What do you think? What's going on?' And he said, 'I'm just objecting, really. But it seems like we're not even allowed to do that. And nobody else is doing it.' And I said, 'You're kidding. Nobody else?' And he said, 'Nobody else.' And I said, 'I'm with you. Is there anything I can do to help? Have you got any songs?'
"And of course, it was a silly, stupid question 'cause he writes two songs a day or something like that. And he sent me 'Stand And Deliver', which he had already… I didn't know he had already recorded it. So I thought, 'Oh, man. I'm getting an unreleased Van Morrison song.' I was over the moon anyway."
Eric Clapton Recalls The Making Process Of The Anti-Lockdown Song 'Stand And Deliver'
Eric Clapton then mentioned the making process of their song, Stand And Deliver. He claimed that he was the one who was excited about what was going on about the song. Concluding his words, Clapton mentioned his stability and added his family and his friends got scared because of people's overreaction.
"It was during the process of talking about that to another musician, and then getting me excited, and then sharing that news, and I found that nobody wanted to hear that," he continued.
"And I was kind of mystified because I seemed to be the only person that thought that was an exciting or even appropriate idea with what was going on. And that challenged me even more. 'Cause I'm a bit like him maybe — I'm cut from the cloth where if you tell me I can't do something, I really wanna know why I can't do it.
"And it seemed like I'd had a wall built around me. But I thought, 'I'm gonna do this.' But I did make concessions — I did take out lines or change lines a little bit just to pacify those that I really didn't wanna hurt, people I didn't wanna hurt or scare.
"And needless to say, my family and friends, they got scared, and I think they were scared on my behalf."
Back in November 2021, Eric Clapton had recalled the time he lost his 4-year-old son traumatically. Revealing his sadness about the passing of his son, Clapton said he tried to heal himself importantly.
"I had, I brought him home from New York with the Italian side of his mother's family, and we went through the process of the funeral, and when they left," Clapton says.
"And that I had this little Spanish guitar, I became attached to that. And I went away. I went off to Antigua, and I rented a little cottage there, in a sort of a community.
"And I just swatted mosquitoes all day and played this guitar and stayed there for almost a whole year without much contact with the outside world.
"I tried to heal myself, and all I could do was play and write these songs, and I rewrote and re-performed them again and again and again until I felt like I'd made some sort of move towards the surface of my being.
"And then I was able to come out. It was so deep, and I had thought that I had taken care of it until I saw [the 2018 movie] 'Life in 12 Bars.'
"And it's very disturbing for me, but beautiful at the same time, the way it's handled in the film. The footage I haven't seen of him before, which is difficult to watch, with the underlying music.
"And playing 'Tears in Heaven,' I mean, it's overwhelming, and I've got to go and do it again in a few days' time."