Sammy Hagar Shares A Never-Seen-Before Photo Where He Looked Like Eric Clapton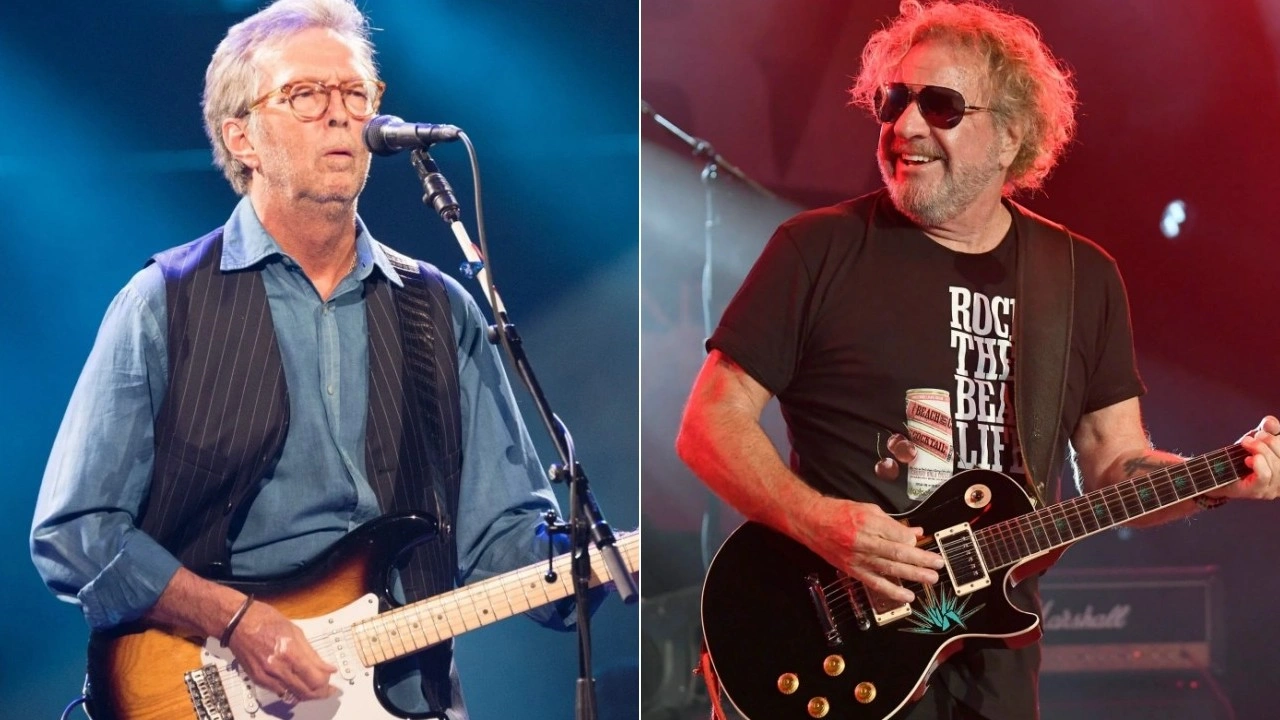 Former Van Halen singer Sammy Hagar took to his official Instagram account to share a never-seen-before photo to show off his Eric Clapton style. He also admitted a fact about owning his first guitar.
Sammy Hagar first started his professional musical career back in the early 1970s as a part of the hard rock band Montrose. After a few years of getting experience in rock, he embarked on a solo career in the mid-1970, where he rose to world prominence. He recorded and released hit albums for his own solo career, including Musical Chairs, Danger Zone, and VOA, and became a lead singer of Van Halen in 1985. Over the years, he and Van Halen have parted ways and reunited several times, however, Sammy Hagar's momentum of success has always been upward.
Before his professional career, Sammy Hagar played music on his own in the late 1960s to gain more experience and improve himself in music. At the time, he was a die-hard Eric Clapton fan and wanted to reflect the guitarist in his own looking. In his last Instagram post, he took fans back to that moment, admitting that he saw a photo of his early years for the first time.
In the photo, Sammy Hagar was looking like a young Eric Clapton, who had mustache and big hair. When he recalled those days, he said he was only 19 years old at the time and had an Eric Clapton look.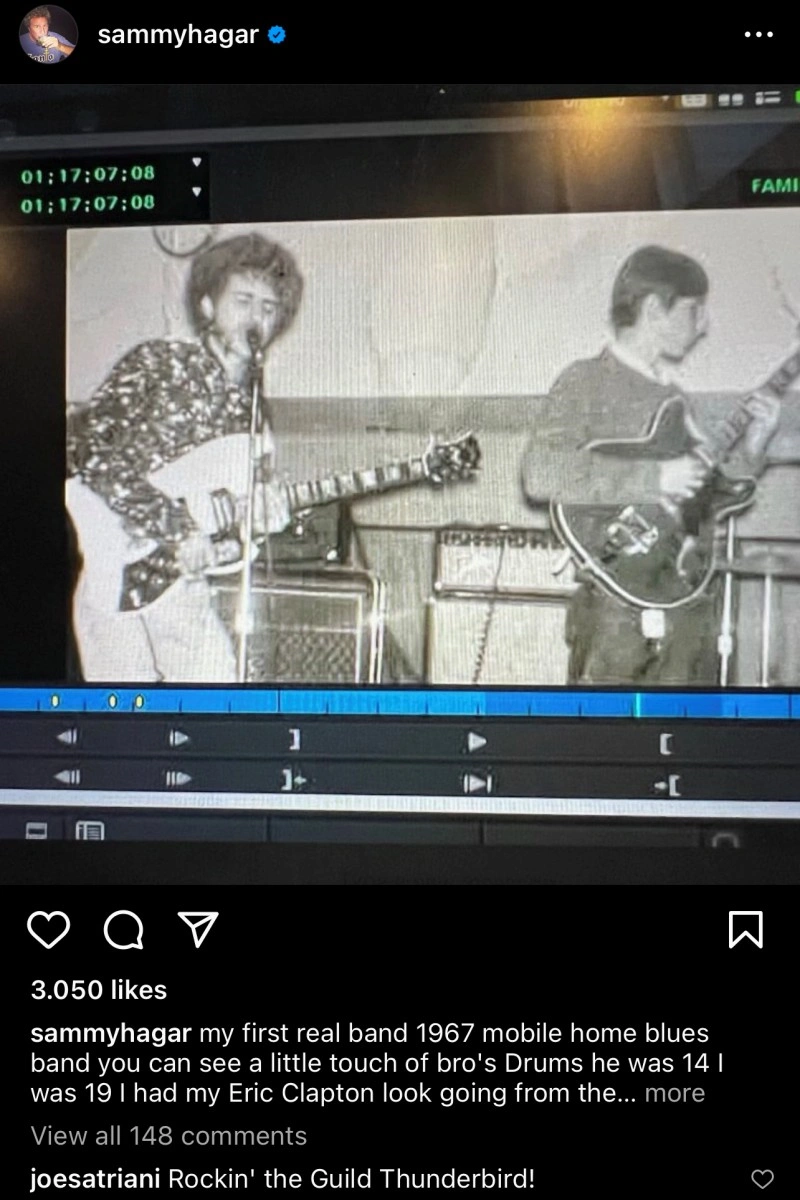 "My first real band; 1967 mobile home blues band," Hagar says. "You can see a little touch of bro's Drums. He was 14 I was 19. I had my Eric Clapton look going from the 'Fresh Cream' record."
He then admitted a fact about owning his first guitar, saying that he snatched it out of a music store: "That was my first real guitar. The one I talked about in my book that I snatched out of a music store. I must admit I've never seen this photograph before in my life someone sent it to Andrew Hagar wow! The other guitar player is Mike Lofie not sure what he's up to."
In the comments section, there was a fan who said Eric Clapton would be proud of him if he saw the photo. Answering the comment, Hagar recalled seeing Clapton shortly after the photo was taken. According to him, Clapton looked different, and he imitated his looking next.
"Shortly after this, I saw Karim's first performance at the Whiskey A Go Go, and Erik had a whole different look long hair parted down the middle with the mustache," Hagar writes. "So I went with that next. I'll see if I can dig one of those up."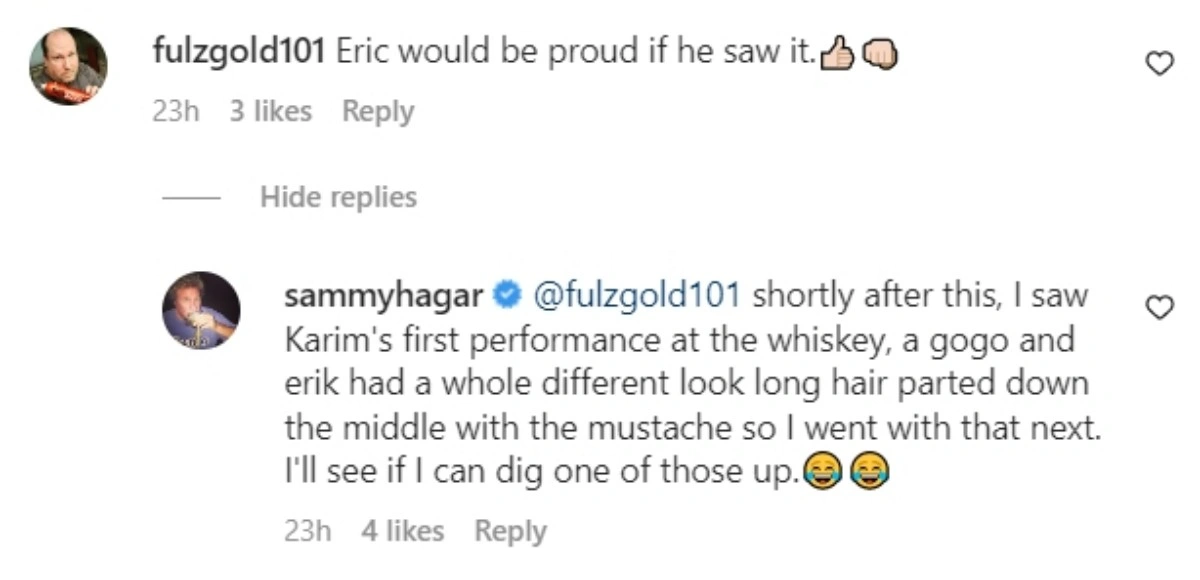 In 2015, Sammy Hagar disclosed how he became a huge fan of Eric Clapton. Revealing his favorite Cream album, he said that Disraeli Gears was the album that he loved Eric Clapton too much.
"Cream were the next big influence on me," Hagar says. "I loved Fresh Cream, but Disraeli Gears was the album that really got me into digging into Eric Clapton. I wore it out. I played it over and over learning those guitar solos, and let me tell you, every solo on the record is spellbinding."
You can find the original post here.