Bono Says U2 Sound Embarrasses Him: "It Makes Me Cringe A Little Bit"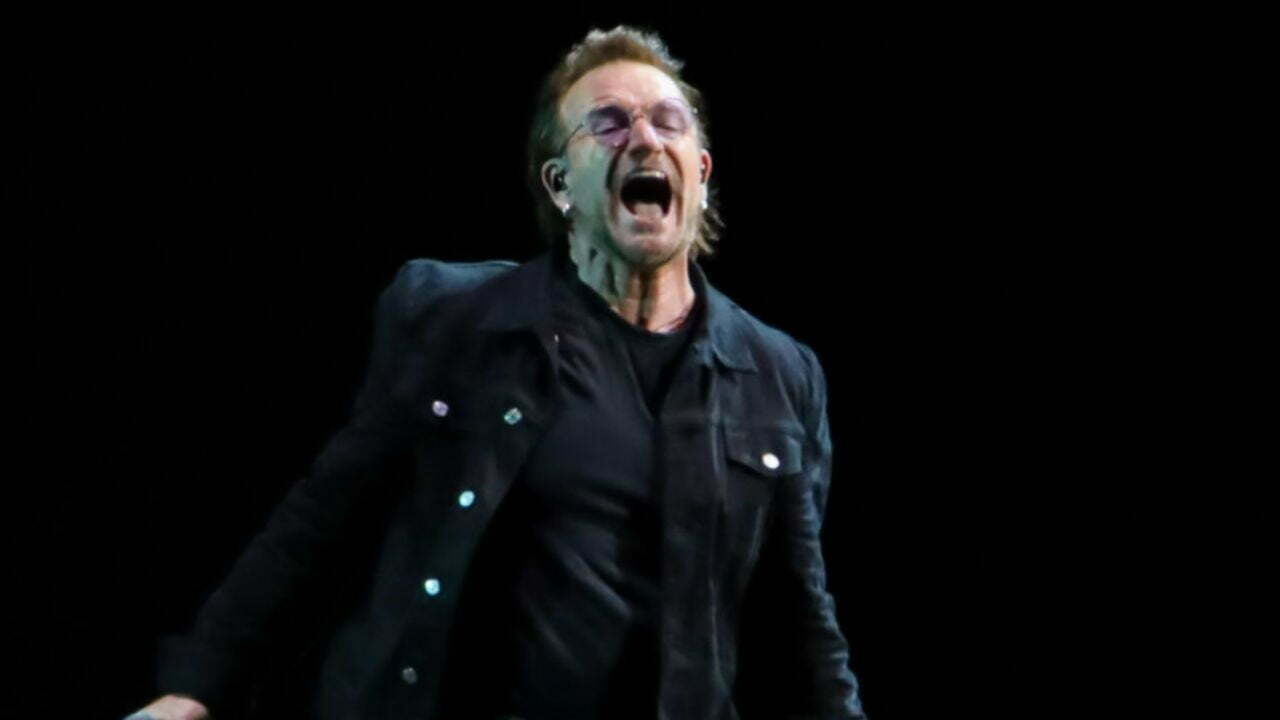 U2 singer Bono admitted a shocking fact that surprised the band's fans, saying his band U2 has an embarrassing sound which makes him cringe these days.
Bono is an Irish singer who gained international fame for being the lead vocalist and frontman of the rock band U2. Helping the band to reach global success, Bono has debuted in 1980 with the band's Boy. Performing the band's every one of stuff, Bono's latest album with the band was U2's Songs Of Experience, which was released in 2017.
During his ongoing tenure with U2, Bono has received 22 Grammy Awards and 2 Golden Globe Awards for Best Original Song for The Hands That Built America and Ordinary Love in 2003 and 2014, respectively. He was also inducted into the Rock and Roll Hall of Fame in 2005 as a member of U2. It was the first year of eligibility for the band.
Out of U2, Bono has performed alongside successful rockers such as Tina Turner, B.B. King, Bruce Springsteen, Ray Charles, Bob Dylan, Green Day, Roy Robinson, Willie Nelson, Johnny Cash, and more. Bono's honors include the Chairman's Award and the annual Man of Peace prize. Also, Rolling Stone magazine ranked him the 32nd-greatest singer of all time.
However, during his recent interview with The Hollywood Reporter's Scott Feinberg on the Awards Chatter podcast, Bono made some shocking comments about his band U2. At first, Bono mentioned the experience that listening to U2 on the radio. According to him, he can't listen to the band's songs on the radio without feeling embarrassed.
"I've been in a car when one of our songs has come on the radio, and I've been the colour of – as we say in Dublin – scarlet," Bono told the interviewer Scott Feinberg during the interview.
"I'm just embarrassed. I do think U2 pushes out the boat on embarrassment quite a lot.
"And maybe that's the place to be as an artist is right at the edge of your level of pain for embarrassment, your level of embarrassment."
Bono Admits U2's Old Songs Makes Him Cringe
Later then, Bono touched on his past vocal performances during the band's early records such as the debut Boy, the second October, the third War, 1993's Zooropa, 1997's Pop, and more. Even though he thinks his lyrics were good, Bono added that they did not fill in the details.
"And the lyrics as well," Bono continues. "I feel that on Boy and other albums it was sketched out very unique and original material. But I don't think I filled in the details."
According to him, his sound on Vertigo, the opening song of the eleventh studio album of U2, How to Dismantle an Atomic Bomb, was good compared to the other songs, admitting the other U2 songs makes him cringe.
"Most of the other ones make me cringe a little bit," Bono admitted when he addressed Vertigo.
"I just found the voice very strained and kind of not macho and my Irish macho was kind of strained by that.
"A big discovery for me was listening to the Ramones and hearing the beautiful kind of sound of Joey Ramone and realising I didn't have to be that rock and roll singer.
"But I only became a singer recently."
Bono made the interviewer to support and to talk about the film he stared alongside Scarlett Johansson, Taron Egerton, Tori Kelly, and Matthew McConaughey, named Sing 2. As some of you know, the movie was released on December 22, 2021, and U2 was the performer of Your Song Saved My Life, which came from the movie.