Black Sabbath Star Tony Martin Recalls Meeting Ronnie James Dio: "He Was Really Angry With Tony Iommi For Inviting Me Back There"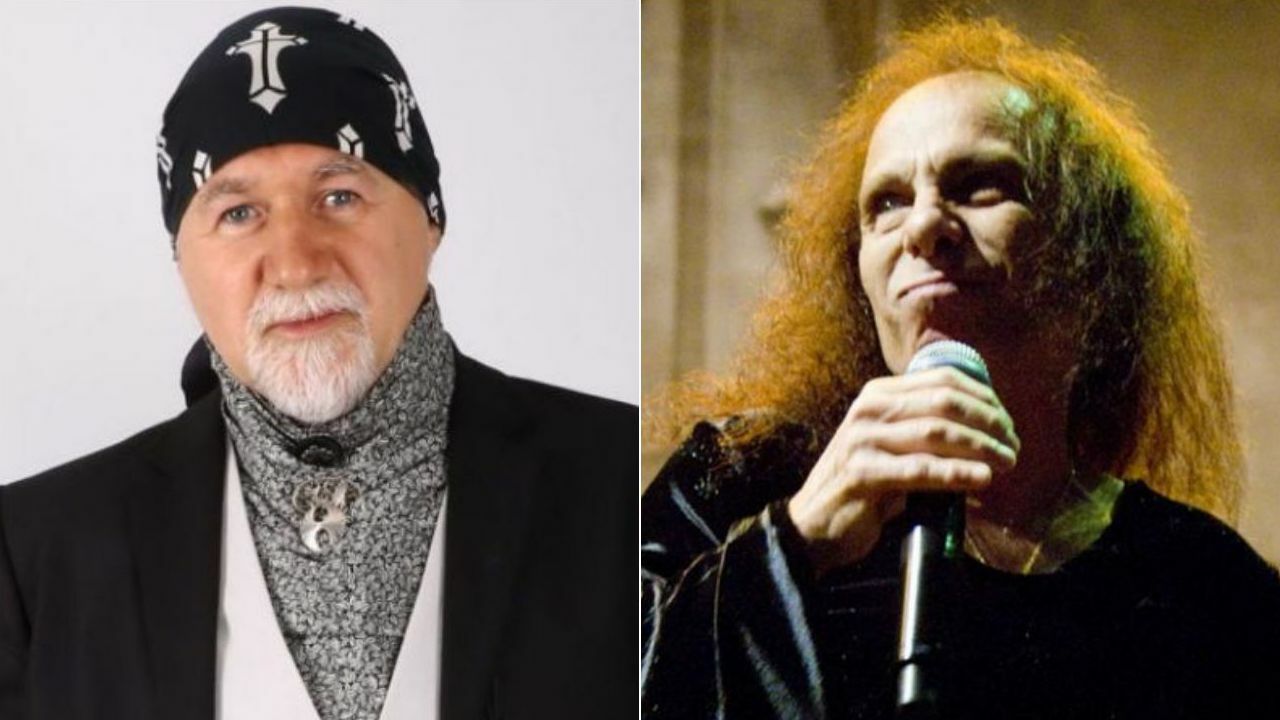 Former Black Sabbath singer Tony Martin recalled his first meeting with the late singer Ronnie James Dio and stated that Ronnie was a little bit angry at the band's guitarist Tony Iommi when Martin arrived there.
Formed by Tony Iommi, Bill Ward, Geezer Butler, and Ozzy Osbourne in 1968, Black Sabbath was a Birmingham-based heavy metal band. Throughout its more than 4-decade career, Black Sabbath was fronted by great vocalists such as Tony Martin, Dave Walker, Ronnie James Dio, and Ian Gillan, except for Ozzy Osbourne.
During Tony Martin's vocal period firstly from 1987 to 1991 and secondly from 1993 to 1997, Black Sabbath released 6 efforts in total. Those were the band's 1987's The Eternal Idol, 1989's Headless Cross, 1990's Tyr, 1994's Cross Purposes, 1995's Cross Purposes Live, and 1995's Forbidden.
One of those other vocalists of the band was the late singer Ronnie James Dio. In the past, He had been joined and left the band several times. At first, Dio appeared with them between 1979 and 1982. Also performing during Martin's hiatus from 1991 to 1993, Dio lastly appeared with Black Sabbath between 2006 to 2010. During his tenure with Black Sabbath, Dio released 3 studio albums.
Tony Martin and Ronnie James Dio had met during one of Black Sabbath's Dehumanizer in England around 1992. At the time, Martin had arrived the show after the invitation of the band's guitarist and founder Tony Iommi. That reunion was disturbed Ronnie James Dio, who thought Sabbath wanted Martin back.
However, during a recent interview with the Metal Mayhem ROC podcast, Tony Martin recalled the time he met with Ronnie James Dio. According to Martin, he has much respect for Dio, but he ignored him because of his anger.
"Actually, Tony Iommi had invited me backstage to one of the 'Dehumanizer' shows here in England," recalled Martin.
"I was backstage, and Ronnie was not happy — nah, he was not happy. I think he was really angry with Tony Iommi for inviting me back there."
Martin Reveals Dio Thought Black Sabbath Wanted To Carry On Without Him
In the continuation of his words, Martin said he tried to talk with Dio backstage. Remembering their weird conversation, Martin admitted that Dio was so cold to him. According to Martin, he thought Dio was gonna hit him in the face.
"I tried to catch his eye backstage," he continues. "It was a relatively big affair, with people all over the place.
"And every time he walked past me, I went, 'Ronnie!' And he disappeared. 'Ronnie!' Eventually, I managed to catch his attention. I said, 'Ronnie! Come here.'
"So he walked over, and he just stared at me. And I thought maybe he was gonna hit me or something; he just stared. And I was trying to explain. I said, 'Ronnie, I love what you do, man. I'm a big fan.' And I said, 'You're a hard act to follow.' And he said, 'Good,' and walked off.
"That was it. [Laughs] He didn't stay. He just said 'good' and walked off. So that was my only conversation with Ronnie James Dio. [Laughs]"
Concluding his words, Martin stated that Dio thought they were gonna replace him with Tony Martin. Martin also claimed that, during the band's Dehumanizer-era, there were problems between band members before he rejoined the band.
"[He] wasn't happy that I was there," he adds. "He must have thought he was being put on the spot. Iommi, obviously, hadn't told him that I was gonna be there. And after the 'Dehumanizer' thing is when I rejoined.
"So there was stuff going on in the background and I don't know what the issues were. But they hadn't been getting on well.
"Tony Iommi told me that it hadn't gone well with Ronnie. And I was back there after that. So my name has been attached to Sabbath for 11 years, more or less, without too much of a break."
Tony Martin To Reissue His-Era Sabbath Albums
Back on January 12, Tony Martin had taken fans back to the rare conversation he made with Tony Iommi. Remembering the funeral of the band's former member Geoff Nicholls, Martin had said Iommi told him that they must write new things for Black Sabbath.
"We had a guy in Black Sabbath called Geoff Nicholls," Martin said. "He was the keyboard player. He died four years ago. And when we at Geoff Nicholls's funeral service, I bumped into TonyIommithere, and he said, 'I've got loads of stuff to play you. And we have to get together and see if we can write some new songs. And then maybe we can re-release the Tony Martin-era albums.' And I thought, 'Well, that's cool. Okay. Whatever.'"
"Then the phone went dead for ages — months and months and months and months. So I called him back and he said, 'Come over to the house and we'll talk about it.' So I said, 'Okay.'
"So I went to his house and he said, 'We can't do it.' And I went, 'What?'" Tony continues. "He said, 'We can't do it.' I said, 'Why not?' He said because there's an agreement with the guys of Sabbath that they can only release something [new] under the Sabbath name if it's the original Sabbath members.
"Nobody else can record anything [new] under the Sabbath name… What he said was what we can do is reissue the albums. We can't add anything to it. So what we're expecting, if he ever gets around to it, is for the Tony Martin-era albums, apart from 'Eternal Idol', 'cause that's owned by someone else, to be reissued.
"Remixed probably in the case of 'Forbidden', but I think it'll just be as it was… [We can add] only stuff that's already been recorded at the time.
"I've searched through… I've got hundreds of tapes — things from the writing sessions," he said. "I've got the tapes when Eddie Van Halen was with us writing on 'Cross Purposes'. I sent that over to Tony. That appeared on YouTube; I don't know how that got out. But I've got all sorts of stuff like that. And I thought that was the kind of thing that they would reissue the albums with. But I have no idea. You probably know more than me."
Even though Iommi said to him that no one could ever record new things under the name of Black Sabbath, Martin has recently announced that they will reissue Martin-era albums as soon as possible.
"I got a call from Tony Iommi's manager," Martin shared in his social media post. "It seems there is now a record deal for my era of Sabbath albums!!! so It looks like a re-issue is actually going to happen!!! There could be a LOT of 'Tony Martin' around this year! Sorry about that!"