Wolfgang Reveals The Best Sammy Hagar-Era Van Halen Album: "The Hagar-Era Shows Another Side Of My Father's Playing"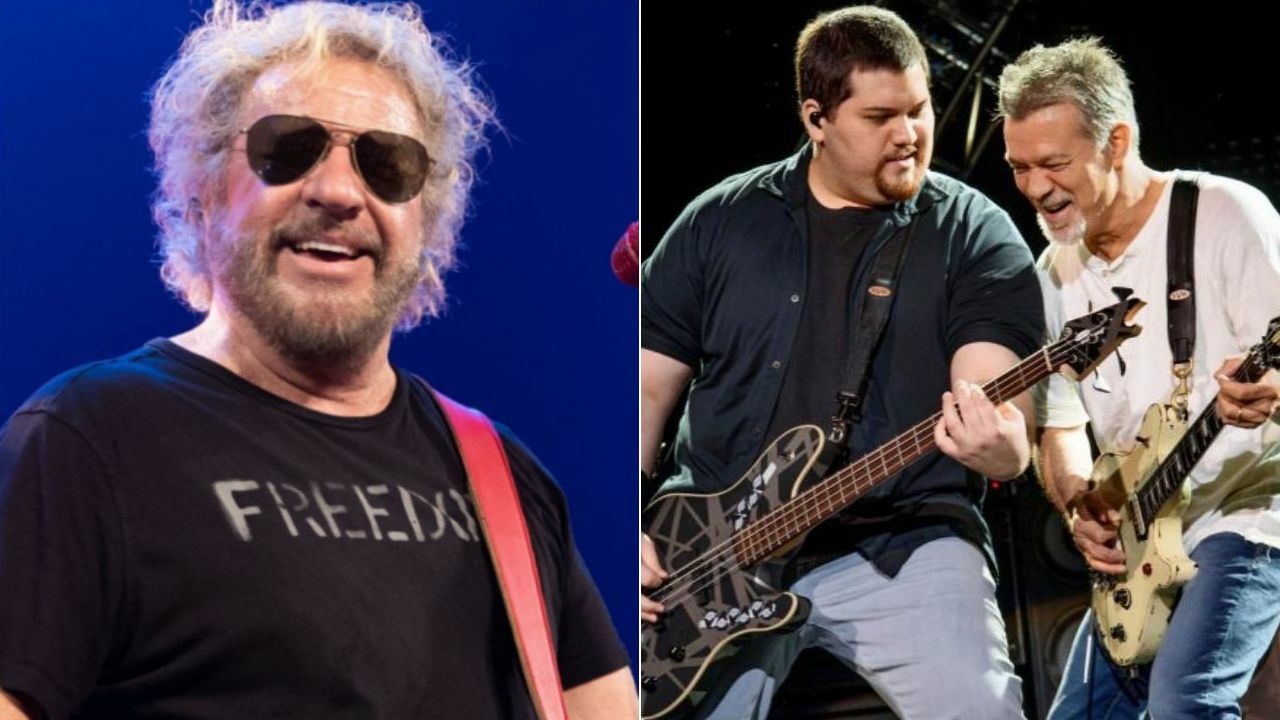 During a recent interview with Louder Sound, Wolfgang Van Halen chose the 11 albums that changed his life. In the list, he said that David Lee Roth's Fair Warning and Sammy Hagar's Balance were two different masterpieces, adding the Sammy Hagar-era Van Halen shows were another side of his late father Eddie Van Halen's playing.
Wolfgang Van Halen is the founder of the American rock band Mammoth WVH, which he focused on after the passing of his father Eddie Van Halen in 2020. He is also known for being the bassist of his father's band Van Halen from 2006 to the year his father passed away.
Throughout Van Halen's lifetime, there were two huge known vocalists that performed with the band, the Diamond Dave David Lee Roth and The Red Rocker Sammy Hagar. When David Lee Roth recorded 7 studio albums with Van Halen, Sammy Hagar had appeared in 4 studio albums of the band.
Van Halen's fourth studio album Fair Warning was David Lee Roth's work. The album was certified by 2x Platinum by RIAA and Platinum by Music Canada. On the other hand, the band's tenth album Balance was the release of Sammy Hagar. It was certified 3x Platinum by RIAA and 3x Platinum by Music Canada.
However, while choosing his life-changing albums of all time, Wolfgang added Van Halen's Fair Warning and Balance to The Beatles' Abbey Road, Peter Gabriel's So, Blink-182's Enema Of The State, and Tool's Ænima. At first, he commented on Roth's work Fair Warning and said it was a special album for him and his father.
"I wanted to pick a Van Halen album, because obviously that can't be ignored in my upbringing and influence," Wolfgang says. "I've lived and breathed it my whole life.
"But I've kind of fudged, because I don't think you can fully represent what Van Halen is without looking at both the Roth era and the Hagar era.
"'Fair Warning,' the Roth era album, is a very special album to me. It was an album where my dad just said, 'Fuck it' and did what he wanted. I think that's why it's a cult classic – it was never really a huge album compared to the others.
"But I think it's a really important because it's where dad just went hard. Again, it's another dark album.
"But then there's classics like 'Unchained.' And it's so quick – it goes by in 36 minutes or something, but it just makes you want to start it again. It's such a great, dark, fun album that I think it gets overlooked."
Wolfgang Claims 'Balance' Was The Best Sammy Hagar Album With Van Halen
Later then, Wolfgang continued by revealing that Sammy Hagar's Balance was the best Van Halen sounding. Saying that the Hagar-era concerts showed another side of his father Eddie's playing, Wolfgang added he loves all of the Van Halen albums.
"For the Hagar era, 'Balance' was the album that meant a lot to me," he adds. "Technically I was alive for For Unlawful Carnal Knowledge, but 'Balance' was the one that I kind of remember being around when it was happening.
"You could argue that 'For Unlawful Carnal Knowledge' was a better album, but 'Balance,' for me, means more. It's more of a nostalgic thing. Sonically, it's phenomenal-sounding album – it sounds incredible.
"It might be the best-sounding Hagar album, maybe the best sounding Van Halen. The Hagar era shows another side of my father's playing as well.
"I like how he leaned more into the melodic stuff – some of the most beautiful melodies he's ever written have been in the Hagar-era with things like 'Dreams' or the song 'Not Enough' from 'Balance.' But then I love all of the Van Halen albums."
Back in this past July, Wolfgang had discussed how his father felt about his music when he was alive. Saying that Eddie was the proudest parent, Wolfgang had also answered if his father encouraged him to do music.
"He was a very impressed father. He took me on in everything from me playing soccer to this one time where I threw a pumpkin at a teacher who was mean to me in kindergarten," he said.
"He told me to not miss the next time. It was one of those little pumpkins, it wasn't a big one. But he just cheered me on in literally everything and he couldn't have been happier with the music.
"He was the only other person who had all the ideas on his phone other than me.
"He even had stuff that hit the cutting room floor that'll probably show up on another album or something. So he was definitely the proudest parent.
"He was super-encouraging and not forcing me to do it," the musician said. "He just saw that I had an affinity for it and encouraged it."