Whitesnake's David Coverdale Recalls Infuriating Jimmy Page Decision: "His Manager At The Time Talked Him Out Of It"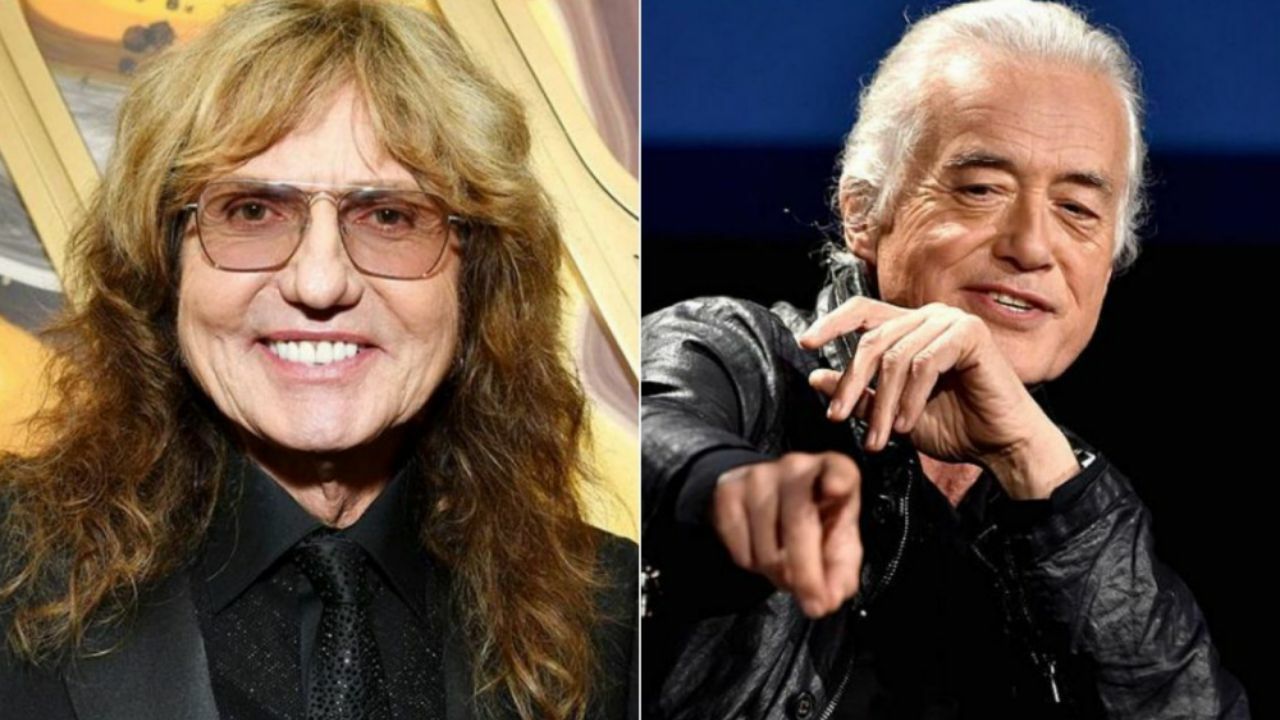 In a new appearance on 107.7 The Bone, Whitesnake leader David Coverdale has recalled his project with Led Zeppelin guitarist Jimmy Page, named Coverdale-Page, and discussed the possibility of their continuation as Coverdale-Page 2.
David Coverdale is known for his tenure with his co-founded rock band Whitesnake, which was formed in 1978. Debuted in 1978 with the band's Trouble, David Coverdale performed in every Whitesnake albums throughout his career. His latest album with the band was the band's thirteenth and latest studio album, Flesh & Blood.
On the other hand, the English musician Jimmy Page was the founder and guitarist of the rock band Led Zeppelin. The guitarist achieved international success as a member of his band. Throughout his musical tenure with Led Zeppelin, Jimmy Page performed in the every albums of the band.
In 1993, Jimmy Page and David Coverdale had collaborated to make a collaborative studio album named Coverdale-Page. Consisting of 11 tracks in total, the album's production was handled by the owners of the album, David Coverdale, Jimmy Page, and the producer Mike Fraser.
However, recently, David Coverdale has recalled his album collaboration with Jimmy Page. According to Covedale, there was a chance to make another Coverdale-Page album, but Page's manager got him out of it, which was infuriating.
"I was very excited," Coverdale commented when the interviewer asked about his reunion with Page. "Jimmy and I worked very well creatively, as you can hear, and we had another four or five songs which were unmixed.
"And I said, 'Jimmy, I've got all these other ideas. Let's just do a 'Coverdale-Page 2,' or let's make a double album.'
"And sadly, his manager at the time talked him out of it, which was infuriating."
David Coverdale Reveals The Possible Content Of The Album
When he continued to his words, David Coverdale went on to reveal the possible content of the new album. According to him, Whitesnake's two songs – Take Me Back Again and Woman Trouble Blues – were their original ideas.
"However, some of those songs that I had to present to Jimmy are on [1997's] 'Restless Heart' record – two of 'em.
"It was 'Take Me Back Again,' and 'Woman Trouble Blues.' Those were originally ideas for Jimmy and I, had we made a second album.
"But in 2023, it's the 30th anniversary, so look for something special. It's gonna be a lot of fun."
Back in this past October, David Coverdale had confirmed his retirement from the community. Although he said that the next Whitesnake tour would be his last, the musician had said that the band would continue to make new things.
"I planned to retire on the 2020 tour when I was 69," Coverdale said. "I thought that was the perfect age for the singer of Whitesnake to call it a day. But sadly, it was not to be, as we know – other events were in store.
"So now the t-shirt designs don't resonate as well for 70. But it's mind-blowing to me that I'm preparing my farewell tour. And it is – make no mistake, this is the farewell tour.
"I'm 70. It's a very physically challenging thing for me to do at the best of times.
"But it's very important for me to achieve completion and to express my appreciation and gratitude to all the people – the millions of people over the years – who've supported me for five decades, 50 years.
"It blows my mind – it really does.
"A lot of my peers and contemporaries are on their 20th retirement tour. I don't intend to plan that. I must explain, though – it's me, just David Coverdale, who's retiring from touring at that level.
"Whitesnake will still make projects. I wrote some beautiful new ideas.
"I have ideas in case Jimmy [Page] wants to do anything – write on FaceTime, which is an alien concept to him. But all songs that we can utilize for a Whitesnake project.
"But the music of Whitesnake will continue. That's most important that people know. I'm just stopping touring at this level – that's it…"