John 5 Explains Why He Threw Down His Guitar After Marilyn Manson Kicked Him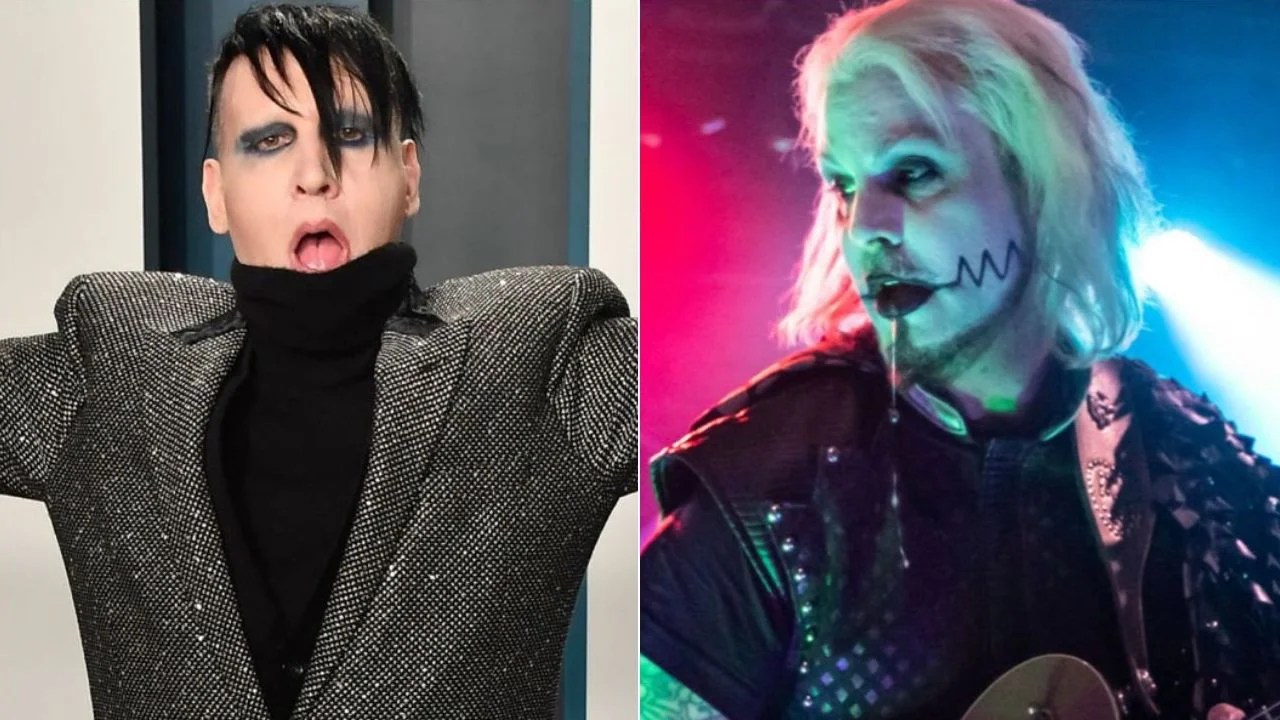 Former Marilyn Manson guitarist John 5 recalled the time he threw down his guitar after Marilyn Manson kicked him on stage and explained why that incident happened.
Marilyn Manson is considered one of the energetic stage personalities in rock and roll music. He has been rocking the genre since his first appearance in 1989. During this ongoing period, he has released 11 studio albums with a band of the same name, Marilyn Manson. Manson gained international fame with his debut studio album, released in 1994, named Portrait Of An American Family.
Since his first years in rock, Marilyn Manson has performed with numerous great artists. The current Rob Zombie guitarist John 5 was one of those artists he worked with. From 1998 to 2004, John was a member of Marilyn Manson and contributed to the band's three studio albums. He also played huge live shows with him and came to world prominence easily.
Back in 2003, there was a stage incident that happened between John 5 and Marilyn Manson. The 53-year-old singer had kicked him on stage just before they played the next song. Manson's that behavior made John angry and caused him to throw the guitar away. He then made some movements to show off his anger. And shortly after their little talk in front of the audience, John picked up the guitar and continued to play.
During his recent appearance on Trunk Nation With Eddie Trunk, John 5 explained why it pissed him off too much. Saying that he was affected by the death of his sister, John said that he was still in shock while he was playing on stage. He admitted that he couldn't sleep for days and that it made him aggressive.
"What happened was my sister passed away, my sister died unexpectedly," John says. "And I was shocked. I was in Europe and I was coming down the stairs, off a stage after a concert, and they told me my sister died. And I was in a state of shock; you just go into a state of shock.
"And here's the strange thing that happened to me: I didn't sleep for days and days and days. It was the strangest thing. I just wasn't tired. And I remember going to the bandmembers' rooms, going, 'I can't sleep. I just can't sleep. I haven't slept in now two days' or blah blah blah…"
John Admits Marilyn Manson 'Didn't Do Something Wrong'
John then defended Marilyn Manson and his kicking him saying he didn't do something wrong. Adding that he feels horrible whenever he watches the video of the moment, John stated that he was just snapped.
"So anyways, fast forward to the show," John continues. "Now, what Manson did, that happened all the time. He didn't do anything wrong. I just snapped. It was weird. I went nuts. I didn't even remember. I just snapped.
"And I feel terrible watching it now because it really was my fault. You can't really hear what he's saying, obviously, but he's saying, 'Pick up your guitar.' 'Cause it looks like he's going, 'Come on. Come on.' But he's saying, 'Pick up your guitar. Pick up your guitar,' because he knew what was going on. And I feel horrible about it.
"But it was just a bad situation at that time… It was terrible because he was so nice during that time and all that stuff. I was in such a weird place, and it was just a bad time. I don't even remember it happening. It was just terrible."
Back in May 2021, John 5 had revealed how he had got his stage name from Marilyn Manson. It happened completely suddenly. When John got a phone call from Manson's manager about whether he wanted to join Marilyn Manson, John got excited and accepted it. Manson then said when they met for the first time that he is a part of his band and his name is John 5.
"Rob Halford's album was on Nothing Records that Trent Reznor put out," he recalled. "'And we wanted to see if you wanted to have lunch with Manson to talk about being his guitar player.' I was like, 'Absolutely!'
"I just got off the plane, I think I still have my ear things in, I smelled like Delta Airlines or something… So I go to the Gaucho Grill on Ventura Boulevard [in Los Angeles, CA], and I remember seeing this really nice white Mercedes, and the David Lee Roth album was in the back seat, and Rob Halford CD was in the back seat.
"I was like, 'It's got to be his car.' I go up there and he's wearing big red sunglasses, and a yellow lover boys shirt, and I was like, 'Hey, nice to meet you.' And he goes, 'I want you to be in the band, your name's going to be John 5.'
"And I was like, 'Great, sure!' And I didn't audition, he just was listening to the music and he knew I could play and stuff. I remember going home to my apartment, my bags were, I suppose, still packed, and I was practicing my autograph 'John 5.'
"I remember doing that and I still have that piece of paper."