Whitesnake Is No Longer A Part of Scorpions' North American Tour
Whitesnake has recently announced that they have been forced to quit Scorpions' previously announced North American tour due to the band's singer David Coverdale's continued treatment for his illness.
Whitesnake is a rock band formed in London in 1978. Having a wide fan base all over the world now, the band rose to prominence in several countries through their early years. In the early 1980s, the band gained even more fame with its hit albums, Ready an' Willing, Come an' Get It, and Saints & Sinners, released in 1980, 1981, and 1982, separately. During that musical journey, Whitesnake played a lot of rock and roll artists to rock its fans.
Last year, it was announced by Whitesnake that the band was preparing to perform its farewell tour, in which David Coverdale was going to retire from the music scene. Although the band kicked off the tour in early May, they were unfortunately forced to cancel the remaining shows of the tour due to the band's singer Coverdale's "continuing health challenges." After canceling three shows when Coverdale first announced its illness, it was mind-blowing to fans that all the shows of the tour were canceled.
Furthermore, in early May, Whitesnake had also announced that they were a part of Scorpions' North American tour, which will kick off at Budweiser Stage on August 21 in Toronto, Ontario.
However, Whitesnake upset its fans with a recent announcement that said they are no longer a part of Scorpions' North American Tour. Writing a piece of words for his fans, David Coverdale said his "persistent upper respiratory infection" was the reason for the decision.
"It is with profound disappointment and a heavy heart that I must announce that Whitesnake will no longer be able to join the Scorpions on their US and Canadian tour due to my continued treatment for a persistent upper respiratory infection that affects my ability to perform," David Coverdale said. "This includes the cancellation of our own headlining shows as well.
"While Whitesnake will no longer be on the tour, the Scorpions will be continuing on.
"We Wish Our Good Friends, the Scorpions Every Success!!! We Wish You Well."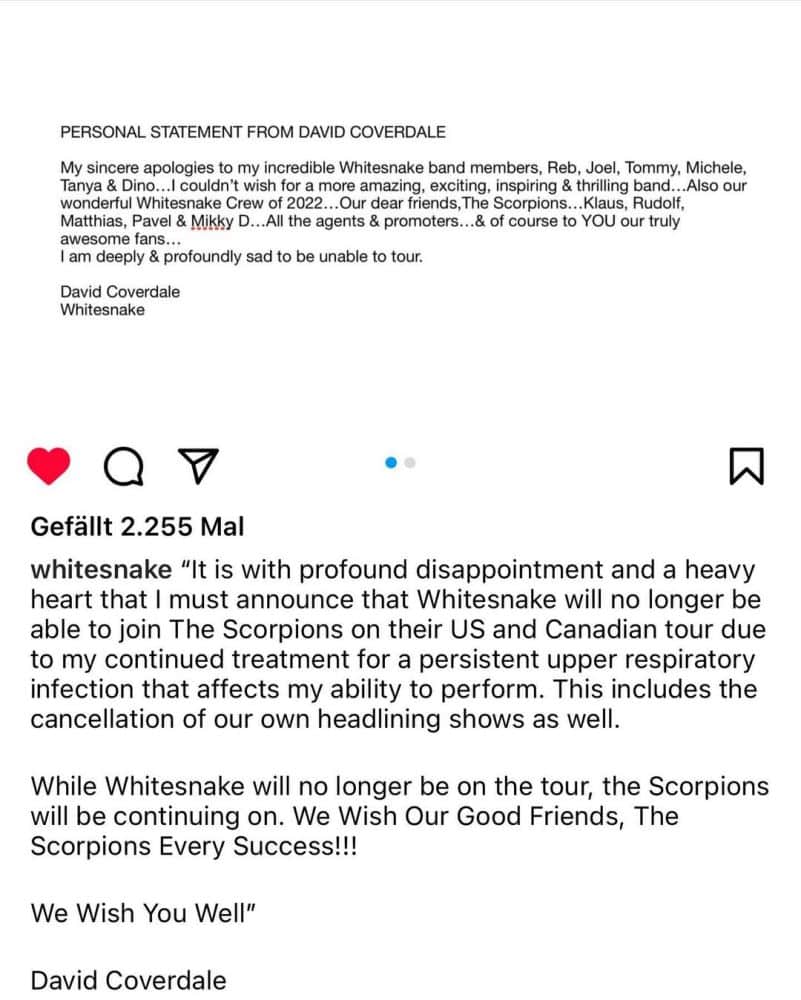 On the other hand, Scorpions also shared a message to people to inform them about whether they would continue the tour.
"We wanted to let you know that Whitesnake will no longer be joining us on our U.S. and Canadian Rock Believer tour," the band issued.
"Nothing is more important than our fans and it was important to us that we keep the shows as scheduled.
"We wish Whitesnake all the best and look very much forward to seeing you and rocking with you all on tour along with Thundermother."
Finally, Scorpions will play its expected North American tour in support of Thundermother. As we mentioned above, the tour will be kicking off on Augusut 21 in Canada.