Mötley Crüe's Tommy Lee Didn't Give Up After Breaking Four Ribs: "The Show Must Go On"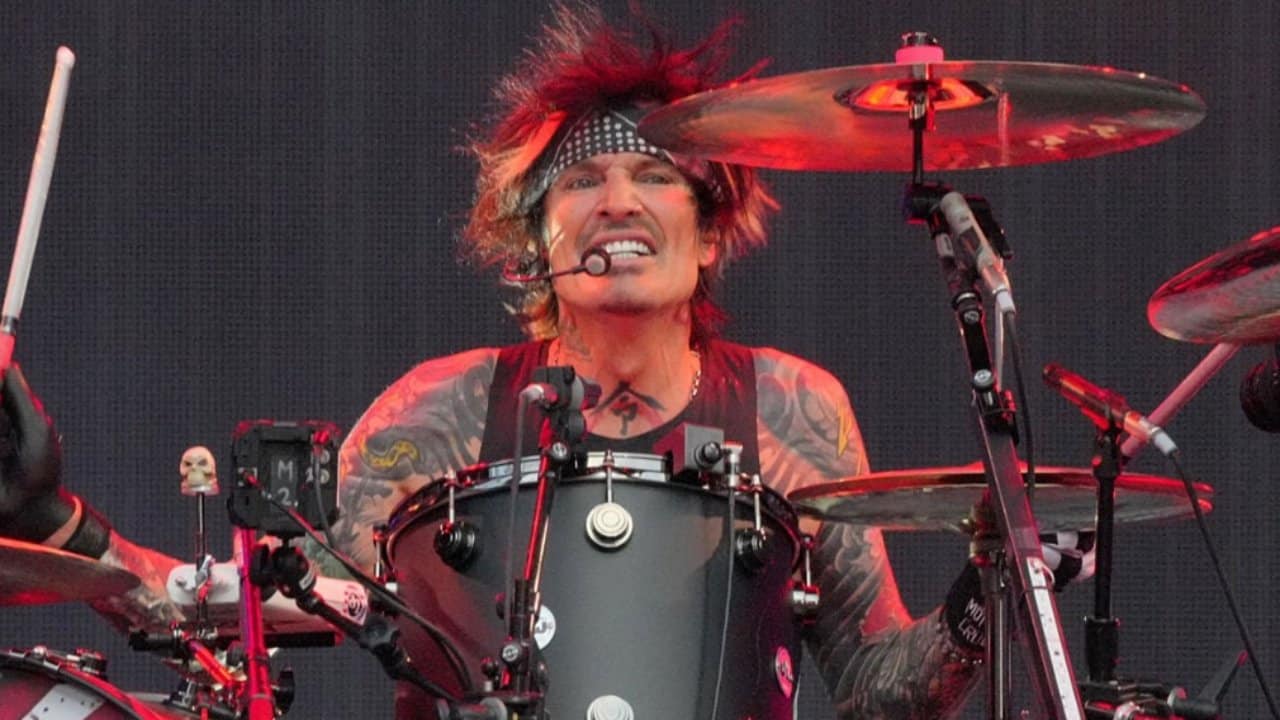 Mötley Crüe drummer Tommy Lee didn't give up after he broke his four different ribs and showed off how strong and ambitious he was. He returned to the stage to play the first three songs of Mötley Crüe at Hard Rock Stadium in Florida on June 18.
Tommy Lee is one of the craziest drummers in the history of rock and roll. He is currently the drummer of the heavy metal band Mötley Crüe, who announced its disbandment in 2015 but officially came back in 2018 with a Stadium Tour featuring Def Leppard. During his ongoing career with his band, Tommy Lee contributed to eight studio albums out of nine. The band's 2000 release New Tattoo was the only album he hasn't performed.
Focusing on his personal life and career, Tommy Lee has released three different solo studio albums. Debuted in 2002 with Never A Dull Moment, his second album was 2005's Tommyland: The Ride. The successful drummer released his third and latest studio album in 2020, named Andro. In addition to his huge solo career, he made a lot of guest appearances with numerous artists.
However, as some of you might know, Tommy Lee broke his four ribs during a Mötley Crüe show a couple of weeks ago. He then handed over the sticks to the talented drummer Tommy Clufetos after he played the first five songs of the band's June 16 show in Atlanta. On June 18, Tomme Lee returned to the stage and played the first three songs of the show, Shout At The Devil, Wild Side and Too Fast For Love.
During the band's show at Hard Rock Stadium in Florida, Tommy Lee walked to the front of the stage and opened up about breaking his ribs. Revealing his reaction to the first moment he learned he had broken his ribs, Tommy Lee said he was surprised and got angry because it was the band's long-awaited comeback show that was postponed two times.
"You guys, you're not gonna fucking believe this shit," Tommy said. "Some of you may know; some of you may not know. For those who don't know, about — I don't know — 12, 13 days ago, I broke not one, not two, not three, but four fucking ribs right here [places left hand on his right side].
"And I'm fucking, like, 'Are you fucking kidding me, dude? Fuck!' We've been waiting way too long for this shit, man. My fucking heart is broken — along with the ribs."
Tommy Lee Admits His Ribs Hurts Too Much
Tommy then revealed the current state of his ribs. Starting with what the doctors said to him about playing live shows, Tommy Lee revealed that they asked him not to play any shows soon, even though he confirmed that his broken ribs hurt too much. He didn't give up and said the show must go on.
"So the doctor goes, 'Listen, bro. By the way, no fucking playing,'" he reacts. "I'm, like, 'Dude, there's no fucking way. We have a tour in a fucking few days. What the fuck am I gonna do?'
"So I'm gonna fucking pop in and out as much as I can. It hurts like a fucking bitch. And my boy Tommy up here, he's gonna fucking help me out here. And I'll be back out.
"I'll see you guys in a minute. But at the fucking time, at this moment, the show must fucking go on, goddamnit."
Tommy Lee's Unfortunate Accident
It was not the first time Tommy Lee suffered an unfortunate moment. Back this past October, Tommy Lee lived an unfortunate accident at his Los Angeles home and narrowly avoided serious leg injury after walking too close to the pool edge. The video that can be seen below was leaked on social media by Tommy's wife, Brittany Furlan Lee.
When his wife shared the video on social media, Brittany mocked Tommy Lee. She was watching her husband on the home security camera and laughed at him. She also added a social media statement for the video: "When ur a witch and ask ur husband to shower but he refuses. Sorry @tommylee but at least ur clean now."
After the video published by his wife, Tommy reacted to his accident via social media. He has shared the same video that Brittany shared and captioned: "Thanks babe. Now the pool is dirty!!!!"