The Top 10 Bands That James Hetfield Named His Favorites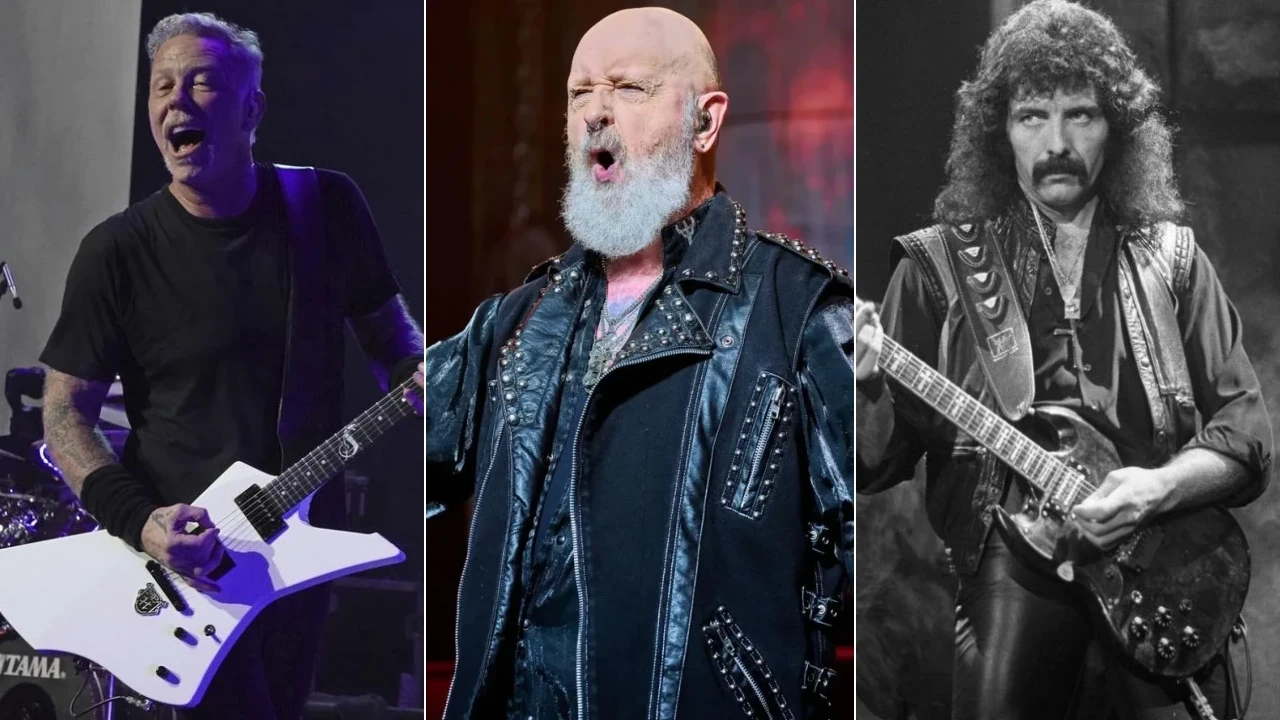 James Hetfield, the lead vocalist and rhythm guitarist of the American heavy metal band Metallica, has had a significant influence on the genre of heavy metal music. As well as being an influence, he has his own inspirations and favorite bands and artists that he likes to listen to. In this article, we will take a closer look at James Hetfield's favorite bands.
Before heading into the list, James Hetfield's influence on heavy metal music is a result of his unique musical style, his songwriting skills, and his charismatic stage presence. His powerful, palm-muted riffs, aggressive downpicking, and fast-paced soloing made him one of the greatest in the heavy metal community. His use of alternate tunings and incorporation of blues and rock influences into his playing have also been influential.
As a songwriter, Hetfield has a knack for creating memorable and anthemic songs that are both musically and lyrically impactful. His lyrics often touch on personal struggles, social issues, and the darker side of human nature, making them relatable to many heavy metal fans. His influence, however, on the genre has inspired countless musicians and fans, and his contributions to the development of heavy metal music will be celebrated for years to come.
So, below, you can see the bands that James Hetfield picked as his favorites over the years.
The 10 Bands That James Hetfield Listed As His Favorites
James Hetfield has been actively playing music since the late 1970s. After forming Metallica with Lars Ulrich in 1981, he dived more into metal music and contributed to the development of music. Over the years, he saw a lot of good bands, along with the bands that influenced him. Below, you will see the bands James Hetfield named his favorites over the years.
#10. Thin Lizzy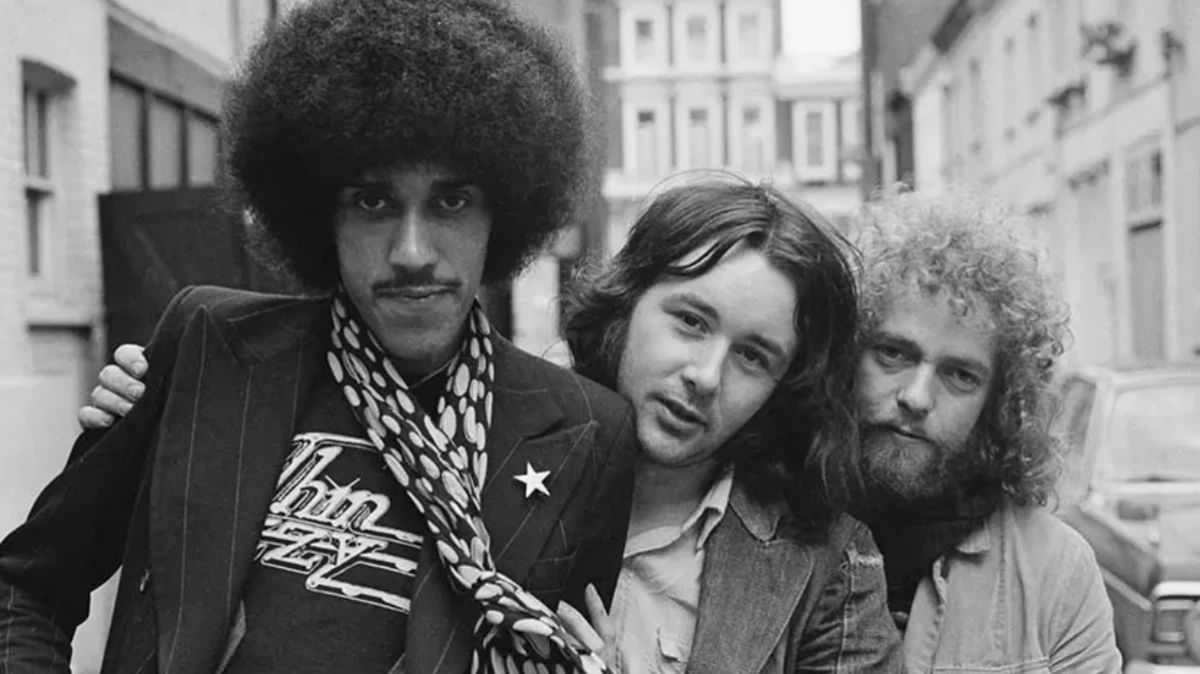 Formed in 1969, Thin Lizzy was one of those bands that James Hetfield picked as his favorite. The band's sound was characterized by its twin guitar harmonies, complex arrangements, and Lynott's soulful vocals. Their early albums, including Thin Lizzy and Shades of a Blue Orphanage, featured a more folk-oriented sound, while later albums, such as Jailbreak and Black Rose: A Rock Legend incorporated heavier rock elements.
Thin Lizzy achieved international success with the release of their hit single Whiskey in the Jar in 1972, which topped the charts in Ireland and the UK. The band's popularity continued to grow with the release of albums such as Jailbreak and Bad Reputation, which featured classic songs such as The Boys Are Back in Town" and Dancing in the Moonlight (It's Caught Me in Its Spotlight).
The band's success was also due in part to the late singer Phil Lynott's charismatic stage presence, which captivated audiences and made him a beloved figure in the world of rock music. In 2011, James Hetfield expressed his sadness over Phil Lynott's passing, saying: "It was one of those moments that was so sad," James told Hot Press. "You just wondered, 'Why did God take such a creative person?'"
Furthermore, Metallica covered Thin Lizzy's Whiskey In The Jar.
#9. UFO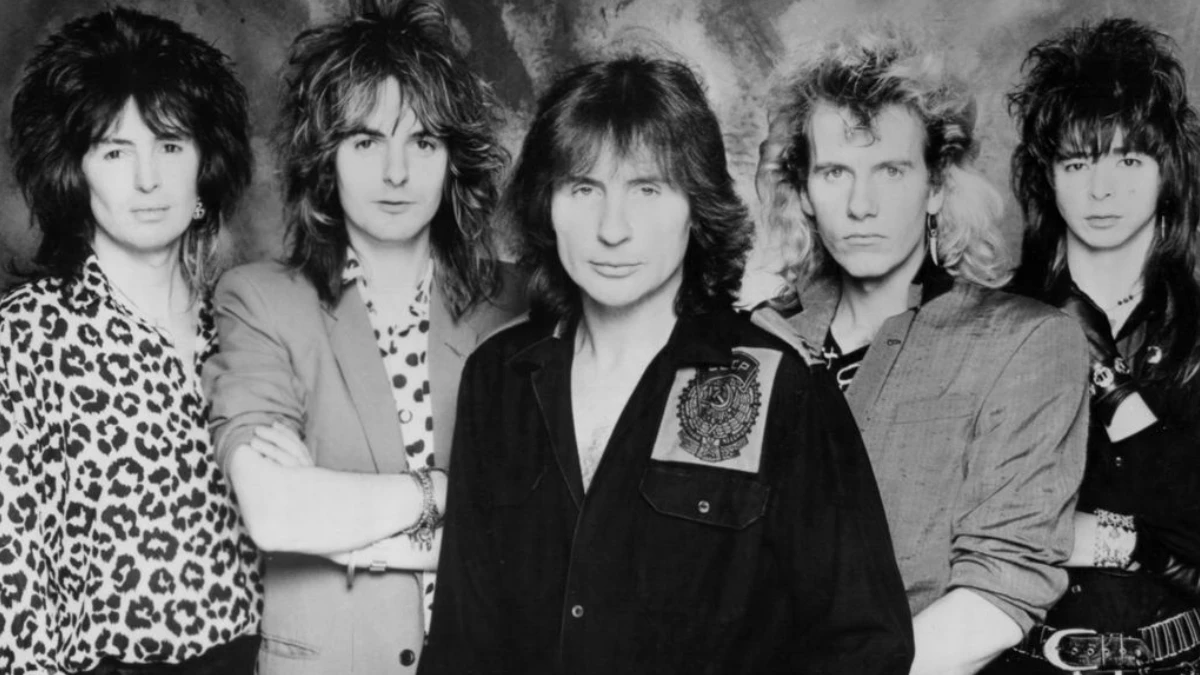 UFO is a British rock band that was formed in 1969. One of the key elements of UFO's sound was the guitar work of Michael Schenker, who joined the band in 1973. Schenker's virtuoso playing and use of innovative techniques, such as the "swooping" sound of the whammy bar, became a signature of the band's sound.
Also, UFO's early albums, such as Phenomenon and Force It, featured a hard rock sound with elements of blues and psychedelic rock. The band's popularity continued to grow with the release of Lights Out and Obsession, which featured classic songs such as Too Hot to Handle and Only You Can Rock Me.
However, during an interview with Radioacktiva, the singer touched on his love for UFO to name the band one of his favorites of all time. Moreover, Hetfield admitted that he once owned a guitar just because UFO legend Michael Schenker had it.
"I got my white V in 1980," he said. "It was the second guitar I ever owned. And I probably bought it for $200. So I knew it was a copy. But we treated it as a real Gibson. I wanted a white one because Michael Schenker of UFO had one. So I needed one too."
Also, in December 2022, Metallica covered UFO's It's Killing Me song during the All Within My Hands Concert & Auction at Microsoft Theater in Los Angeles.
#8. KISS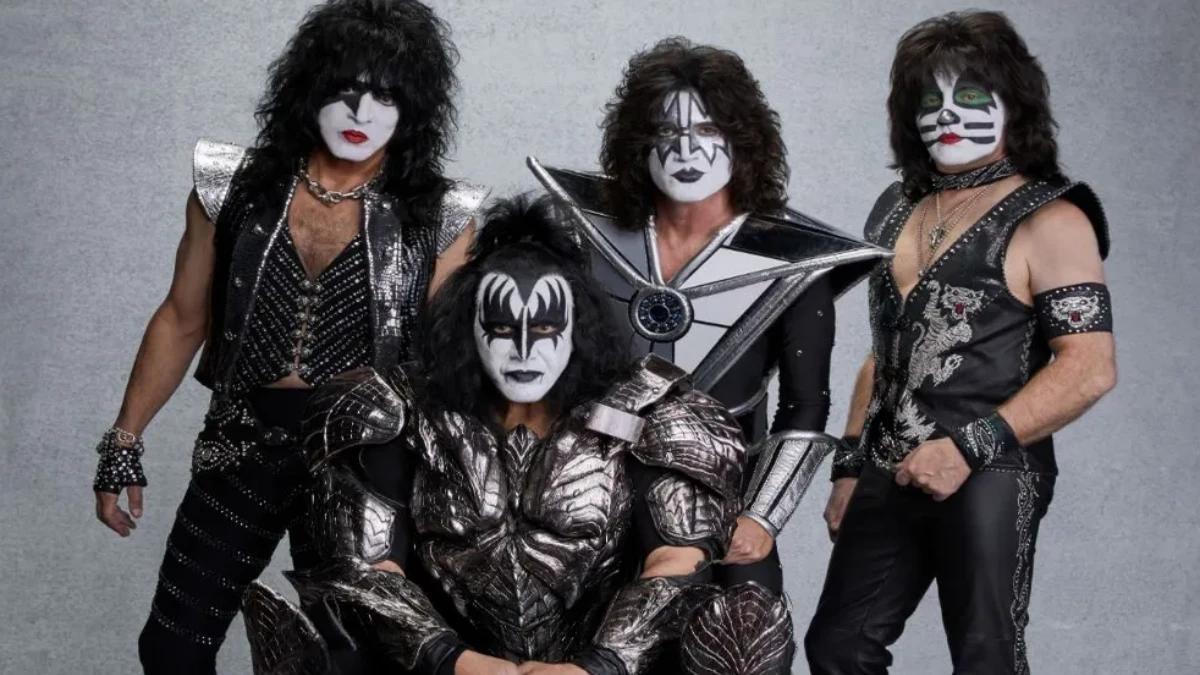 Formed in 1973, KISS's influence on popular culture has been significant. The band's distinctive look and stage presence have inspired countless musicians and artists. In addition, their merchandising empire, including everything from action figures to comic books, has become a model for the modern music industry.
Over the years, James Hetfield has learned a lot of things from the KISS band. In 2009, Hetfield even made a speech for their influence to defend them during their Rock Hall induction speech. At the time, KISS wasn't a part of Rock Hall, as they were inducted in 2014. However, he touched the bands that had yet to be recognized in the Rock Hall. He thought it was ridiculous that they were inducted into the Rock Hall before their influence.
"It's ironic that a band that has been inspired by all of these other ones are getting in there before them," Hetfield said. "We are going to go up there and kick some ass and kick the door down for some heavy bands that have not been recognized, like Rush and KISS."
#7. Lynyrd Skynyrd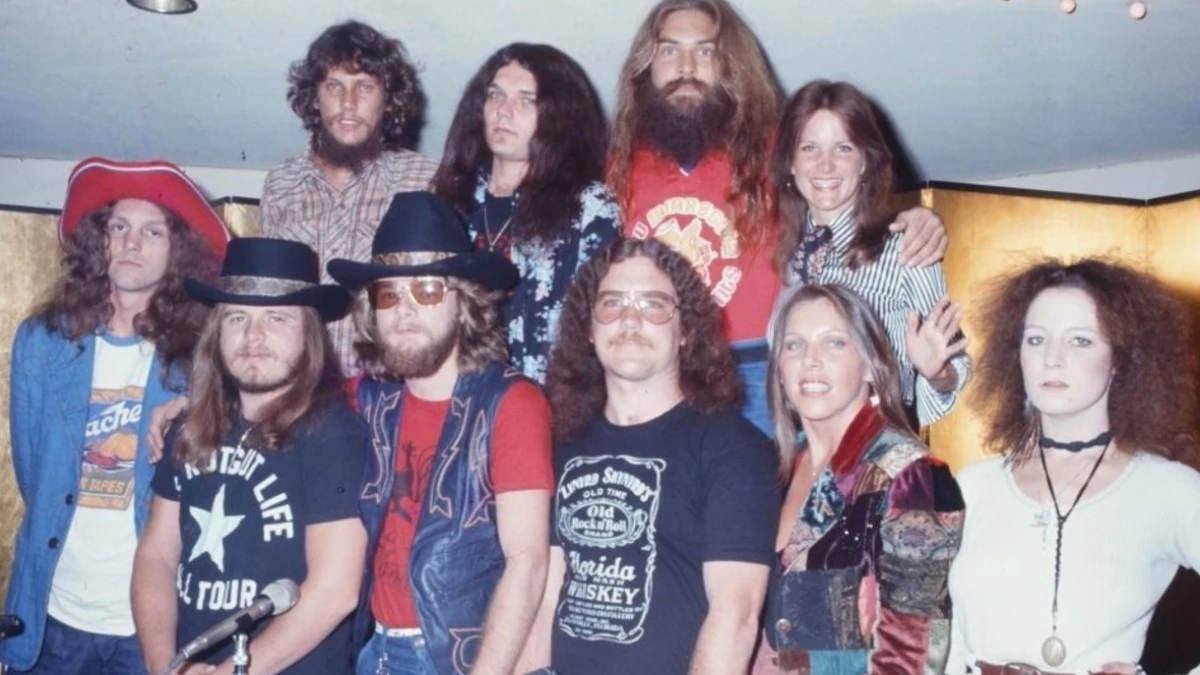 Lynyrd Skynyrd was an American rock band that had a significant impact on the development of Southern rock and influenced many musicians, including James Hetfield of Metallica.
Hetfield has spoken about the influence that Lynyrd Skynyrd had on him as a young musician. He has cited the band's guitar-driven sound, soulful vocals, and lyrical themes as major inspirations for his own music.
Hetfield and Metallica have paid tribute to Lynyrd Skynyrd in a number of ways over the years, including covering their song Tuesday's Gone on their 1998 album Garage, Inc. and performing a medley of Lynyrd Skynyrd songs in concert. As you remember, James Hetfield told Rolling Stone magazine in 2004 that Skynyrd's Free Bird was different for him.
"'Free Bird' fit my life for the first 20 years on the road — not really getting too attached to stuff, living life for the moment and moving on," he said.
Furthermore, Lynyrd Skynyrd's Sweet Home Alamaba was the first vinyl that James Hetfield owned, as he said: "Buying my first vinyl is came from a band called Lynyrd Skynyrd. It was 'Sweet Home Alabama' [that first vinyl I've ever owned]. I was super excited."
#6. Slayer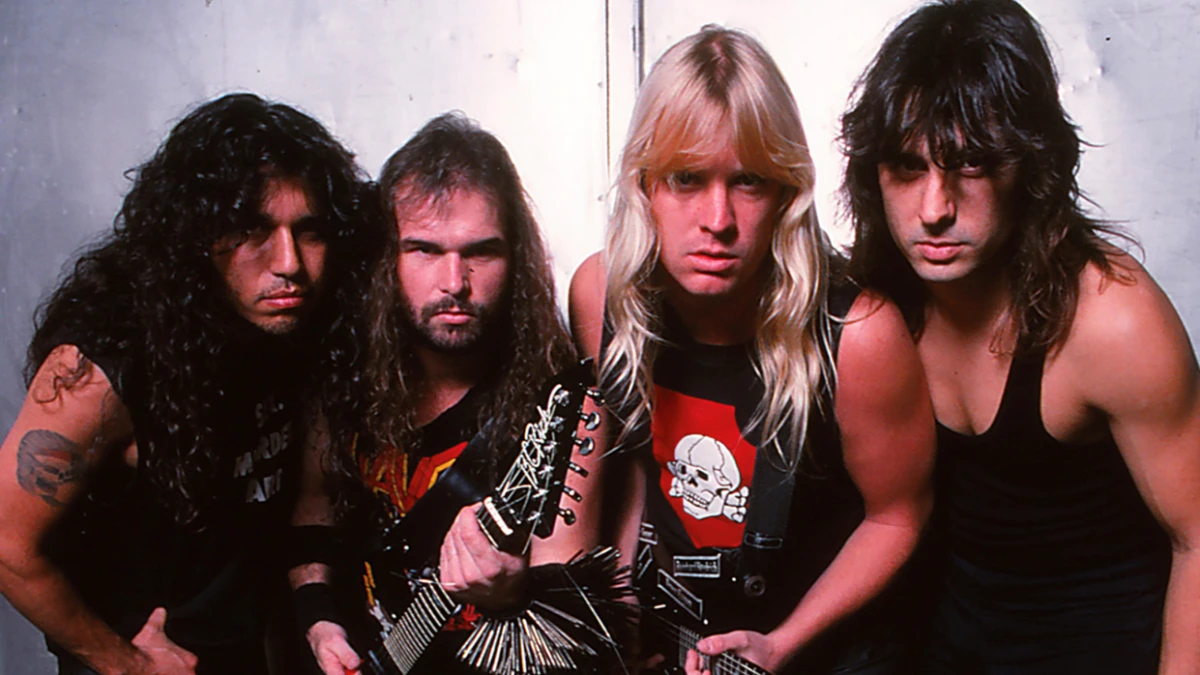 Another band that James Hetfield picked as his favorite was Slayer. The band was a thrash metal band that was formed in 1981 in California. Although it announced its disbandment in 2019, they are still widely considered to be one of the most influential and important bands in the history of heavy metal music.
In the past, there was a moment James Hetfield respected one of his favorites, Slayer. In a video posted to Metallica's official Instagram account, James Hetfield was rocking out with Slayer classic Angel of Death while driving down a highway.
The band shared the post, with James saying, "SLAYING makes me smile!"
#5. Iron Maiden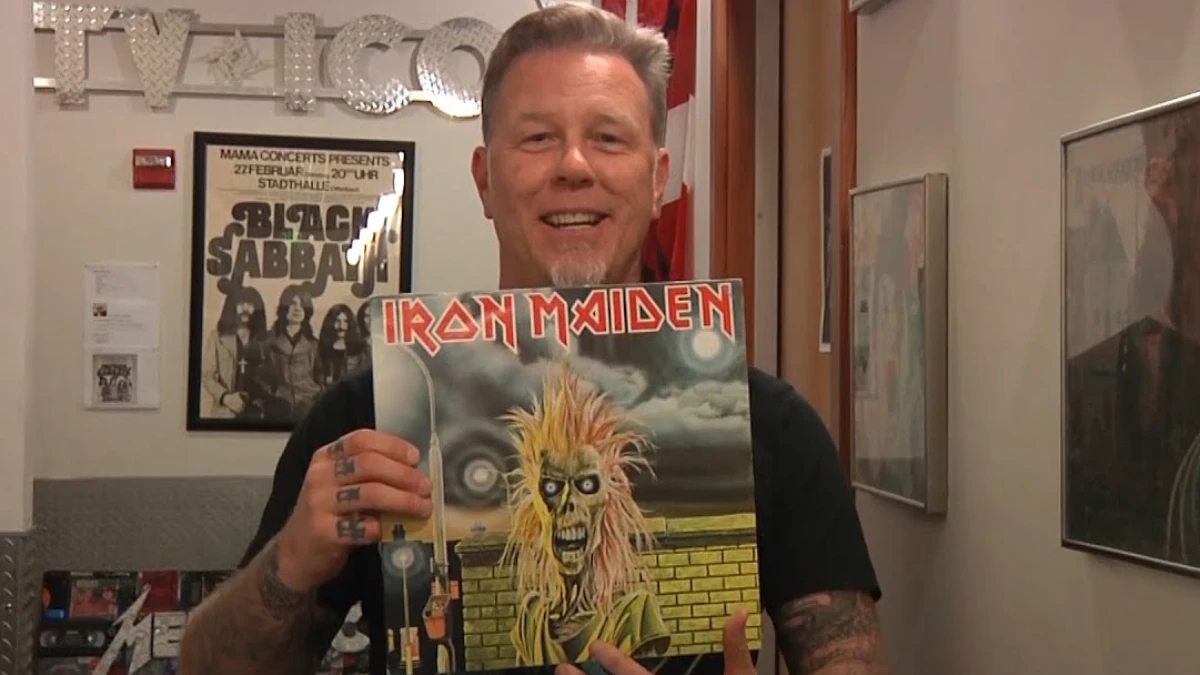 Iron Maiden is also considered one of the most influential bands of all time. Having released 17 studio albums as of today, Iron Maiden has sold more than 200 million copies worldwide.
One of the key factors contributing to Iron Maiden's success has been its distinctive sound, characterized by complex guitar solos, powerful vocals, and epic song structures. Their music often incorporates elements of history, literature, and mythology, which has helped to create a unique and engaging experience for fans.
In addition to their music, Iron Maiden has also become known for their iconic mascot, Eddie, who has appeared on numerous album covers and live shows over the years. Eddie has become a symbol of the band and has helped to create a visual identity that is instantly recognizable to fans.
Back in 2016, James Hetfield recalled owning an Iron Maiden record for the first time. According to him, he had no idea about them but loved their artwork on self-titled debut album.
"I bought this just because of this [shows the artwork]," Hetfield says (as transcribed by MetalCastle.net). "Look at that. Why would you not buy this? Because that dude look really menacing and evil. So, I thought that I'd never even heard of them. So, I bought it and put it on. I'm glad I did because it's a big inspiration for me in the early days."
Also, Metallica members Robert Trujillo and Kirk Hammett covered Iron Maiden's Killers during the band's stage in London in 2019.
#4. AC/DC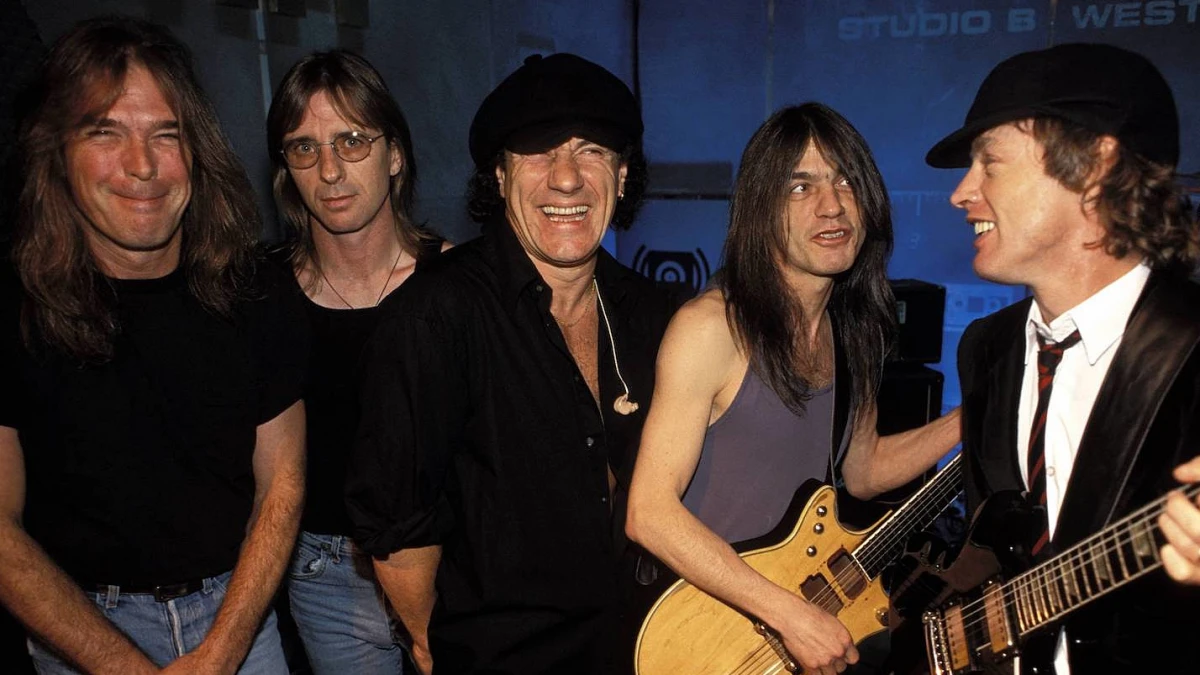 AC/DC is an Australian rock band that was formed in 1973. Over the years, they have become one of the most influential bands in the history of rock music, and one of those artists they influenced was James Hetfield. Their influence can be attributed to their unique sound, memorable songs, high-energy live shows, and timeless appeal.
AC/DC has a big influence on James Hetfield because the rock band's guitarists, Malcolm Young and Angus Young, inspired him to play rhythm guitar. He named Angus Young a guitarist that blew his mind, while admitting that he thought Malcolm Young was the pioneer.
#3. Judas Priest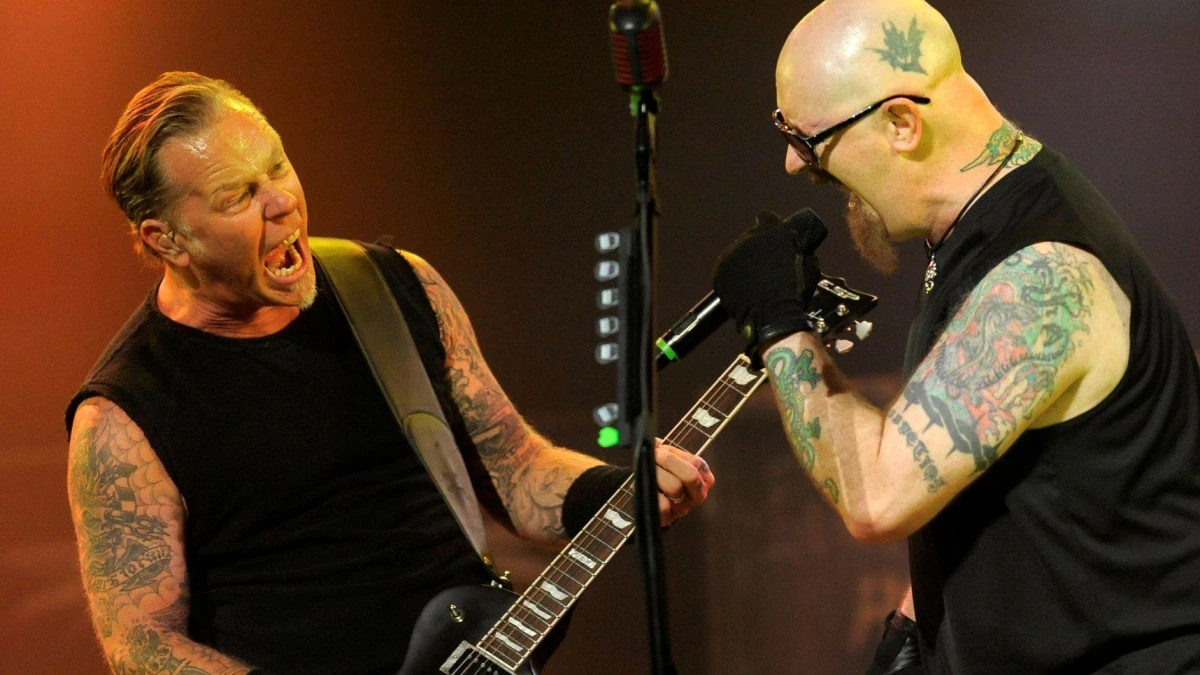 Judas Priest is known for pioneering the "New Wave of British Heavy Metal" sound, which combined the hard rock of the 1970s with the emerging heavy metal sound. They have released 18 studio albums since their first day in 1969. Also, the band has toured extensively throughout its career and has played for millions of fans around the world.
The band has inspired countless other bands over the years, and their influence can be heard in the music of many other heavy metal bands. James Hetfield was one of those who were affected by their sound. The musician named them heavy metal itself.
"Judas Priest is everything we wanted to be as a band starting out," Hetfield says. "If someone asked you to define what heavy metal is, that's one of the bands you'd show them."
Moreover, Judas Priest singer Rob Halford praised Metallica in the past. In November 2022, he mentioned Metallica's impact on the heavy metal scene during the 1990s.
"If you look at the history of Metallica, much like if you look at the history of Judas Priest, it's a band that's responsible for an incredible surge of attention to metal," he told Metal Hammer. "Their slightly controversial Black Album… it was never meant to be called The Black Album, it was just meant to be called 'Metallica' with the snake on the front.
"But that was like Priest's Turbo album, because they cut their hair and they started to sound a little bit commercial. But really, that's never been the case – it was just the band flexing their musical talent and having a great producer behind them. And extraordinary things came from it."
#2. Motörhead
Motörhead was also the band that James Hetfield named his favorite. They shared the stage together several times. Moreover, Metallica has a tribute song for Lemmy called Murder One.
Influencing numerous people with Lemmy's distinctive gravelly voice, the band members' fast and heavy guitar riffs, and pounding drums, the band continued to release albums and tour until Lemmy's death in 2015. They released 22 studio albums from 1975 to their final day.
Motörhead was also known for its energetic and intense live performances. They toured extensively throughout their career and played for millions of fans around the world. They were famous for their "louder than everyone else" motto and were often cited as one of the loudest bands in the world.
In 2017, James Hetfield admitted there was no Metallica without Motörhead band. Touching on the band's legend Lemmy, Hetfield said he was an inspiration.
"Lemmy in particular was an icon," Hetfield praises. "Sort of a godfather for people who love heavy metal. He was the captain of the ship. And we all felt he was immortal [laughs], doing the hard, hard, hard livin' for such a long time on the road. Just really goin' for it [laughs].
"We knew it would come to an end at some point. But we really didn't expect it. There's certainly no Metallica without a Motörhead."
Also, James Hetfield paid his tribute to Lemmy in a video posted to Metallica's account. He was rocking out with Ace of Spades.
#1. Black Sabbath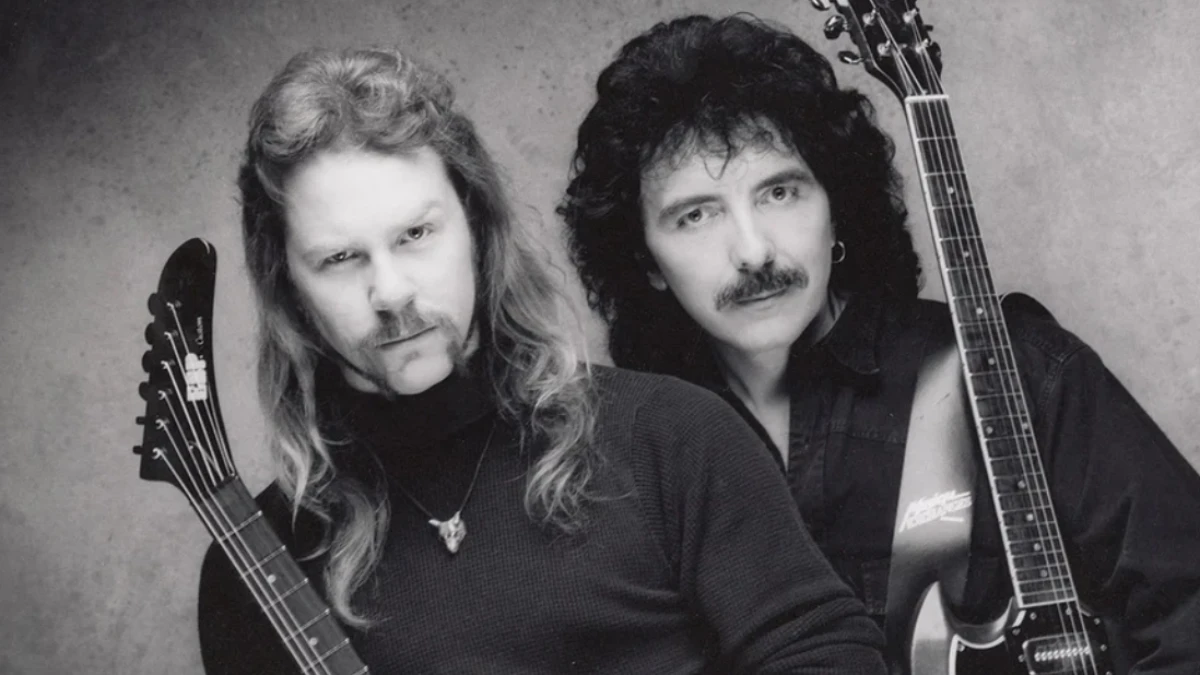 Black Sabbath's musical inspiration was drawn from a variety of sources, including blues, jazz, and classical music. The band was formed in Birmingham, England in 1968, by guitarist Tony Iommi, bassist Geezer Butler, drummer Bill Ward, and vocalist Ozzy Osbourne. Their sound was heavily influenced by the blues music that was popular in their hometown at the time, as well as the heavier rock music that was emerging in the late 1960s.
One of Black Sabbath's defining characteristics was their use of heavy, down-tuned guitar riffs. Tony Iommi was the band's primary riff writer, and his use of tritone intervals gave the band's music a dark and ominous quality. Their lyrics often dealt with themes of death, war, and the occult, further emphasizing their dark and heavy sound.
Over the years, James Hetfield has been inspired by Black Sabbath in different ways. In 2006, James Hetfield admitted Black Sabbath's music was more than music.
"I'll go a little deeper, picture a nine-year-old boy, quiet, well behaved on the outside but on the inside boiling and dying for life to burst open with any sort of stimulation," he says. "The discovery of music was what was to burst it wide open, but not just any music. This was more than just music. [It was] a powerful, loud, heavy sound that moved his soul."
In the past, Hetfield also explained listening to the self-titled Black Sabbath album for the first time.
"It had to be Black Sabbath," Hetfield answered when he was asked his favorite band. "My brother had all kinds of albums. And, you know, from Jethro Tull to The Beatles, to whatever all this other stuff. And I put on Black Sabbath. The first album – put it on, and it was, like, 'Wow. This is different and I like this.' It's got some balls, it's got some heaviness, it's got, you know, little bit of a scariness in there. But it's next level."
Black Sabbath's Tony Iommi was one of the guitarists that inspired James Hetfield.