The Songwriters That James Hetfield Listed As His Influences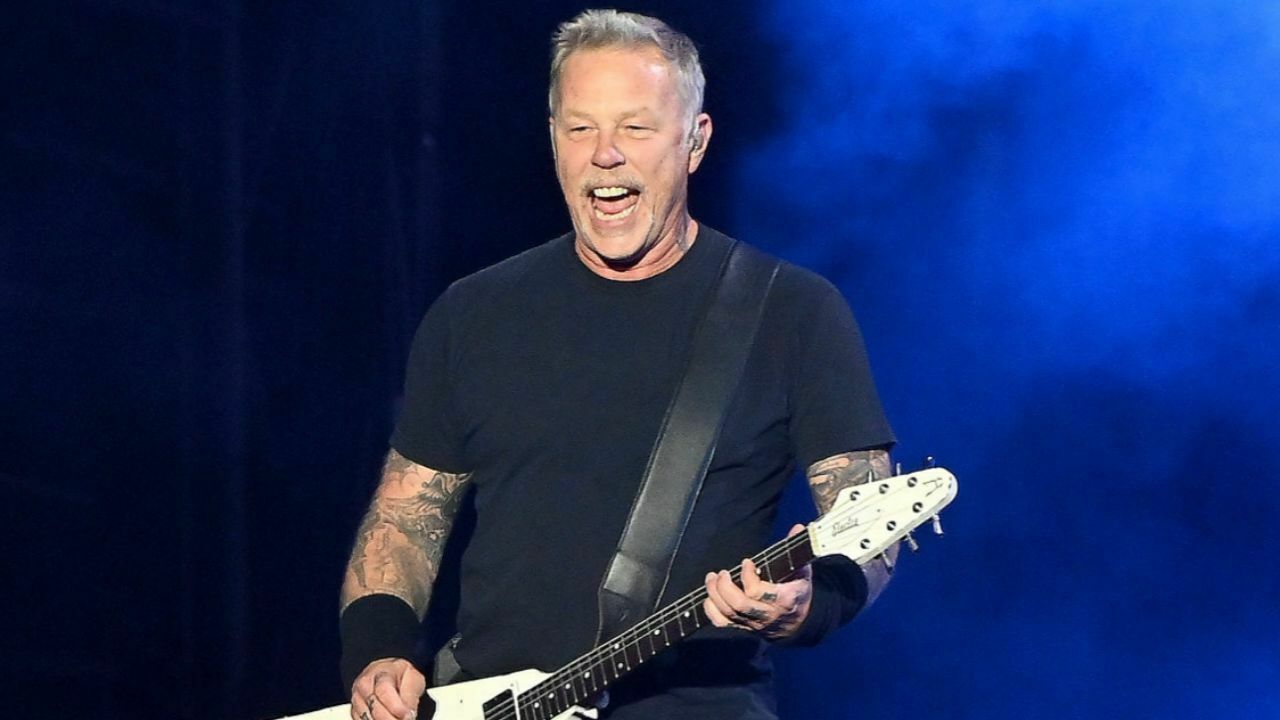 There are numerous great musicians in the rock and metal world. Metallica frontman James Hetfield is one of those artists who proved himself with his band's undeniable successes.
Some of the things that make James Hetfield one of the best are the things that he has added from himself to the instruments that he has played or tried to play all his life. The musician, who started taking piano lessons at the age of 9, did not realize that he would become one of the most important artists of the metal community in the future.
Outside of the piano, James Hetfield had also begun to develop his drumming talent with the drum sets of his half-brother David. And finally, at the age of 14, James took up the guitar alongside Robert Okner, and his musical life officially began.
In addition to his playing skills, James has been continuing to be an inspiration to new artists with numerous songs that he has written to date. James, who has flooded his good or bad memories of his life into songs on the band's albums, features some moments from his life in songs such as Dyers Eve and The God That Failed.
Back in 2016, when he was a guest of Lars Ulrich at the Berkeley University, James Hetfield mentioned some of his songwriting influences. As you can watch in the video below, James Hetfield's lyric gods include the Grammy-winner artists Tom Waits, Thin Lizzy legend Phil Lynott, Nick Cave, and Leonard Cohen.
"I listen to Hair Metal that makes me angry," the crowd laughed when James said (as transcribed by MetalCastle.net).
"It comes from anywhere, a line from a movie, you know, listening to talk radio, it's kind of anywhere, really, reading stuff…
"As far as lyricists go, there are some that I really admire and like to tap into.
"I just wish that I could be as good as Tom Waits, as Phil Lynott, Nick Cave, you know, Leonard Cohen, a lot of great lyricists. It is really cool to read up on them and hear how they come up with their stuff."
The 4 Songwriters James Hetfield Listed As His Influences
Tom Waits
Tom Waits is one of the songwriters that James Hetfield named as his influence. Started his musical career in 1975, Waits still rocks the music community with his successful works.
Debuted in 1973 with Closing Time, Tom Waits has released 17 solo studio albums at press time. He released his latest album in 2011, titled Bad as Me. Since his first day, the musician had toured more than 10 times.
During an interview with Guitar World back in 1996, Hetfield had mentioned Tom Waits while also touching on Leonard Cohen and Nick Cave. In the interview, he had sent his respects for the musician's lyrics.
"I've been really focusing on lyricists — as opposed to people who just sit down and crank out some words for a song — who write fucking poems and then put music to them," James said.
"I wanted to understand other people's ideas about how to write lyrics. Nick Cave's Murder Ballads are the coolest, and I dig all the Tom Waits stuff.
"I have even listened to some Leonard Cohen. I mean, I hate the fucking music. But his lyrics are very cool. You do a lot more 'acting' with your singing."
Phil Lynott
Phil Lynott was an Irish musician who gained international fame as a member of Thin Lizzy. He was the founding member, bassist, lead vocalist, and principal songwriter.
Bon on August 20, 1949, Phil Lynott has been affecting the musical history and artists with his legacy, even though he passed away in 1986. Throughout his 2-decade career, Phil Lynott has released two solo studio albums, Solo In Soho and The Philip Lynott Album.
Outside of his solo career, Lynott and Thin Lizzy had debuted with the band's self-titled Thin Lizzy.
In the past, James Hetfield's band Metallica has covered Thin Lizzy's Whiskey In The Jar in honor of their late bassist Cliff Burton, who stated in the past that Lynott had a major influence on him as a bass player.
However, in an interview in 2011, James Hetfield had mourned Lynott and mentioned the lyrics he's written. According to him, he loves Lynott's exclaims about the struggles with drugs, drink, ethnicity, or anything.
"It was one of those moments that was so sad," James told Hot Press. "You just wondered, 'Why did God take such a creative person?'
"But I think there was a purpose to it all. Because the struggles that he wrote about: with drugs, drink, ethnicity, all of those things. They almost speak louder now he has passed.
"For me, going through the struggle with alchohol and addiction in general, just going back and listening to his lyrics it's like, 'Wow, I know what he's talking about now'. So I love that."
Nick Cave
The Australian artist Nick Cave is one of those people who is an influence of James Hetfield of Metallica. He is known for his tenure with his band Nick Cave and the Bad Seeds.
At press time, Nick Cave has released 17 studio albums with his rock band Nick Cave and the Bad Seeds. In addition to that, he has released his debut solo studio album with his bandmate Warren Ellis.
However, the official connection between Metallica and Nick Cave began when the band covered Nick Cave's band's Loverman in their compilation album Garage Inc.
Back in 1998, James Hetfield had discussed Metallica's decision to cover Loverman. According to Hetfield, they're one of the huge fans of Nick Cave and his stuff.
"We're big fans," he told The Irish Times. "I think we pulled it off with that song; we managed to retain the spark of the original whilst.
"Still adding our own identity and our own little touch to it."
Leonard Cohen
Born on September 21, 1934, Leonard Cohen was one of the biggest musicians in history.
Debuted in 1967 with his Songs Of Leonard Cohen, the late legend had released his latest solo studio album in 2016, named You Want It Darker. His posthumously and final studio album was released through Columbia Records, which was marked the musician's fifteenth album.
He was inducted into the Rock and Roll Hall of Fame in 2006 because of his undeniable success.
In 1993, he had won the Danish Music Awards for himself in the Best International Male category. He was also honored by Hungarian Music Awards in 2013 with his twelfth solo studio album, Old Ideas, in the Best Foreign Pop Album category.