Ted Nugent Still Defends 'Abuse Of Substances As Being Selfish' On Taylor Hawkins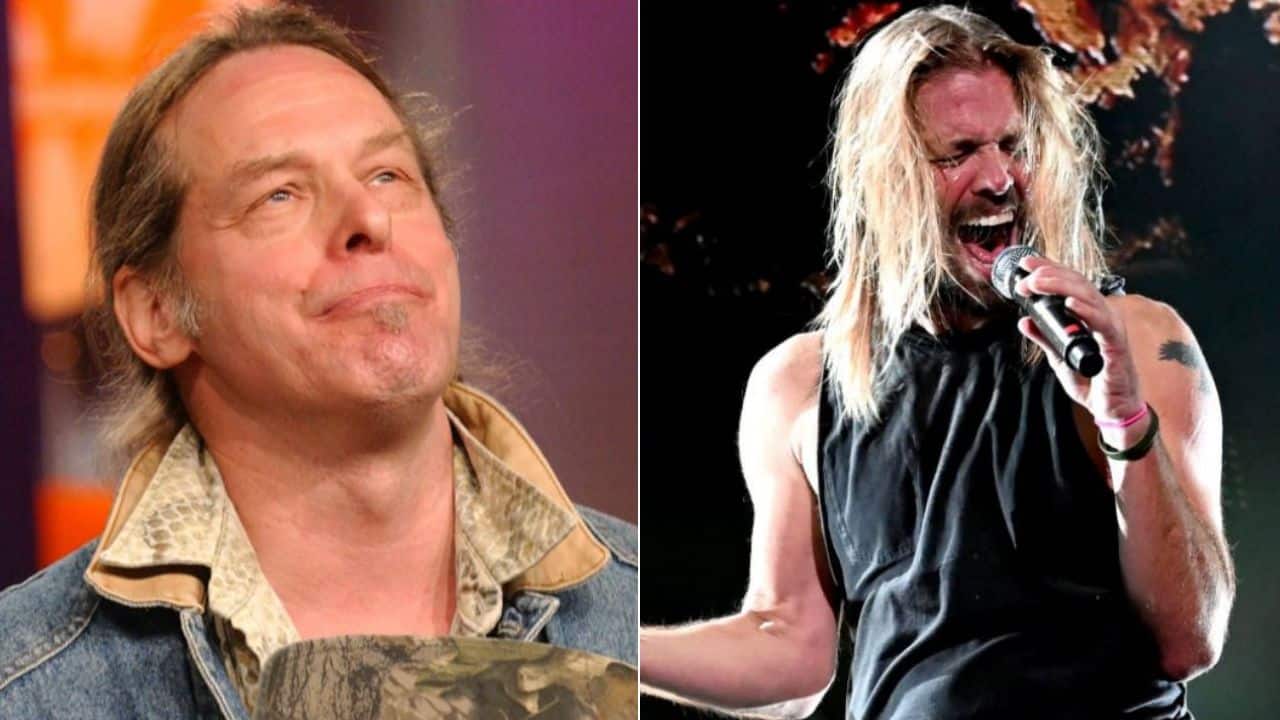 Ted Nugent has once again spoken out about the late Foo Fighters drummer Taylor Hawkins' passing and defended his comments that substance abuse is selfish.
On March 26, it was announced via Foo Fighters that Taylor Hawkins passed away in a hotel room in Bogota, Colombia, where they were preparing for its recent show in the country. The news saddened Foo Fighters and Taylor Hawkins fans, families, friends, and people who have known them. Even though the cause of death of Taylor Hawkins hasn't yet been confirmed by the band, the official statement published by Colombian police was that it was related to drug use.
Following the announcement, the artists in the rock and roll community had paid their tribute to the musician in special ways. Ted Nugent was one of those musicians among Ozzy Osbourne, Lars Ulrich and Paul Stanley. During his April 1 The Nightly Nuge podcast, Nugent had said that it was a "horrible and long-term celebration of substance abuse," adding "substance abuse is selfish." The full version can be read at the end of the article.
During his April 4 appearance on The Nightly Nuge, Ted Nugent defended his comments about Taylor Hawkins. Saying that he tried to be compassionate and empathetic, Nugent repeated that Hawkins was a great drummer. He also admitted that he showed him great compassion when he heard about his tragic passing.
"When the great drummer, and I understand he was a great, fun guy and a loving husband and a loving father, Taylor Hawkins of the Foo Fighters, when he died, we did a tribute to him here on 'The Nightly Nuge'," Nugent comments.
"I played a very emotional love song that had come out of me for my brother John when I lost him, showing great compassion, showing great empathy for the band, for his family, for his fans, showing nothing but love but identifying the intentional abuse of substances as being selfish."
Ted Nugent Explains Why Those Words Were 'Love Speech' For Taylor Hawkins
Ted Nugent then said that he tried to be compassionate and empathetic. Claiming that it was a love speech for Taylor Hawkins, Nugent continued by saying that those who accuse him of hate speech are the real haters.
"Well, the tsunami of attacks against me for being compassionate and empathetic and supportive and identifying a booger in someone's nose, labeled as 'hate speech,' it's unbelievable," Nugent adds. "If that speech wasn't 'love speech,' I don't know what would be love speech.
"But love speech sincerely and genuinely critiquing or even identifying something you disagree with or that is glar[ing]ly dangerous and irresponsible as hate speech, that's a manifestation of total cultural abandonment of the good will and decency and genuine support for your fellow man that you and I were raised in.
"So everybody out there, speak your mind, be a critical thinker, articulate yourself honestly, and if they call it 'hate speech,' they're the haters. Those who accuse us of hate speech are the real haters. And I couldn't be more confident of that."
For those who wonder about Nugent's April 1 comments, he had said about Hawkins that spending time with his family was more important than getting high. Even though he claimed that Hawkins broke his family members' hearts, he had shown off his love for him.
"It's heartbreaking on so many levels," says Nugent. "Fifty years old with a horrible, long-term celebration of substance abuse. I'm not…
"Well, I am casting judgment because substance abuse is selfish. His wife and daughter, they should have been taken into consideration. Is spending time with your wife and daughter more important than getting high or less important than getting high?
"If you loved Taylor Hawkins — I loved him; I loved the man; I still love him. But I love his wife and daughter more. Because they didn't break his heart; he broke their heart.
"So, God rest Taylor Hawkins's soul and all those stoners and drunks that died prematurely. Thank God for every day you're above ground. Breathe deep, concentrate on the positive and show reverence for your gift of life and your sacred temple. Do not poison your sacred temple. It's that simple."