Slash Recalls Bob Dylan's Deleting His Solo Part After It Sounded Guns N' Roses Too Much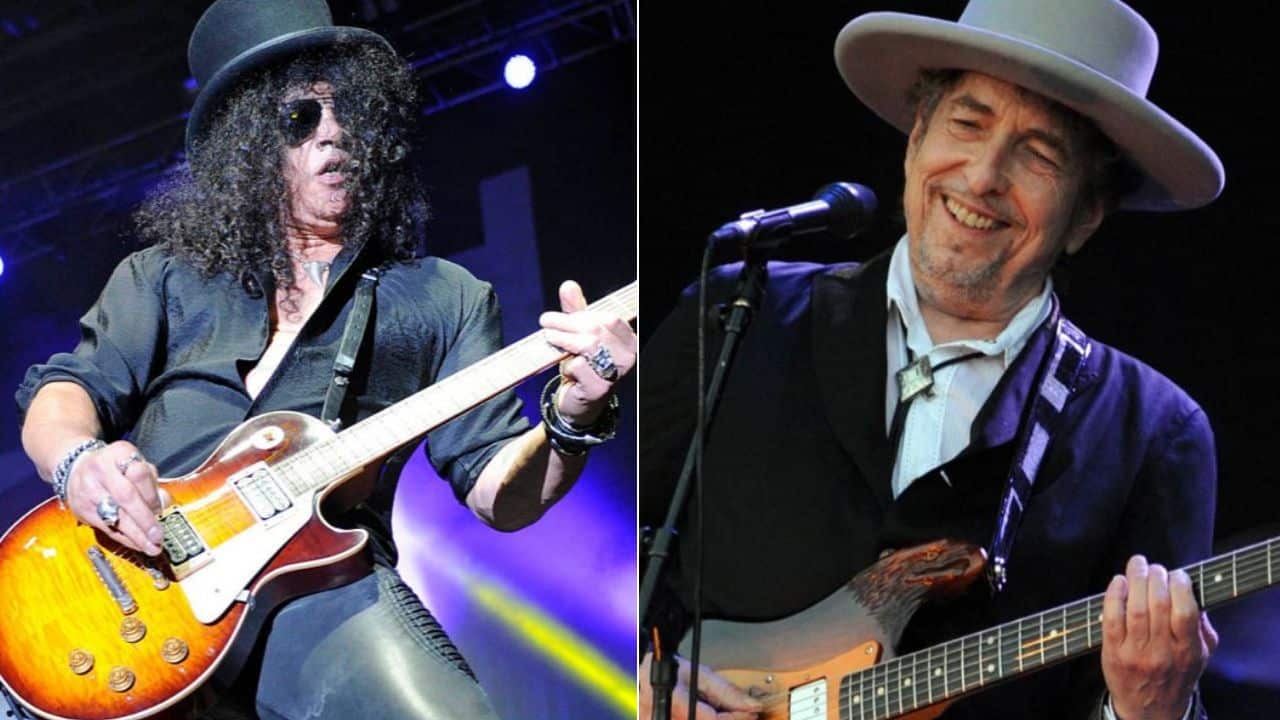 Guns N' Roses guitarist Slash has recalled his contributions to Bob Dylan's 27th studio album and revealed how Dylan deleted his solo part in it after it sounded too much like Guns N' Roses.
Slash is the Rock and Roll Hall of Fame inductee musician who came to world prominence as the lead guitarist of the rock band Guns N' Roses. In addition to his five-album-release career with Guns N' Roses, Slash also played alongside artists such as Michael Jackson, Paul McCartney, Ozzy Osbourne, Myles Kennedy and Velvet Revolver. He also released albums under the band Slash's Snakepit formed by Slash himself in 1994.
His contributions to Bob Dylan featured the musician's largely disappointing studio album Under The Red Sky, which was released on September 10, 1990. Directed by the record producer Don Was, the album also included the works of unique musicians such as Elton John, George Harrison, David Crosby, and Stevie Ray Vaughan. In the album, Slash played the guitar for the opening track Wiggle Wiggle.
Recently, during his recent interview with GQ magazine, Slash detailed those moments when the interviewer said he was the only musician who has played alongside Michael Jackson and Insane Clown Posse. Opening up about his meeting with Bob Dylan, Slash said that he was wearing black leather gloves and a hoodie under the scorching heat.
"I did a session with Don Was and Bob Dylan that was very surreal," Slash says.
"It was summer and I was introduced to this guy who was wearing one of those woven surfer hoodies with the tassels and stripes. He had black leather gloves and a hat, with the hoodie pulled over it, and sunglasses. And it was like a hundred degrees outside!"
Slash Details Bob Dylan's Deleting His Solo Part From His Album
In the continuation, Slash said that he went into the studio to take his part in the song called Wiggle Wiggle. He then mentioned Bob Dylan's asking him to play sounds like the legendary jazz artist Django Reinhardt. Saying that he did his never-heard-before performance on it, Slash added that he also did an acoustic record. When the producer sent him the copy of the cassette, Slash was surprised because his solo part had been deleted after it sounded too much like Guns N' Roses.
"George Harrison was [also] there, doing some guitar stuff," he added. "Kim Basinger was there. She was very sweet, but I have no idea why she was there.
"I went into the studio with my happy-go-lucky guitar player attitude. It was a simple song with a I-IV-V [chord] progression called 'Wiggle Wiggle.' Right before I played, Bob asked me to make it sound like Django [Reinhardt]. I didn't think he was serious.
"I played what I thought was one of my better one-off guitar bits as me, and also did an acoustic track. And I asked Don to send me a rough [mix] when he was ready.
"A couple of days later he sent me the cassette, and when we get to the guitar solo section, it's nothing but me strumming acoustic for sixteen bars. I called Don and said, 'What happened to the guitar?' He told me, 'Bob says it sounds too much like Guns N' Roses.'"
Back on his November 25 appearance on Gibson TV, Slash once again recalled Dylan's deleting his part on the song. At the time, Slash had revealed how Bob Dylan's deleting his part from the song earned him experience.
"Don Was hooked me up with Bob Dylan and said, 'Here's the song,' it was a real basic I-IV-V blues kind of thing," Slash recalls.
"Don had suggested me to play the solo for this particular song, which was like an acoustic kind of thing.
"So there was a section and I went down to the studio and I went in and did what I thought was a really great one-off. So I said, 'Don, make me a tape when you guys are done and let me check it out.'
"So he sends me a tape the next day of the rough and the song's moving along – the lyrics and chorus go by, and the solo section comes in and it's just me playing acoustic, strumming.
"And that's like two full progressions, whatever. And then back into the song. I said, 'What happened to the solo?' [Don said], 'Bob thought it sounds too much like Guns N' Roses.'
"So it was a great lesson learned for me. At that time I hadn't done a lot of session work and it was a great learning experience."