Ted Nugent Criticises Taylor Hawkins On Substance Abuse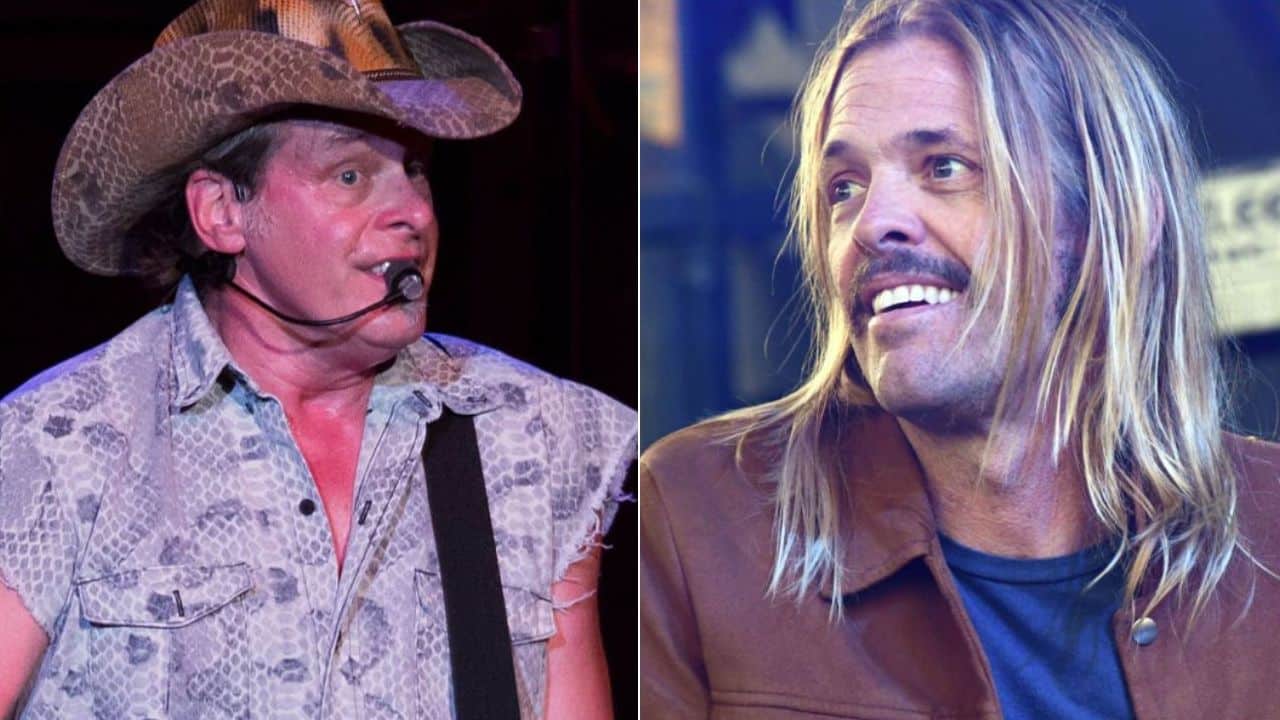 The world-known rocker Ted Nugent has paid his tribute to Taylor Hawkins in a different way and criticized Taylor Hawkins for his substance abuse, referencing that he didn't think about his wife and children.
Ted Nugent is one of those musicians who has undeniable impact on the rock and roll world. Including his 17 solo studio albums during his ongoing solo career, Nugent has been contributing to the community with his numerous successes. He also received huge respect for his works with The Amboy Dukes. At press time, Ted Nugent toured and recorded great musicians such as Brian Howe, and Charlie Huhn, the late musician Meat Loaf.
On the other hand, Taylor Hawkins was an American musician achieved international fame as the drummer of Foo Fighters. He contributed to the band's entire albums except for the first two, the self-titled Fighters and 1997's The Colour and the Shape. In 2021, he was inducted into the Rock and Roll Hall of Fame as a member of Foo Fighters.
On March 26, it was announced by Foo Fighters that Taylor Hawkins passed away in a hotel room in Bogota, Colombia, where they wawere preparing for its recent show. The news shocked the whole world and saddened Foo Fighters and Taylor Hawkins fans, families, friends, and people who have known them. Even though the cause of death of Taylor Hawkins hasn't yet been confirmed by the band, the official statement published by Colombian police was that it was related to drug use.
During his new appearance on The Nightly Nuge, Ted Nugent has broken his silence on Taylor Hawkins's passing. At first, the musician touched on Hawkins's substance abuse. Saying that substance abuse is selfish, Nugent criticized Hawkins by saying that spending time with his family is more important than getting high.
"It's heartbreaking on so many levels," Nugent admits. "Fifty years old with a horrible, long-term celebration of substance abuse. I'm not…
"Well, I am casting judgment because substance abuse is selfish. His wife and daughter, they should have been taken into consideration. Is spending time with your wife and daughter more important than getting high or less important than getting high?"
Ted Nugent Adds Taylor Hawkins Broke His Family's Heart
Later then, Ted Nugent recalled The Amboy Dukes bassist Greg Arama's passing on heroin and substance abuse. He then mentioned Jimi Hendrix and Bon Scott's offering alcohol to him and the remarkable words he told Jimi Hendrix.
"I've told the story many times, but I've witnessed it," Nugent continued. "My bass player Greg Arama — so gifted at 15; listen to the bass part on 'Journey To The Center Of The Mind' by the Amboy Dukes — and the guy was just a gifted, a virtuoso, a savant of groove and musicality. And he started smoking dope and ended up with heroin and died when he was — I don't know — early 20s. And the future he could have had.
"I told Jimi Hendrix, I said, 'No, I don't want your dope, and it's gonna kill you, Jimi.' Bon Scott would come to the studio when my band was recording 'Weekend Warriors' out of Miami and AC/DC was coming in [and working on] 'Highway To Hell' — just phenomenal musical powers.
"And he'd come in drunk every day with a Jack Daniel's or an Old Grand-Dad [whiskey] and he'd go, 'Hey, Teddy, try some of this.' And he smelled like a diaper. What a talent. What a nice guy. These were all nice guys."
Concluding, Ted Nugent claimed that Taylor Hawkins broke his family's heart with his substance abuse.
"So, if you loved Taylor Hawkins — I loved him; I loved the man; I still love him. But I love his wife and daughter more. Because they didn't break his heart; he broke their heart.
"So, God rest Taylor Hawkins's soul and all those stoners and drunks that died prematurely. Thank God for every day you're above ground. Breathe deep, concentrate on the positive and show reverence for your gift of life and your sacred temple. Do not poison your sacred temple. It's that simple."
Foo Fighters had announced the confirm of the cancellation of all upcoming tour dates of the band just three days after Hawkins's passing.
"It is with great sadness that Foo Fighters confirm the cancellation of all upcoming tour dates in light of the staggering loss of our brother Taylor Hawkins," they says.
"We're sorry for and share in the disappointment that we won't be seeing one another as planned. Instead, let's take this time to grieve, to heal, to pull our loved ones close, and to appreciate all the music and memories we've made together."
— Foo Fighters (@foofighters) March 29, 2022