Slash On Axl Rose's Appearance With AC/DC: "I Was Super-Proud With It"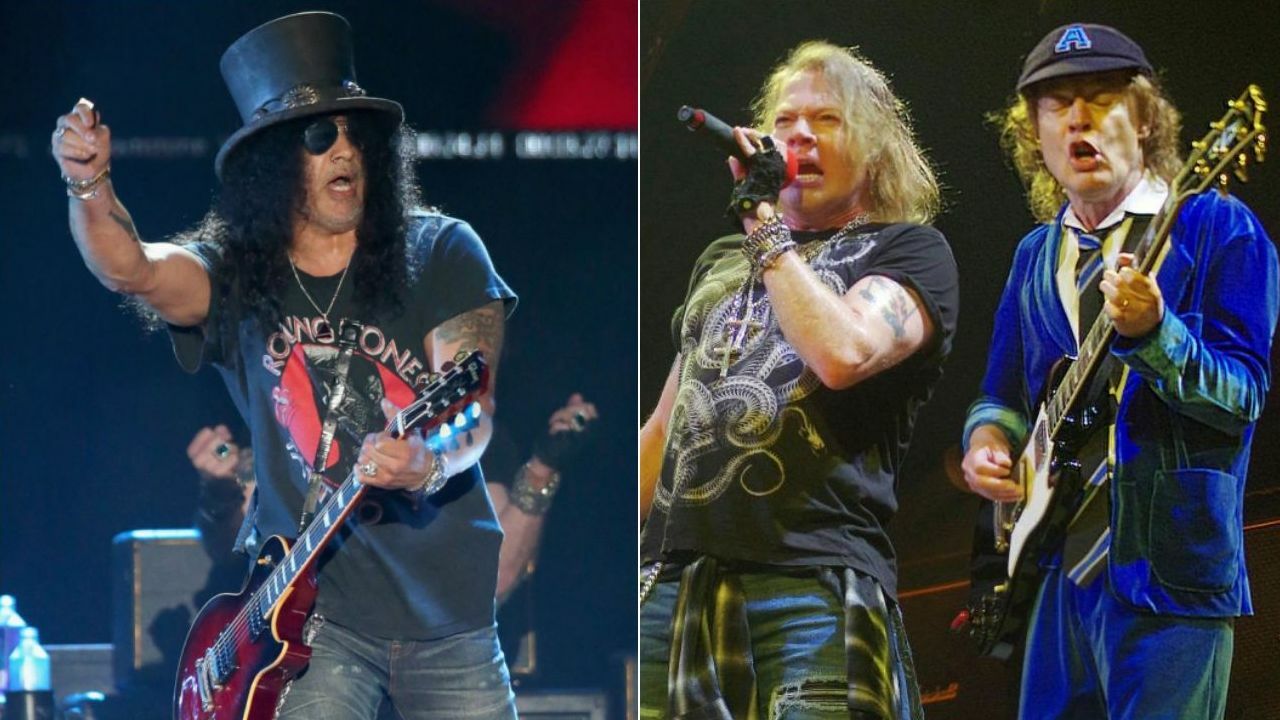 Guns N' Roses guitarist Slash has praised his bandmate Axl Rose, the singer of Guns N' Roses, recalling the singer's guest appearance with AC/DC back in the band's 2016's Rock or Burst tour.
Axl Rose has been the lead vocalist and frontman of the 1985-formed rock band Guns N' Roses since its formation. Considering as one of the greatest singers in rock history, Axl Rose has been leading Guns N' Roses to grow the band's massive successes. Debuted in 1987 with the band's debut Appetite for Destruction, Rose performed in the band's every one of six albums.
In 2016, Axl Rose had joined AC/DC to complete the band's spring 2016 North American Rock or Burst trek after the singer Brian Johnson stepped down from the band due to hearing issues. During the show, Rose played the band's last 10 dates and did a great job alongside AC/DC members.
When one of the most historical moments has ever happened with Rose's tour with AC/DC, the rock community heard unique songs from them while Rose fronted the band. They had played the band's classic Back in Black, Thunderstruck, Highway To Hell, Shoot To Thrill, and many more.
However, during his recent interview with Classic Rock, Rose's bandmate Slash has sent heartwarming words for the 59-year-old singer. Saying that he was blown away from Rose's collaboration with AC/DC, Slash added that it was great to hear Bon Scott stuff from them at the time.
"I came out to a gig in London, and it was phenomenal," Slash says. "I was blown away, especially when he sang the Bon Scott stuff. That was a very proud moment, actually."
Slash Admits Axl Rose Adhered To The Whole AC/DC Regimen
In the continuation of the interview, Slash was asked if it was weird Rose fronted another band after Guns N' Roses' newly-started reunion tour. According to him, Slash had adhered to the whole AC/DC regimen. Slash also admitted that he was super-proud of what Rose did with AC/DC.
"The fact that he got asked to do that was very cool," Slash added. "And he worked his ass off doing it, too. He really adhered to the whole AC/DC regimen and pulled it off.
"In the moment, when it first came up, it was a little jarring, I have to say. I was super-proud that he was doing it, but how that was gonna happen and go right into the Guns thing, I really didn't know.
"But anyway, it worked out. So it wasn't like a big deal.
"In all these years that we've been apart, he's become super-fucking professional. And he's never missed a beat during this whole time.
"So it's been great. There has been a sort of synergy that's been happening this last six years that we never had in our first incarnation."
Back in November 2020, AC/DC guitarist Angus Young had shared his admiration for Axl Rose, recalling the singer's supporting them during the Rock or Burst tour. Recalling how they decided to be joined by a guest singer, Young admitted that Rose was a heaven-sent for them.
"We could have just stopped and said, 'We'll cancel, and hopefully we'll get another chance,'" Angus Young recalled. "But we knew there would still be even a lot of insurance and legality there. Or we can look at other options, maybe.
"And somebody said, 'Well, maybe we could get somebody who might guest. We might have some people who you could try out, who might be able to do the role and get you through.' So, we had to look at those options.
"And then, out of the blue, we got a message that Axl Rose would help. If nothing interfered with his commitments, he would gladly help us out.
"So, we got a rehearse place and tried out, and he put a lot of effort in everything.
"I'd only met him a long time ago in the '80s. He had come to a show and, to me, he was very, very nice and everything. Basically, that's how it came in to be. That allowed us to finish off those dates.
"So, for us, it was a heaven sent. It was a little bit like a lifesaver. Even though he had done his foot in before he started, he borrowed a chair. He was determined he was gonna go, so I thought…
"The first show we had to do, I think it was in Portugal, and it was a horrible day. It was raining and everything, it was open air. Everyone was going wrong, and then, just at the last minute, the sky cleared, the storm went away. We got on stage, and got through.
"He performed from the chair, gave it his best shot, and we got through. So, for the band, we'll be forever grateful. And he helped us get through all of those shows."
The Time Axl Rose Praised By Brian Johnson
Angus Young is not the only AC/DC crew member who praised Guns N' Roses legend Axl Rose. Back in 2020, the singer of Australian rockers, AC/DC, Brian Johnson also spoke meaningfully for Axl Rose. According to Johnson, he has much respect for Axl Rose.
"He jumped into a tough, tough vocalist gig," he said. "You've got to be on top of your game for that. There's not many resting places. You've really got to go in full chop, all of the time.
"And for him to do that at such short notice was pretty fantastic. I've got a lot of respect for what he did, you know. A lot of respect."