DJ Ashba Names Guns N' Roses Member Who 'Didn't Really Fit The Band'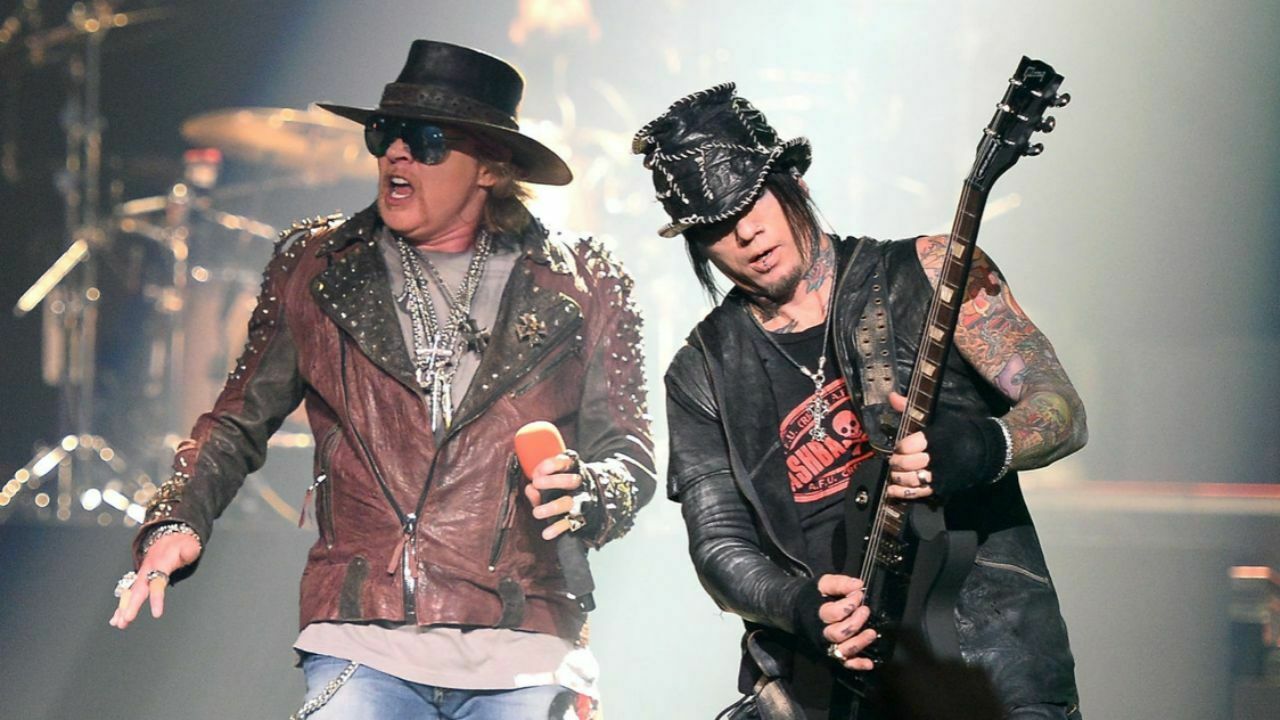 Former Guns N' Roses guitarist DJ Ashba named the member who didn't fit the band in the past and said that seeing around a person with a chicken bucket was a weird thing on stage.
DJ Ashba was the lead and rhythm guitarist of Guns N' Roses from 2009 to 2015. At the time, he had joined the band after the departure of the band's former guitarist Robin Finck, who was the man who replaced the band's original guitarist Slash in 1997. As some of you might know, DJ Ashba had contributed to only the band's 2014-released live album, named Appetite for Democracy 3D.
The man DJ Ashba mentioned, Buckethead, originally named Brian Patrick Carroll, was the lead and rhythm guitarist of the band as well. He had appeared with the band from 2000 to 2004. As a member of the band, Buckethead had performed the band's latest studio album, 2008-released Chinese Democracy.
Buckethead was the person who wore a chicken bucket during the band's live performances. He had a different and weird style compared to his bandmates. Receiving critical acclaim for his innovative electric guitar playing, Buckethead had released 325 studio albums at press time. While 31 of them were his main solo albums, 294 of them were with Pikes Series.
However, during a recent interview with Antihero Magazine, DJ Ashba was asked about his years with Guns N' Roses. At first, the guitarist stated that he hoped at the time that one day the original Slash would come back. Later, he admitted that it was weird to see a person with a chicken bucket on his head. According to him, he wanted to join the band to bring back the great rock and roll vibe of what Slash did with Guns N' Roses.
"I didn't know what to expect," Ashba said. "I was hoping that one day Slash would come back, and the reason I took the gig is that, honestly, I was — no disrespect to Buckethead or anybody — but seeing a guy run around with a chicken bucket on his head, it's, like, to me, that took the coolness out of the band that I grew up loving.
"And that's one of the main reasons I wanted to get in there and try to do whatever I could do to get justice, bring back that reckless rock and roll vibe of what Slash was all about and Guns N' Roses was all about.
"To me, it was in a sense losing that thing that I loved about the band. And I love Buckethead as a guitarist. No disrespect at all — it's just, in my opinion, he didn't really fit the band."
DJ Ashba Adds Axl Rose Wanted Him To Stay On Guns N' Roses After Slash Was Back
Later then, Ashba revealed if he was disappointed when he heard that Slash was returning his band Guns N' Roses. Saying that the band's singer Axl Rose wanted him to stay on the band, the guitarist added that he learned tons of stuff about performing live.
"Absolutely not," he answered. "Actually, Axl wanted me to stay on board, and it's one of those things where I was playing most of the Slash parts, and if he was coming back, that was great news for me as a fan and even better news for me as a musician, because it was never my band. I was just basically filling in till the big guy came back.
"But it allowed me to really experience a band on a level like no other, and I learned a lot of stuff about performing live on that magnitude. To me, it was great news, because I was going to go off and do what I'm doing now and that was to create and carve my own path.
"I've always been a big, big believer in not following in people's footsteps, and I get more pride and joy [out of doing my own thing]. Even if this thing never gets to that level, at least I'm cutting my own path and doing something really unique and, to me, as an artist, that's awesome."
Back in October 2020, Slash had remembered the time Guns N' Roses' first comeback performance in April 2016. Saying that it's hard to put into words what that felt like to play Welcome To The Jungle live after all those years, Slash had also remembered Guns' first show at The Troubadour.
"Our first Guns N' Roses show proper, that I was involved in, was here at The Troubadour," Slash said. "We really got our start in this particular venue. I remember we had a show here at some point in 1985, where Tom Zutaut from Geffen came down, and that was who we ended up signing with. This is the gig that he saw us play.
"I remember that gig pretty well. At that point, we were selling out these venues and had a really big word of mouth going and had a really eclectic demographic coming to see us — from fucking hardcore punk rockers to metalheads and glam and fucking surfers. It was a very mixed up kind of audience, but it was great.
"Guns came back and played here in 2016, on April Fool's, the first show back in 20 years, for me anyway. Once we loaded in and started soundchecking, it was like going all the way back to 1984. Playing 'Welcome To The Jungle' here all those years later, it was something that… It's ineffable.
"It's hard to really put it into words what that felt like. The funny thing is we had way more gear that this club really holds.
"So we basically blew the fucking doors off this place. We just thought it would be fitting to get back together all these years later and start at The Troub."