ANGUS YOUNG on AXL ROSE's joining AC/DC: "For us, It Was A Heaven-Sent"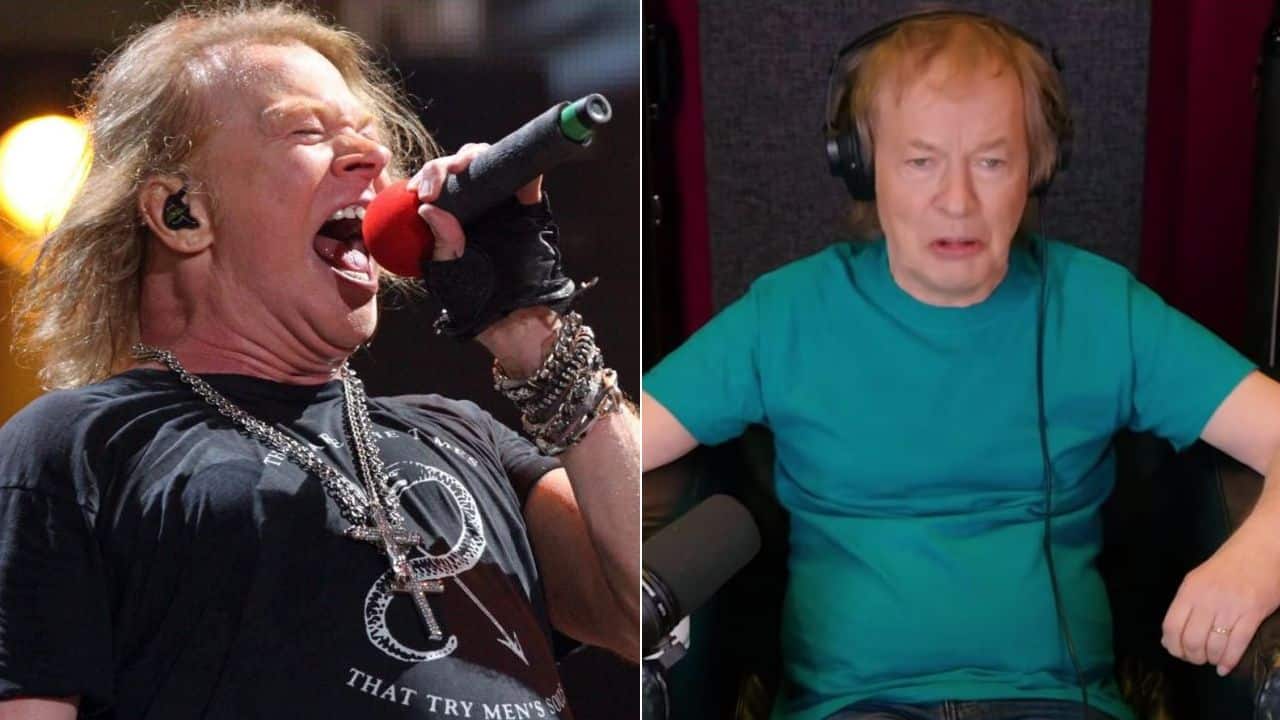 AC/DC guitarist Angus Young has recently spoken out to Zane Lowe and expressed her respects and admiration for Guns N' Roses singer Axl Rose once again.
Back in 2016, Axl Rose decided to join rock legends AC/DC as a touring member following Brian Johnson's stepping down from the band due to hearing issues. During AC/DC's 'Rock or Burst' tour, Axl Rose did a great job with the band.
Anyway, in a recent appearance, Angus Young touched on Axl Rose's respectful behavior. He mentioned Axl's joining the band and how the decision has given at the time.
"We could have just stopped and said, 'We'll cancel, and hopefully we'll get another chance,'" Angus Young said. "But we knew there would still be even a lot of insurance and legality there. Or we can look at other options, maybe. And somebody said, 'Well, maybe we could get somebody who might guest. We might have some people who you could try out, who might be able to do the role and get you through.' So, we had to look at those options. And then, out of the blue, we got a message that Axl Rose would help. If nothing interfered with his commitments, he would gladly help us out. So, we got a rehearse place and tried out, and he put a lot of effort in everything."
When he concluded his words, Angus said that Axl Rose was "a heaven-sent for them" and that "he was a little bit like a lifesaver." He also sent his appreciation to him because he played although his foot has broken.
"I'd only met him a long time ago in the '80s," Angus Young stated. "He had come to a show and, to me, he was very, very nice and everything. Basically, that's how it came in to be. That allowed us to finish off those dates. So, for us, it was a heaven sent. It was a little bit like a lifesaver. Even though he had done his foot in before he started, he borrowed a chair. He was determined he was gonna go, so I thought… The first show we had to do, I think it was in Portugal, and it was a horrible day. It was raining and everything, it was open air. Everyone was going wrong, and then, just at the last minute, the sky cleared, the storm went away. We got on stage, and got through. He performed from the chair, gave it his best shot, and we got through. So, for the band, we'll be forever grateful. And he helped us get through all of those shows."
AC/DC has recently a new album titled 'Power Up,' which is a follow-up to the band's 'Rock or Bust' album and marked as the seventeenth.
Watch the entire interview below.