How To Play Megadeth Symphony of Destruction? Dave Mustaine Explains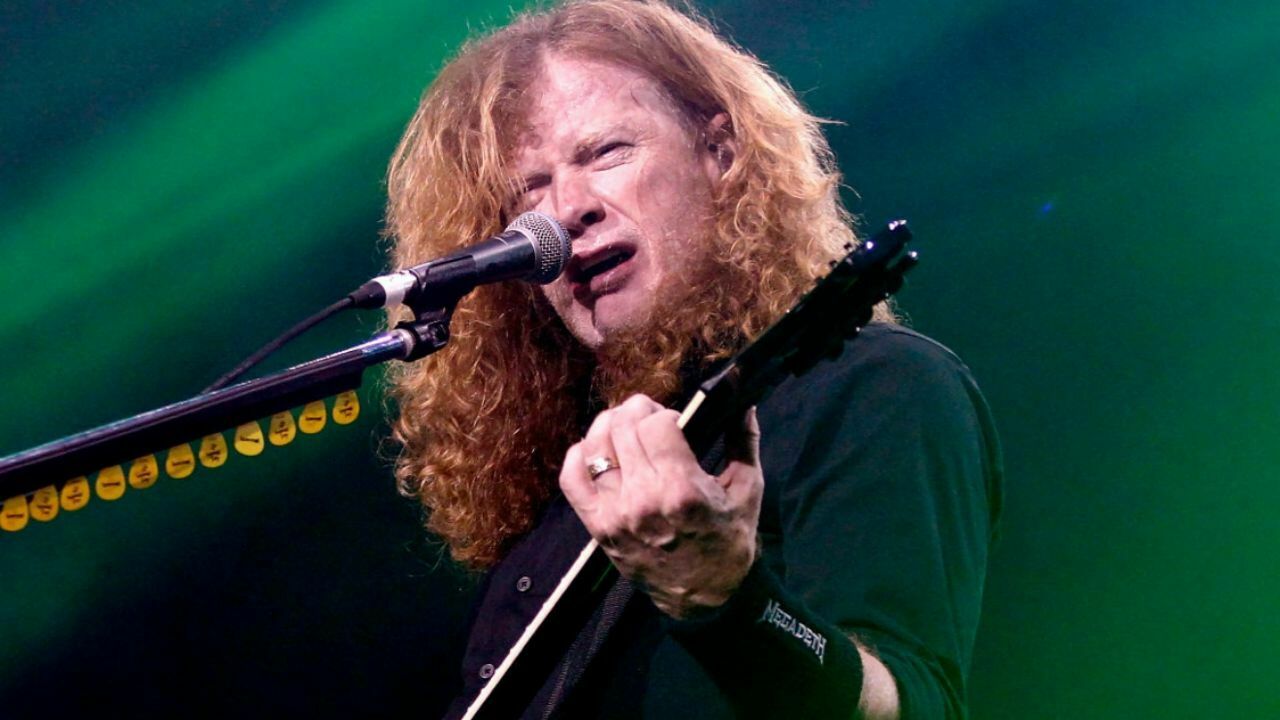 In new video footage recorded during Rock 'N' Roll Fantasy Camp, Megadeth singer and guitarist Dave Mustaine has explained to the fans how to play his band Megadeth's Symphony of Destruction with a guitar.
Megadeth is a heavy metal band that is one of the Big Four members. The band was formed in 1983 by the singer and guitarist Dave Mustaine and the former bassist David Ellefson, just after Mustaine was fired from Metallica due to personal issues. In 2002, the band temporarily announced its disbandment after Mustaine suffered an arm injury. Later then, in 2004, the band had re-united without the bassist David Ellefson.
Debuted in 1985 with Killing Is My Business… and Business Is Good!, Megadeth has released 16 studio albums, 6 live albums, 7 compilation albums, 6 video albums, 44 music videos, 49 singles, and many more things during its nearly 4-decade career. Selling over 40 million records worldwide, Megadeth has tons of massive-succeeded stuff.
One of those the band's beloved stuff is their fifth studio album, Countdown to Extinction, which was released on July 14, 1992. Including great tracks such as Symphony of Destruction, Holy Wars… The Punishment Due, Hangar 18, Ashes in Your Mouth, and Peace Sells, the band's certifications includes 2x Platinum by RIAA and 3x Platinum by Music Canada.
However, are you one of those who want to play Megadeth's Symphony Of Destruction? The singer Dave Mustaine teaches you how to play Megadeth's Symphony Of Destruction. If you want to learn, just keep scrolling.
How To Play Megadeth 'Symphony Of Destruction'?
Symphony Of Destruction is Megadeth's some of the most beloved songs. Penned by the band's legend Dave Mustaine, the lyrics of the song explore the hypothetical situation where an average citizen is placed in a position where he runs the country while the public is led by a phantom government.
However, as we mentioned before, Dave Mustaine filmed a new video to teach how fans play Megadeth's Symphony Of Destruction with a guitar. During the band's Rock 'N' Roll Fantasy Camp, Dave Mustaine showed off some tricks to reveal his playing.
At first, Mustaine advises people to choke the chords (as transcribed by MetalCastle.net): "Okay, so, the beginning is obviously a pull off [he plays], but I choke the shit out of it. Choke it, okay? [he plays.]"
And then, Mustaine gives tricks to people who wants to play Symphony Of Destruction of Megadeth: "The chords are one volume, but it's different. Then we go to the pre-chords. [he plays.] So I'm muting, down picks, [he plays], letting these voices out which are the… as those fits in octagon before [he plays]. But I'm keeping the root open. So, that's the trick.
"And then at the end of each lick I go… from my root, and then the harmonising guitar player does the harmonic licks.
"So, this is what the pre-chorus looks like [he shows].
"It does that until the very end, where it does step-down that part that goes down you guys all know that [he plays].
"It's important to get a vibrato on that first note, and then mute them all wayn down and then let that last note be open because that gives you all the dynamics you need to make all that work."
According to Dave Mustaine, the chords of the song are the last part the players need to learn: "The chords… this is the last part you need to learn. The chords goes [he plays]: those are the chords, right? and we're inversely picking… [he plays]
"And that's the whole song, okay?"
Symphony Of Destruction Lyrics
You take a mortal man
And put him in control
Watch him become a god
Watch people's heads a-roll
A-roll, A-roll
Just like the Pied Piper
Led rats through the streets
We dance like marionettes
Swaying to the Symphony of Destruction
Acting like a robot
Its metal brain corrodes
You try to take its pulse
Before the head explodes
Explodes, Explodes
Just like the Pied Piper
Led rats through the streets
We dance like marionettes
Swaying to the Symphony
Just like the Pied Piper
Led rats through the streets
We dance like marionettes
Swaying to the Symphony
Swaying to the Symphony of Destruction
The earth starts to rumble
World powers fall
A-warring for the heavens
A peaceful man stands tall
A-tall, A-tall
Just like the Pied Piper
Led rats through the streets
We dance like marionettes
Swaying to the Symphony
Just like the Pied Piper
Led rats through the streets
We dance like marionettes
Swaying to the Symphony
Swaying to the Symphony of Destruction