Scott Ian reacts to Axl Rose with AC/DC: "That Axl/DC show was fantastic"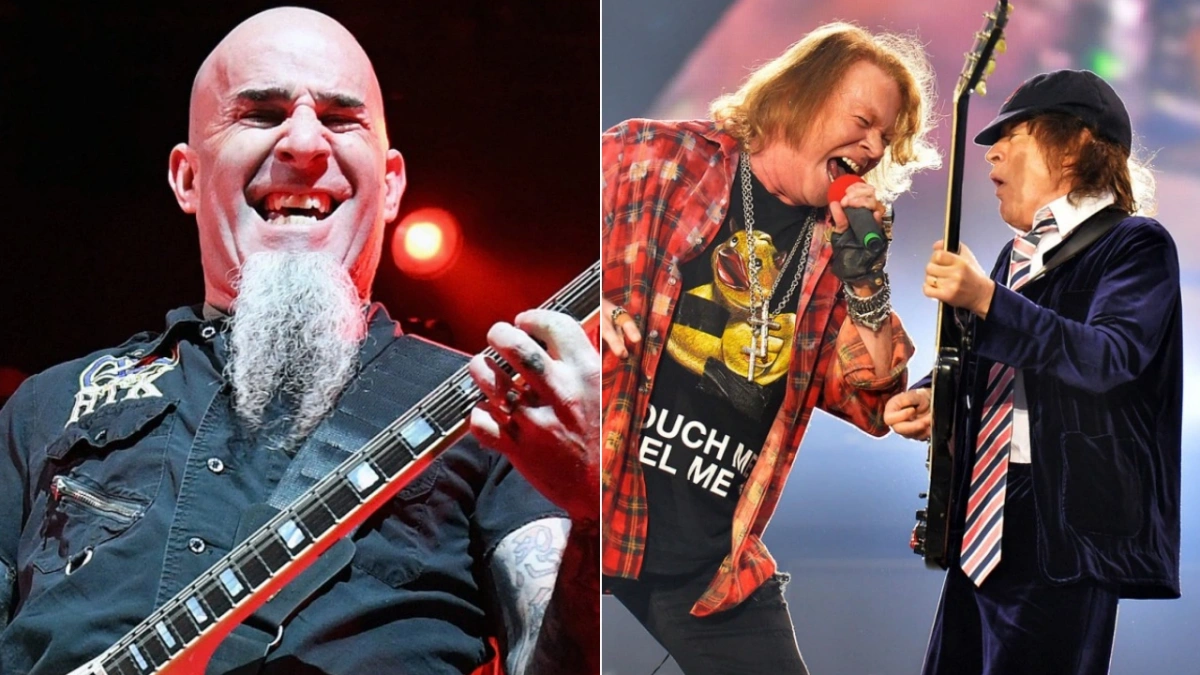 Anthrax frontman Scott Ian shared his view on Guns N' Roses singer Axl Rose's performing with AC/DC back in the day, saying it was "fantastic."
For those who don't know, AC/DC was forced to postpone some of its last North American shows in 2016 after the band's singer Brian Johnson faced hearing loss. In the same year's summer, the band concluded the tour under the leadership of the guest singer Axl Rose of Guns N' Roses. Sharing the stage with the AC/DC boys, Axl Rose sang a lot of classics, including Back in Black, Thunderstruck, and Highway To Hell.
However, during his recent appearance on Appetite for Distortion podcast, Anthrax man commented on Axl Rose's performance with AC/DC. The 59-year-old rocker was sure that Axl Rose-fronted AC/DC was one of the greatest moments in the history of rock.
"That Axl/DC show, it was fantastic," Ian said, adding that he "nailed it. I don't know Axl, other than having said 'hi' to him a couple of times over the decades — I don't know him. I think I hung out with him, kind of, one time in the '90s at a bar in New York, but other than a, 'Hey, how are you'."
He then revealed his favorite Guns N' Roses album, which was the band's debut release: "I've always been a fan of certainly 'Appetite [Of Destruction]' and that record. And I've always known he's an AC/DC fan, 'cause he talks about it."
Scott Ian adds Axl Rose with AC/DC was 'fantastic'
After showing off his admiration for Guns N' Roses' debut album and Axl Rose's leading AC/DC, Ian said a couple of words for their stage performance. According to him, the band with Axl Rose rocking-out fans was fantastic.
[Axl Rose] crushed it," he continues. "And boy, his fanboyness came out so strong on that stage, you could tell how happy he was to be fronting one of his favorite bands of all time. And not only did he do it justice, but it just couldn't have been – other than Bon coming back from the dead and a zombie walking out onto that stage – it couldn't have been better. I mean, he nailed it — he fucking nailed it.
"He took a backseat to Angus [Young, AC/DC guitarist]. It was just so respectful. The fact that between songs, it was, like, 'You probably know this next one,' and then they bust into 'Highway To Hell'. It's just, like, 'Jesus Christ.' Everything about it was great. It was two and a half hours of headbanging. A fabulous, fantastic show."
From Phil Lewis to Guns N' Roses guitarist Slash, many people have previously talked about Axl Rose's performing with AC/DC. Angus Young even once said it was heaven-sent, adding, "He was a little bit like a lifesaver. He had come to a show, and, to me, he was very, very nice and everything." Furthermore, Brian Johnson also respected Axl Rose, saying, "He jumped into a tough, tough vocalist gig. And for him to do that at such short notice was pretty fantastic."