Ted Nugent pays tribute to David Crosby respectfully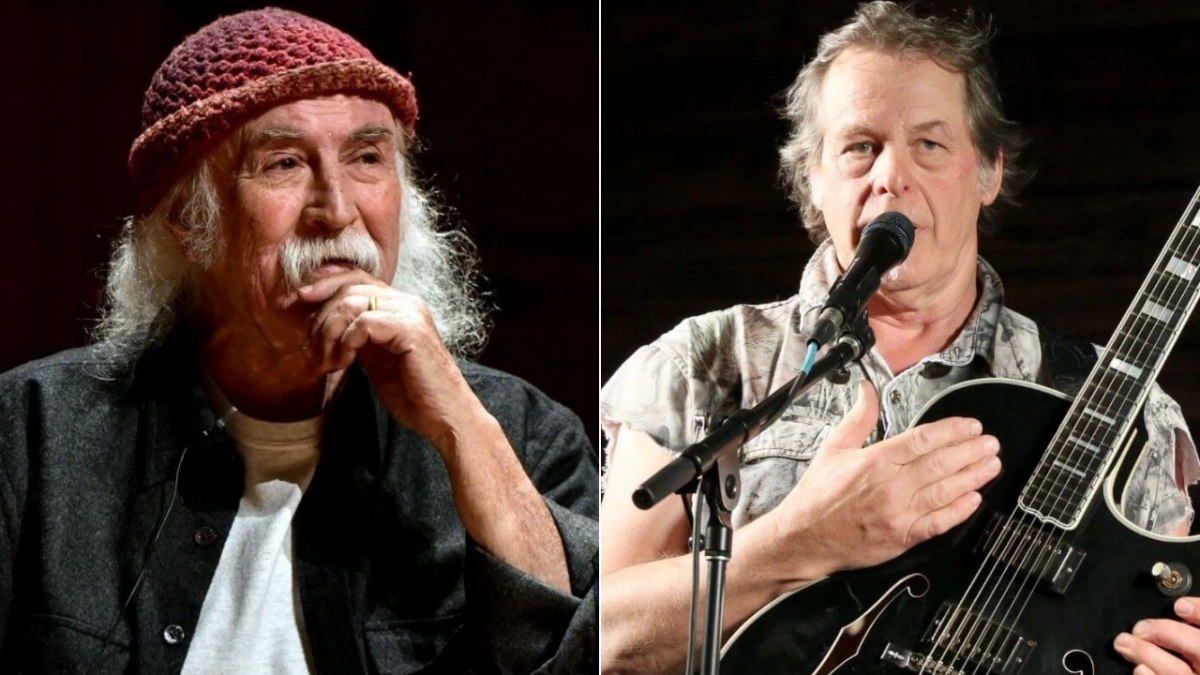 In the recent episode of The Nightly Nuge, Ted Nugent sent respectful words to pay tribute to the late rock legend David Crosby, who suffered from type 2 diabetes.
David Crosby was a rock guitarist who gained international fame as a member of his co-founded rock band, the Byrds, during the mid-1960s. He also fronted the supergroup Crosby, Stills & Nash during the 1970s to popularize the California sound. Besides his several musical projects in rock, Crosby also had a successful solo career, in which he debuted with If I Could Only Remember My Name in 1971 and brought eighth and final release in 2021 with For Free.
Ted Nugent and David Crosby never got along very well with each other. In the near past, after Ted Nugent criticized Rock Hall, Crosby even blasted Ted Nugent by saying that he was not good enough to get inducted into the Rock Hall. Crosby also added Nugent was "a hack player and no singer at all." Later, Nugent responded to Crosby and named him "an evil rotten soulless punk," adding that he was proud that Crosby hated him.
After David Crosby passed away on January 18, 2023, Ted Nugent appeared on his podcast to say a few words to pay tribute to him. He first mentioned Crosby's criticizing him many times. Later, he stated that he was going to praise David Crosby for his music. According to him, he had a work ethic.
"I understand we're going to talk about my friend David Crosby," Nugent said (as transcribed by MetalCastle.net). "Now let me make it perfectly clear; David was on record many, many times attacking me and hating me, 'Well, he can't play guitar. He's never had a musical idea in his life. He's a vicious killer of innocent animals.' Well, let me praise David Crosby. I'm not a big fan of that kind of folky music, but they had gifts, and David Crosby had a work ethic because you don't create a 'Crosby, Stills, Nash & Young's musical force like they did. Again, not my favorite, but it enriched millions of people around the world."
Ted Nugent recommends people listen to David Crosby music
In the continuation, Nugent also made a joke about the late music legend. He said Crosby's owning a pistol for his own was the only positive thing of himself.
"All I know is we're all gonna die someday, and I would like to just pray for the friends and family and loved ones of David Crosby and I can make a real smart comment about the numbers of those people," he says. "But I'm gonna just continue to honor the man who – at least he had a Colt 45 1911 he got caught in New York City. So, that's one positive about David Crosby. He's backed a pistol."
After recalling Paul McCartney's attacking himself, Nugent stated that Crosby is still alive: "Even though I'm not a fan of that kind of music, I'm taking the high road, like I did with Paul McCartney when he savagely attacked me and hated me for murdering innocent animals. I don't know how much protein he's donated to the Caritas Kitchen. But my point is I just thank Paul McCartney for his incredible musical enrichment of our lives. And the same with David Crosby. In the wind, he's still alive. It would take quite a gust, but in the wind, David Crosby is still alive."
Before concluding his words, Ted Nugent recommended people listen to David Crosby's songs, naming them wonderful. He once again praised his work ethic and named him a musical genius.
"I would recommend, if people want, they can listen to some wonderful David Crosby music," Nugent says. "I'm not going to, but I'm not gonna disparage this man. He had a lot of problems, he was a substance abuser, and I'm not gonna go into that. I'm just going to praise him for his musical genius that enriched people's lives and the work ethic that he had to have to cultivate and nurture in that career of his. So, rest in peace, old David.