Phil Lewis Speaks On Axl Rose's Performance In AC/DC: "It Was Effortless For Him"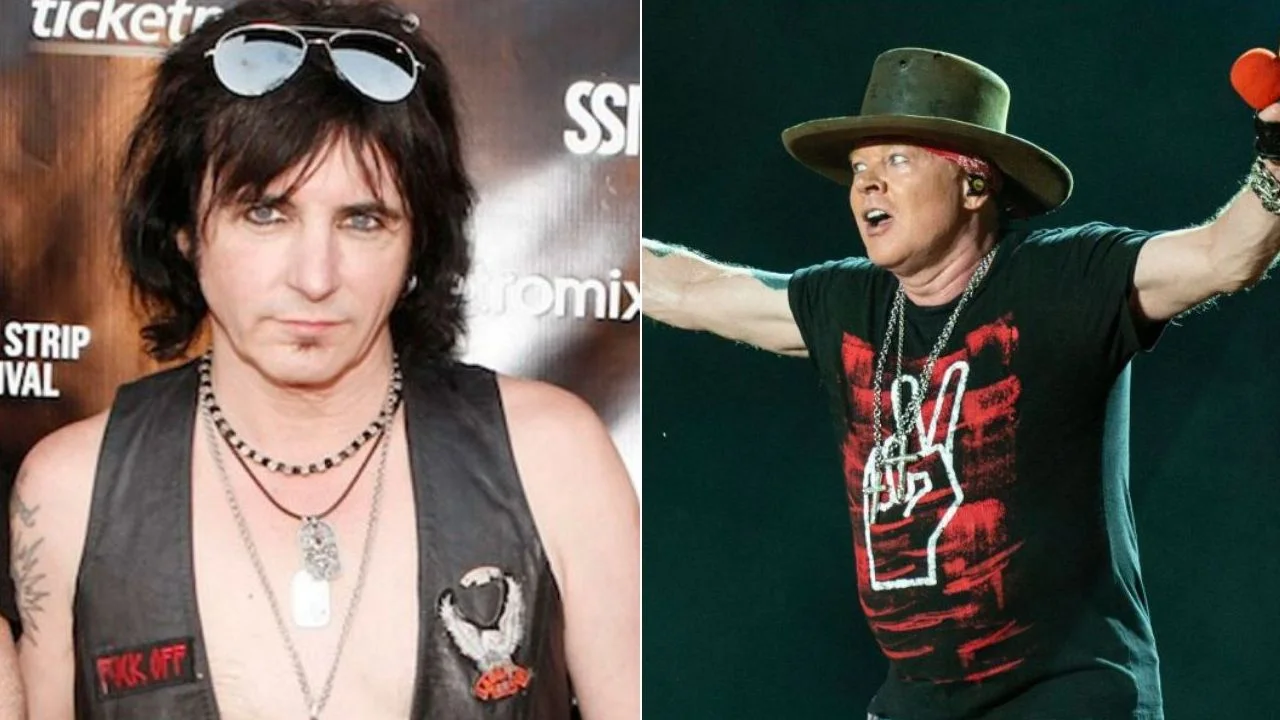 During a new appearance on Talk Louder Podcast, L.A. Guns singer Phil Lewis has talked about Axl Rose recalling the musician's contribution to AC/DC on their live show and revealed the name that could have played better than him in AC/DC.
AC/DC is a rock band formed in Sydney, Australia, in 1973. The band's founders were the brothers Angus and Malcolm Young. Still rocking the rock scene, AC/DC has released 17 studio albums at press time. The band's latest album Power Up was released in 2020.
Over the years, AC/DC underwent several line-up changes. At first, the band fitted a lineup that includes singer Bon Scott, drummer Phil Rudd, and bassist Mark Evans besides Young brothers. With that line-up, AC/DC had released its 1975's debut studio album, High Voltage. After their debut, AC/DC dismissed the bassist from the band replacing Cliff Williams. Since then, Williams has played on every AC/DC album.
One of those line-up changes has happened when Brian Johnson stepped down from the band due to hearing issues in 2016. At the time, Guns N' Roses singer Axl Rose had joined AC/DC during the band's Rock or Bust tour and fitted perfectly with the band.
Recently, Phil Lewis discussed Axl Rose's decision to perform with AC/DC during a chat with the singer Jason McMaster. Opening up about his comment about Axl Rose's performance with AC/DC, Lewis told Jason that he would have performed better than Axl Rose, although saying that he liked Rose's performance.
"Your voice is legendary," he says. "When Axl stood in for Brian [Johnson] in AC/DC, I was rooting for you. I think you would have done a much better job, personally."
Lewis Mentions Axl Rose's Contribution To AC/DC
Later then, Phil once again mentioned Rose's contribution to AC/DC. He has shared his honest opinion on Axl Rose and said he is the singer's singer. Saying that playing with AC/DC was effortless for Rose, Lewis has also touched on Brian's hurts saying it's hard to play live shows for someone at that age.
"Axl [Rose] is a singer's singer," he adds. "People that don't sing don't get it, because they think he sounds nasal and he has got that funny vibrato but he's a singer's singer. We're talking, like, seven octaves.
"He did that AC/DC stuff on his head; it was effortless for him. You can't help feeling bad for old Brian puffing around up there.
"I've toured with him [Brian], and after about the third or fourth night, he's hurting. It's a tough gig for anyone, especially somebody at that age.
"Yeah, Axl just came in and nailed it but you could have done it too, though."
Back in December 2020, Angus Young had revealed the main truth behind AC/DC's decision to go with Axl Rose replacing Brian Johnson. According to him, it was one of the best times.
"It was an unknown situation, and there was a lot there to think about," he says. "You're on tour, you've got a whole big machine with you, and you don't know how Brian's situation is going to play out. Well, maybe if we got somebody, another singer, we might be able to finish off those dates.
"I thought there probably wouldn't be a chance to regroup for a long time, so it was best, maybe, that we get it done and get through it.
"But when something like that happens, I don't think there is any great solution where everyone comes off happy, I guess."
In November 2020, Brian Johnson was also one of those who's spoken out about Axl Rose's collaboration with AC/DC. Saying that it was fantastic, Johnson had sent his respects for him.
"He jumped into a tough, tough vocalist gig," Johnson said. "You've got to be on top of your game for that.
"There's not many resting places. You've really got to go in full chop, all of the time.
And for him to do that at such short notice was pretty fantastic. I've got a lot of respect for what he did, you know. A lot of respect."