Rush's Geddy Lee Reflects Why Neil Peart Wanted To Hide His Illness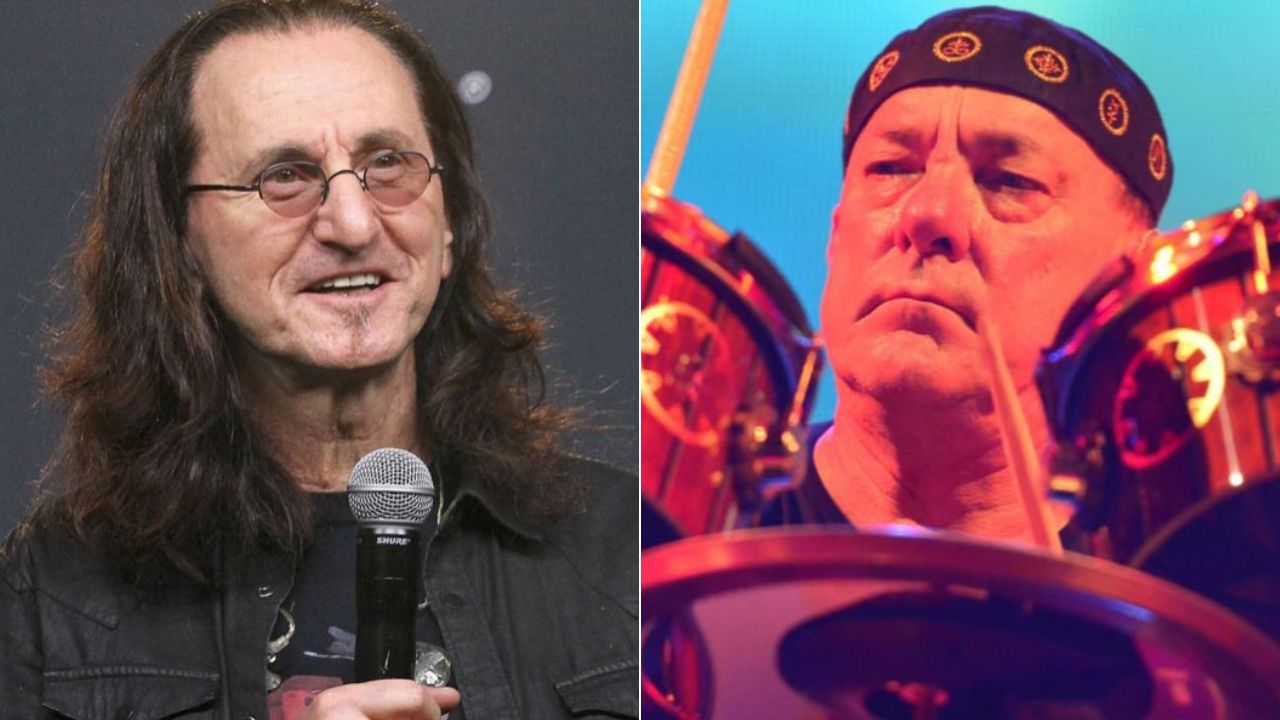 Rush singer Geddy Lee talked about his late bandmate Neil Peart and reflected on why Neil Peart wanted to hide his illness from people. Geddy said that it was frustrating that Rush ended.
Born on September 12, 1952, Neil Peart passed away due to glioblastoma on January 7, 2020. In late 2015, he described himself as a retired drummer after the band's last tour R40, which commemorated the 40th anniversary of drummer Neil Peart joining the band. Three years later when Geddy Lee confirmed Rush was done in 2018, Peart had been struggling with chronic tendinitis and shoulder problems.
Joining Rush in 1974, Neil Peart is considered one of the greatest drummers in the world. He gained international fame as a member of the band, as he contributed to every one of the band's releases, except for their self-titled debut Rush. He was the writer of the band's hit songs Dreamline, Roll the Bones, Distant Early Warning, Afterimage, The Big Money, and Grand Designs.
The first time Peart learned back in 2015 about his diagnosis, the band was resting as they had just finished their R40 tour. At first, Neil didn't want anyone to know about his illness, and he only let his close circle know it. Struggling with his illness secretly, Neil had suffered tough times. After Neil Peart passed away, the rock and roll community was saddened deeply. It was clearly hard to accept a legend's passing.
During a new interview with House Of Strombo, Rush lead singer Geddy Lee opened up about Neil Peart's illness and the band's state in 2015. Admitting that it was frustrating that Rush was ended, Geddy Lee added that he was proud of what Rush did over the years.
"Let's be honest: it was frustrating to end when we ended," Geddy says. "I was frustrated, because I worked so hard on that tour in terms of design and putting it all together and the whole concept of going backwards, a chronology that exposes itself or exploits itself while going back in time. And so I was really proud of it.
"I wanted to take it to Europe to play for the European fans, I wanted to take it to South America, and that wasn't gonna happen. So it was truncated in my view, in my mind, and I had to swallow that because I had to think of my friend's needs and what he wanted. But it was frustrating.
"So we walked away from that, and we went to do our other things — I went traveling, Alex was golfing — and then Neil got sick. And so what do you do with all those feelings? You just throw them away, because they don't mean anything anymore."
Geddy Lee Explains Why Neil Peart Hid His Illness
In the continuation, Geddy Lee was asked whether he initially thought Rush would play again one day. Saying that he had a hope that Rush would be backing on the road again, he also revealed how it was hard for Neil Peart. According to him, Peart struggled seriously and lived very tough times.
"Yeah, I thought maybe [Neil will] have three months at home and get sick of that and wanna come back on the road and play with the boys," he continues. "You never know.
"Of course, I had a feeling that wouldn't be the case, and I think Al did as well, but you never know. Regardless, we just went on with our lives, and then he got sick and everything changed."
"That's why [Neil] didn't want anyone to know [about his illness]. He just didn't. He wanted to keep it in the house. And we did. And that was hard. I can't tell you it was easy, 'cause it was not easy. And it was ongoing."
"His diagnosis was… He was given 18 months at the most, and it went on three and a half years. And so that was a constant flow of us going to see him, giving him support. What his family had to live through was really difficult. So it was a lot of back-and-forth."
Geddy Lee Recalls Neil Peart's Joining Rush
During an interview with Rolling Stone back in January 2021, Geddy Lee recalled the time Neil Peart joined Rush. Peart's first show with Rush was their opening for Uriah Deep back in 1974. Day by day, Peart was fitting great into the band like a glove. Shortly after he joined them, he learned everything well and became one of the most important drummers for rock.
"First of all, we didn't have a whole lot of time," Geddy had said Rolling Stone. "Neil joined the band, and two weeks later we were doing our first gig, opening for Uriah Heep, so we had to learn as many songs as we could and head out.
"So it was through that whole first tour that we were getting to know each other musically. We had a lot of dead time but not dead time where we actually had our instruments in our hands. So we couldn't jam really. Our whole day was leading up to 26 minutes onstage, and then you're off.
"Subtle things would start to change night to night as Neil got to know the songs better and as we got to understand each other better as players. That kind of chemistry started to develop. By the time we hit 'Fly By Night,' we were just so amped to do something new.
"So in a sense, Neil just kind of fit in like a glove. And when we started writing, even in our hotel rooms, in the back of our minds we had an idea of where that could go.
"But it really wasn't until we got into the recording session, and started doing stuff like 'By-Tor and the Snow Dog' – which really developed in the studio – that a whole other side of our nature was formed."