Jason Newsted Recalls Neil Young's Crushing Metallica: "Follow That, Motherfucker"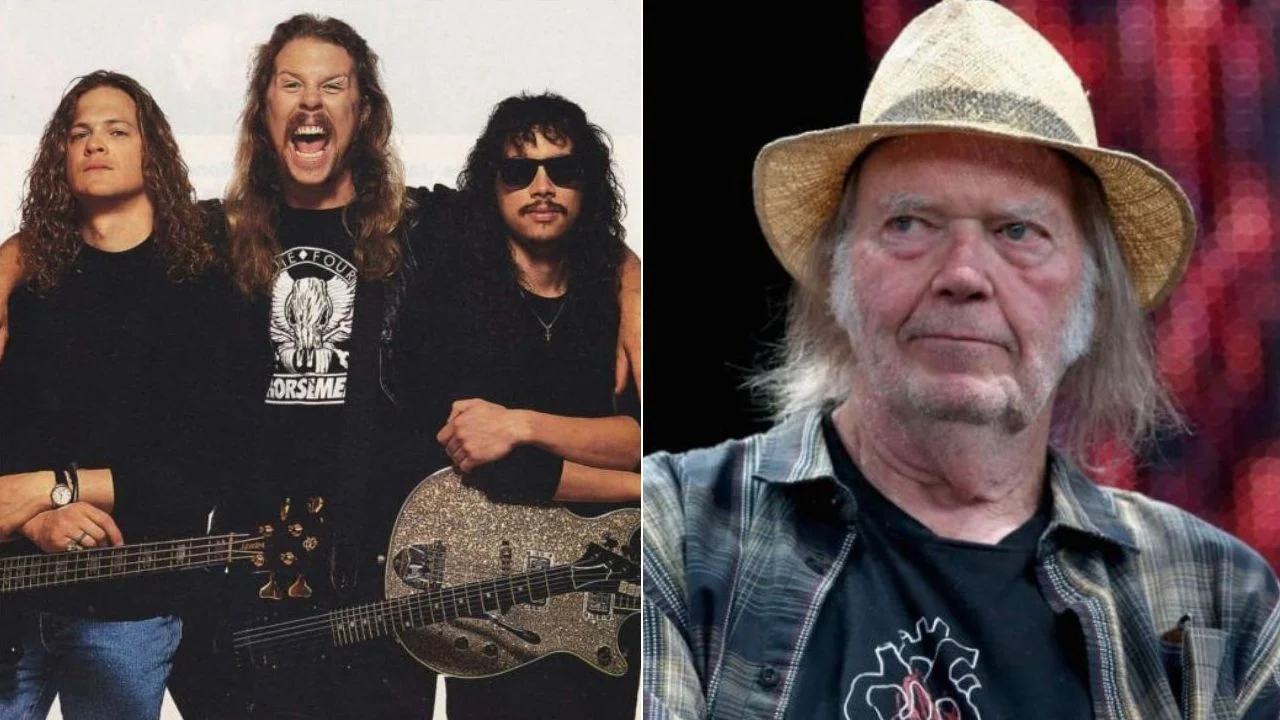 Former Metallica bassist Jason Newsted recalled the time Neil Young performed before his band and admitted that Young crushed Metallica heavily.
Jason Newsted was the latest bassist of Metallica except for the band's current bassist Robert Trujillo. He had joined the band in 1982 after the passing of Cliff Burton. Performing in the band's 4 studio albums during his career with them, Newsted had announced his departure in 2001.
One of the albums that Jason Newsted released with Metallica was the band's fifth self-titled album, The Black Album. The band had released the album on August 12, 1991. At press time, Metallica has sold more than 16 million copies with the album and was certified 16x platinum with it.
In 1993, Metallica had performed at Rock Werchter Festival in Belgium. At the time, Metallica was promoting its fifth The Black Album. There were more than 55,000 rockers who went to see their favorite bands live. Faith No More, Lenny Kravitz, Neil Young with Booker T and the MG's, and The Black Crowes are some of the bands that played at the festival.
In a new interview with Bill Burr, Jason Newsted recalled that festival and touched on Neil Young's performance. Saying that most of those people probably went to see his band Metallica, Newsted expressed his surprise.
"Neil Young played before us [at the show]," he says. "Dude, what the fuck is that all about?! He should have gone after as far as we're concerned, especially from the Bay Area and all that thing. What the hell have you been thinking?"
"Well, you know that, but I don't think the crowd would have known…
"Right, right. And we had to play by that, certainly, because the record was hitting big, and it was a gigantic thing, and the 55,000 people were there, certainly a lot of them to see Metallica."
Jason Adds Neil Young Crushed Metallica
Later then, Newsted went on to admit that Neil Young and his pals Booker T and the MG's crushed Metallica heavily. At first, Jason said that he could jump from end to end on the 150-step stage to entertain people. Afterward, Jason admitted that Neil Young and his friends played better than them on the 30-40-feet floor.
"The thing that always got me was that this particular stage was a big one, and I always got my workout in for sure, every show," he continues.
"If they would have had the goddamn FitBit on me back then, the thing would have exploded! So they go from the edge of the P.A. over here on the riser to the edge of the P.A. and the riser over here, it's 150 feet [46m]. So, a football field.
"I don't know how many times I can go from end to end during the show and get all up on the thing, the habit trail and the steps, and all the shit up on there by the drums…
"So, we had all that room to take up but Neil [Young] and his boys, when they came on before us, they brought out their hippie rugs, they set up in about a 30-40-square-foot space [2.5-3.5 square meters], whatever they could fit on the rugs is how much room they took up.
"And the expanse of the stage going that way, and the expanse of the stage going that way – open.
"And, they crushed us. They killed it.
"I was like, 'Follow that! Follow that, motherfucker!' That's all I could feel, trying to follow that because of the purity of it and the good music factor."
Back in this past September, Newsted had touched on Motörhead's influence on him. He had mentioned the songs he played for Metallica and admitted that those were all Motörhead-fuelled stuff.
"Nothing too crazy, conscious, or anything like that," Jason said. "I was in my house in Walnut Creek, California, the house that 'Justice' built, and I just got my Spector bass, the first one.
"I was in the living room playing this mellow pretty thing. Up to that time, the songs that I listened to, or played with Metallica, or anything, that was all pretty busy Motorhead-fueled stuff.
"So my girlfriend at the time heard that thing in between a bunch of rattling shit and really liked it.
"And so I developed it in a three-minute, three or four-minute piece, revolving, three parts revolving, kind of like a little trance deal."