Paul Stanley Names Taylor Hawkins 'A Phenomenal Drummer'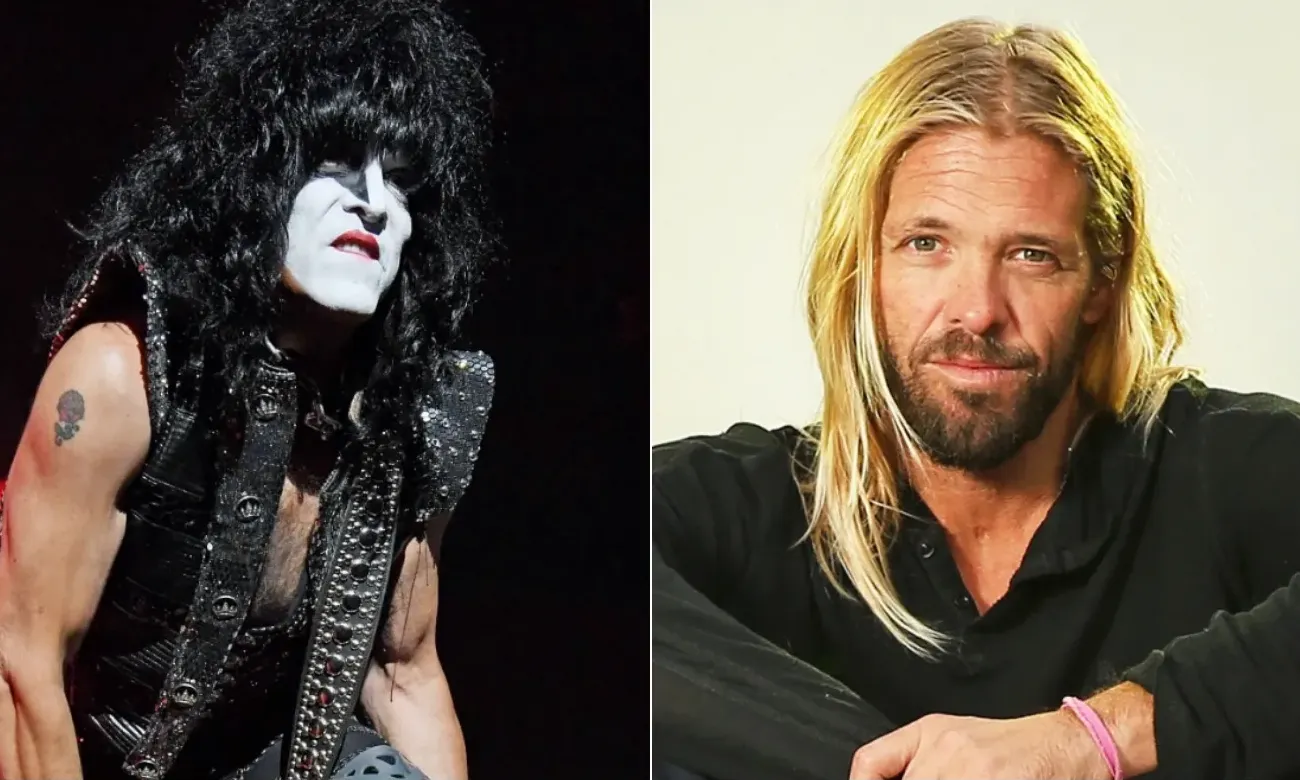 KISS frontman Paul Stanley paid his tribute to the late drummer Taylor Hawkins, known for his stint with the rock band Foo Fighters, and named him a phenomenal drummer.
Started playing music in 1994, Taylor Hawkins is considered one of the most influential drummers of rock scene. He contributed to Alanis Morissette and Sass Jordan on their tours during the mid-1990s. He then became a bandmate of Dave Grohl and joined his one-man band Foo Fighters in 1997 and rocked the world until he passed away in 2022. Gaining international fame as a member of the Foos, Hawkins recorded eight studio albums during that period.
In an event called On This Day In KISStory took place aboard this year's Kiss Kruise, Paul Stanley and his bandmates recalled their memories while looking at the old photos shown to them. Approaching the middle of the show, Paul Stanley's photo with Dave Grohl and Taylor Hawkins appeared on the screen. Stanley revealed his memories about the photo and praised both musicians.
"That was Dave's birthday," Stanley recalls. "And he invited me to come to play with 'em at the Forum in Los Angeles. And, of course, Taylor, Taylor was…
"The beauty of a great band is the chemistry between at least two of the people. And Foo Fighters; that's Dave [Grohl, lead vocalist] and Taylor. Taylor was as close to Dave as a brother."
Paul Stanley then named Taylor Hawkins a phenomenal drummer and mentioned seeing him for the first time with his early band, Alanis Morissette, and touched on playing KISS classics, Do You Love Me? and Detroit Rock City.
"And Taylor… besides being a phenomenal drummer – I remember when I saw him with Alanis Morissette, and I was, like, 'Jesus. Who is this guy?' And he was also a super, super guy; one of those people that really, really loved music," Stanley reveals. "And it's a tragedy. It's a terrible loss.
"I will remember that forever. We did a couple of things together. We did 'Do You Love Me?' and we did 'Detroit Rock City,' and Taylor kicked it in the ass."
Concluding, Stanley admitted that Taylor Hawkins "was supposed to be on the KISS Cruise with Chevy Metal. So, Taylor was a big fan [of our band KISS]. Again, nobody loved music like he did."
Elsewhere in the conversation, the host told KISS members how they had been an influential act in the community since their existence. Paul Stanley went on the explain what his band KISS told their opening acts to influence them.
"We never made anybody famous, but we gave bands a chance, put them in an arena and the audience either does this [yes or no hand sign]," he says. "But, between Judas Priest, Motley Crue, Bon Jovi, Melon Camp, Tom Petty, AC/DC, Rush… We have a pretty good track record of bands that we liked and had us in their corner.
"A lot of bands will tell you that on the way up, they were screwed, or the headlining band wouldn't let 'em play as louder or as long. We've always believed that if you kick our ass, then we need to work harder. So, we've always told bands to go out there and do their best. We'll do anything we can to help, and you do your best. And then it's up to us. It's our responsibility to justify being the headliner."