Ozzy Osbourne On Mötley Crüe: "They Were A Force To Be Reckoned With Back Then"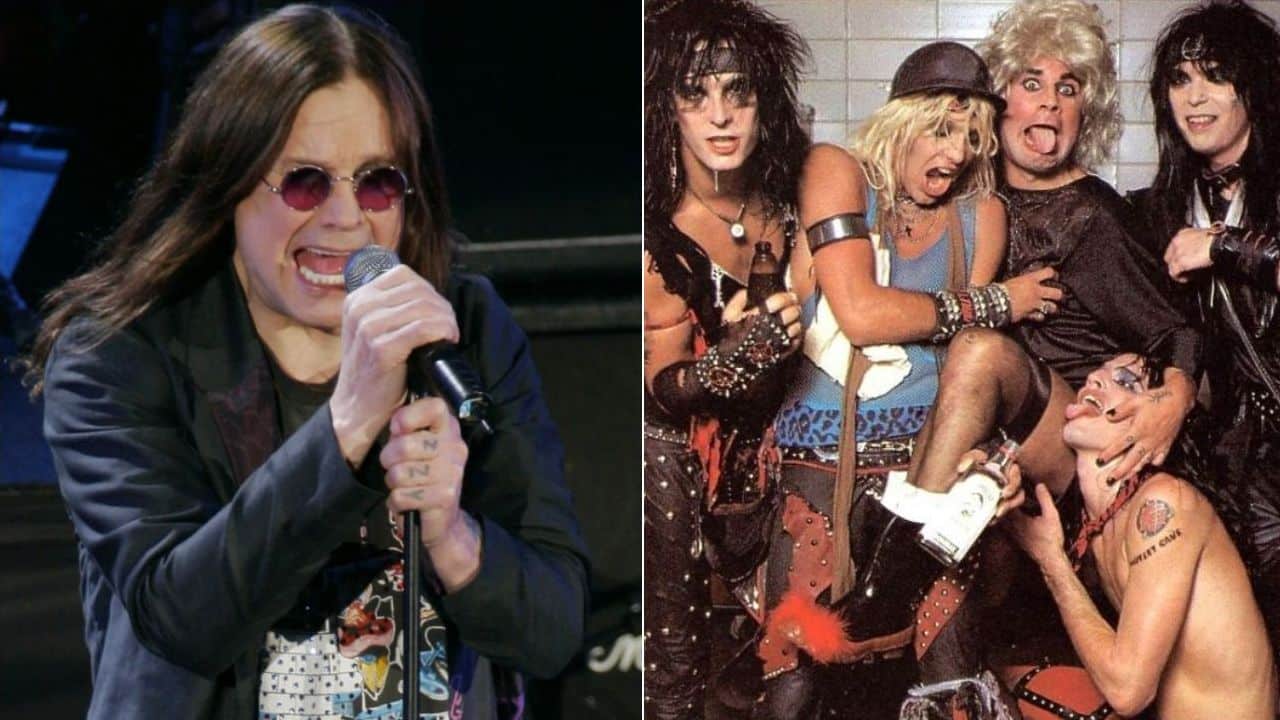 Ozzy Osbourne made praising words for the heavy metal act Mötley Crüe by remembering their opening for him and admitted that Mötley Crüe was a force to be reckoned with during its early years.
Rising international fame with Black Sabbath, Ozzy Osbourne is a Rock and Roll Hall of Fame inductee heavy metal pioneer. Releasing twelve solo studio albums at press time, Ozzy Osbourne has worked alongside the greatest artists thanks to his huge success. Adopting the nickname The Prince of Darkness after his respectable achievements, Ozzy Osbourne is considered one of the best-selling musicians of all time.
One of those artists that Ozzy Osbourne worked with back then was Mötley Crüe. Formed in 1981, Mötley Crüe introduced important names to the rock and metal world, Vince Neil, Nikki Sixx, Mick Mars, and Tommy Lee. Achieving seven platinum or multi-platinum certifications for its albums, Mötley Crüe has sold over 100 million records worldwide, which means they are one of the best-selling bands as well.
The first time Mötley Crüe and Ozzy Osbourne met happened during Ozzy Osbourne's Bark At The Moon tour, which was a tour that featured Osbourne's third solo album from 1983 to 1985. At the tour, Mötley Crüe was an opening act for Osbourne with Waysted. They have accumulated a lot of good memories together, and it was the beginning of a good relationship with all those members.
However, according to Metal Edge, Ozzy Osbourne and Mötley Crüe have sent a bunch of respectful words to each other. Taken from the recently-released Nöthin' But a Good Time book, Ozzy Osbourne has described Mötley Crüe as lunatics.
"It was a band of lunatics on the road," Ozzy said. "Because they were just breaking through to a new audience. It was after the show that the mayhem started."
Ozzy Osbourne Admits 'Mötley Crüe Was A Force To Be Reckoned With Back Then'
And then, Mötley Crüe bassist Nikki Sixx sent his honest thoughts on Ozzy Osbourne. Describing Ozzy as the cutest man, Sixx stated that they included Ozzy in their band when Sharon Osbourne wasn't with them, which means they were having good times together.
"Ozzy is one of the sweetest men I've ever met," Sixx said. "But when Sharon wasn't around, it was like a five-person gang. It was always like, 'He topped us again.'"
Ozzy then added that they became the craziest gang with Mötley Crüe, saying: "We would try and out-crazy each other. Why, I can't remember."
Mötley Crüe was such a big band for Ozzy Osbourne, no doubt. According to him, "Mötley Crüe were a force to be reckoned with back then. They were the heavy version of the glam rock kind of deal.
"I was well established but Mötley Crüe were coming up fast," he continued. "It was a good package. But it was one of the most dangerous tours I ever did. I said that to Doc [McGhee] one day, 'It's getting so crazy…'"
Elsewhere in the interview, Crüe guitarist Mick Mars recalled the time Nikki Sixx pissed, and Ozzy Osbourne started snorting ants.
"I remember Ozzy just had his daughter Aimee and I remember seeing her as a tiny, tiny little baby," he said. "Sharon had just had that kid when we were doing that tour. But Ozzy was still fuckin' up everywhere. He'd come up to our bus singin' 'Iron Man' but he was singin', 'I… am… krelly man.'
"And he'd have about half an ounce of cocaine in a baggie and he'd come on the bus and cut out a bunch of cocaine lines and stuff. We called 'em Texas power rails.
"And the next thing that I know is, I was going to my room, the other guys went to the pool, Nikki pissed, and Ozzy started snorting ants."
Back in this past October, Nikki Sixx had recalled one of the funniest moments he ever lived with Ozzy Osbourne. Mentioning his band's opening for Ozzy Osbourne, Sixx touched on the time Mötley Crüe members made fun of Sharon Osbourne.
"Vince is a great collector, he collects everything," he says. "He sent me a picture the other day of the 'no fun' t-shirt that we have.
"We opened for Ozzy Osbourne and we had all gotten a little bit of trouble – Ozzy had been around, we had been spending time with him, so Sharon was like, 'No more backstage!'
"So, we made a shirt, a smiley face with a line to circle through it, and it said, 'No fun tour.' And Ozzy wore one, the band, all of us wore it, all the road crew…
"When Sharon came in and saw it – god bless her – she just started laughing. She goes, 'Alright, alright, enough with you guys!'"