Joe Satriani Recalls Guitar Lessons With Kirk Hammett: "He's Got Vibrato Like Tony Iommi"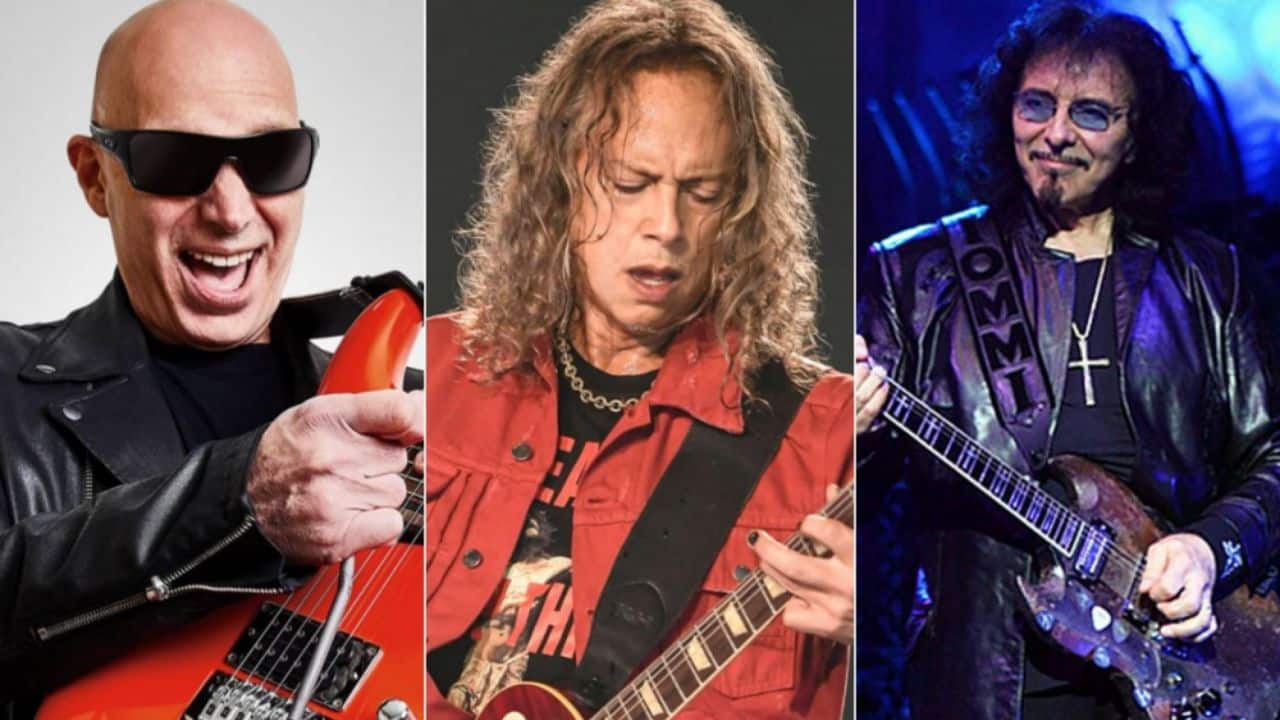 The guitar mastermind Joe Satriani recalled the time he gave guitar lessons to a bunch of successful artists, including Kirk Hammett, who has got vibrato like Tony Iommi.
Joe Satriani is a 15-time Grammy Awards-nominee American musician that has seventeen solo studio albums in his solo career. Debuted in 1986 with his Not Of This Earth, Satriani is one of the best-selling rock guitarists of all time. In his youth, the guitarist had given guitar lessons to renowned artists such as Alex Skolnick, Steve Vai, Larry LaLonde, Charlie Hunter, which later helped him to work alongside Deep Purple and Mick Jagger on their tours.
One of those students was current Metallica lead guitarist Kirk Hammett. At the time, Kirk Hammett was playing at his pre-Metallica band Exodus. He was playing well while Satriani was giving him the guitar lessons because he was in a band during the time. The creation of a world-class guitarist was being laid, and perhaps no one, including Kirk, knew about this.
Over the years, Kirk Hammett has improved his guitar talents. Debuted in 1983 with Kill 'Em All with Metallica, he has released ten studio albums as a member of the band, which means he performed in the band's entire discography. He then became an icon in the community. Once looking for inspiration for himself, Kirk Hammett now inspires young and new artists with his huge talent.
However, during his interview with Matt Pinfield from 95.5 KLOS, Satriani mentioned the time he gave guitar lessons at his 15. Admitting that Steve Vai was one of those kids who asked him for guitar lessons, Satriani said giving lessons to him helped him how to teach people something.
"I was really super lucky that," Satriani said. "When I first got asked to teach guitar, I was just a young kid, I just turned 15. And some kids who had seen me play at the car place high school dance or at a party in someone's backyard, they started knocking on my door and asking for guitar lessons. One of them turned out to be a young Steve Vai.
"Started out as an accordion player, like most of us Italian Americans. He just turned out to be such a great student. And it taught me a lesson right away, which was you may think you're cool, like the coolest guitar player in school, but tomorrow, someone else will come along, and they'll be a lot younger and better, and they'll seem fresher. And they'll have better hands and fingers.
"And sure enough, Steve was that guy. But it helped me sort of orient myself about really how to teach people and to just give them everything. Just to be as positive as possible and not to influence them with my style, but simply to give them all the information that I had received from the other adults in my life, the grownups that had been kind enough to give me information about music."
Joe Satriani Admits Kirk Hammett Had Has Got Vibrato Like Tony Iommi
The 65-year-old guitarist then opened up how he gave lessons to Kirk Hammett, Alex Skolnick, Kevin Cadogan, and Charlie Hunter. Saying that it was great, Satriani admitted that Kirk Hammett had has got vibrato like Black Sabbath guitarist Tony Iommi. According to him, Kirk needed him to get to his final stage where is an expert.
"I carried that on to when I moved to Berkeley, California," he continued. "I start giving lessons there. And, again my luck as a teacher just shines bright because of Alex Skolnick, Larry LaLonde, Kirk Hammett, David Price, and Kevin Cadogan. It's just crazy. The talented people that come in… Even a little Charlie Hunter – I don't know, maybe he was eight years old or something like that. It was really amazing.
And not only did they keep me on my toes, but made me excited about the prospect of where the guitar was going. Because I could hear guys that would come in and I'd think, 'Wow, that person is going to be a great songwriter because of their approach to understanding harmony.' Or 'Wow, Kirk's got vibrato like Tony Iommi, it's crazy.' You know, he's got the sound. He's a full-on guitar player.
"Kirk at the time was already in Exodus so he could really play. But he just needed that little lift to get to his final stage where he was no longer a beginner-intermediate, he was a full-on guitar player."
Back in March 2020, Satriani had sent praising words for Nita Strauss, who has been preparing to release her upcoming single. Revealing that he was impressed by her guitar playing, Satriani had added that she was a great performer.
"I was down in Los Angeles not too long ago for the NAMM show, and I was standing on stage next to Steve Vai, and Paul Gilbert, the whole band, those guys are amazing, but Nita Strauss.
"She was really good. She really brought it, she's got the sound and her technique's amazing. And she's a really great performer, and it was really cool to see her just be able to flow with older players like myself and Steve and Paul and the younger players.
"And I just thought, 'Well, that's a mark of someone who's going really far.' Even though she's been a pro for a long time, she's out on tour all the time with Alice Cooper, as a solo artist, I think her time is coming. She's about to explode on the scene."