Lzzy Hale Recalls Her Musical Hero Joan Jett's 'Screwing With Her'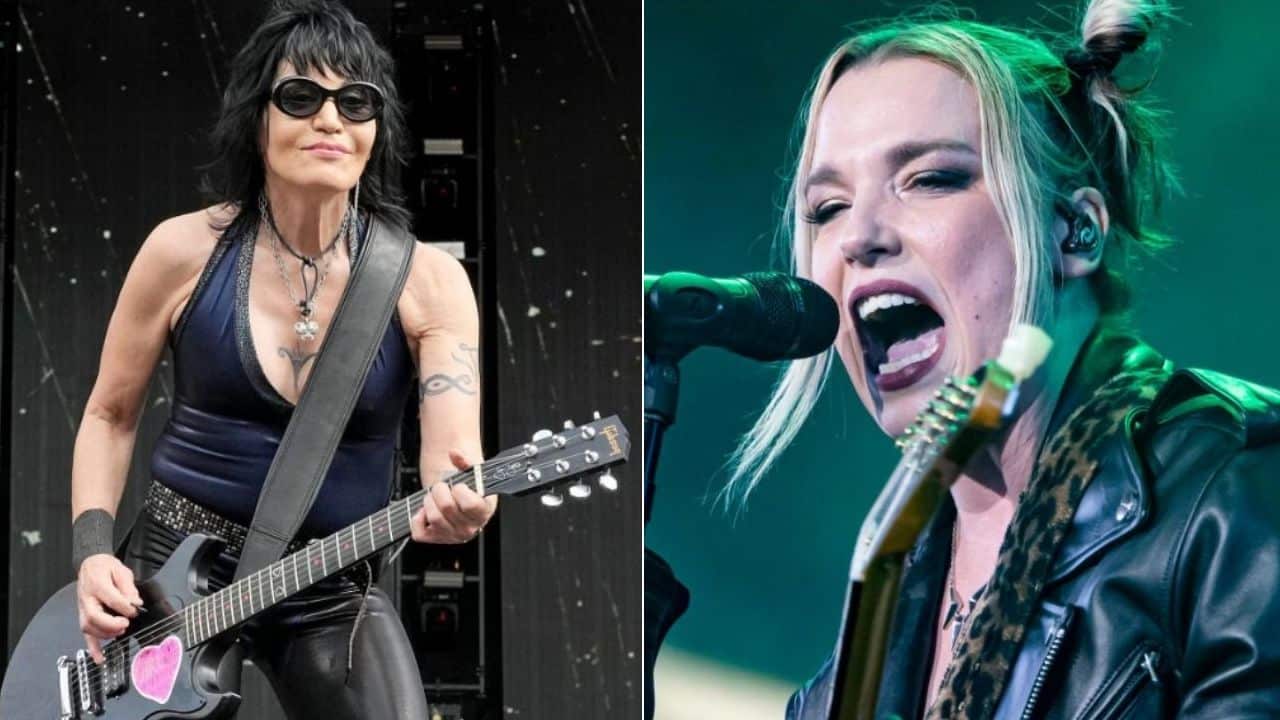 Halestorm frontwoman Lzzy Hale revealed some of her great moments with her musical heroes and recalled how Joan Jett screwed with her when she asked her to sign her guitar.
Lzzy Hale has been a rock and roll artist creating unique stuff since forming her band Halestorm in 1997. Being active for over 25 years in rock, Lzzy Hale has contributed to her band's whole discography. Bringing Halestorm fans world-known songs, such as Love Bites (So Do I), Mz. Hyde, Scream, Mayhem, and Freak Like Me, Lzzy Hale is the songwriter of her band.
As she has been an influential musician since her existence in rock, Lzzy Hale has a lot of music gods for her music. In the musical identity she created, Lzzy Hale bears traces of many musicians she inspired. From the way she plays to the songs she writes, Lzzy continues to keep her musical gods alive and take them as an idol.
During her recent interview with FM99 WNOR radio station, the musician was asked to mention some of her musical gods and the moments she lived with them. Revealing her friendship with one of her musical heroes, Tom Keifer from Cinderella, she touched on how Tom Keifer affected her.
"I've never had a really bad experience meeting any of my heroes," Lzzy says. "Sometimes it was a little surprising. None of them were detrimental. One of them, I got to meet Tom Keifer from Cinderella and we've since then become friends; we've done a bunch of duets and everything.
"But he was the guy that guy literally got me into guitar and singing the way I do. When I was a kid, I was obsessed with 'Night Songs' album; that was like my 'boy band.' It was in the '90s, and nobody understood it, but it's, like, 'I love this band so much.' He blew me away personality-wise — I mean, just made me feel like family from the get-go."
Lzzy Hale Recalls How Joan Jett 'Screwed With Her'
In the continuation, Hale explained how meeting with a musical hero is an important thing for a musician. She then recalled the time Joan Jett screwed with her by mentioning the moment she asked her to sign her guitar.
"I always recommend meeting your heroes because you get to almost see that reflection of yourself and you get to really kind of just put the puzzle pieces together as to why you are the musician that you are today when you meet your heroes," she continued. "So I never really shy away from that.
"One of the funniest ones was Joan Jett, because she was screwing with me. My bandmates had gotten me, years ago, one of her signature Melody Maker guitars, and so I brought it to the show that we were opening up for her. And I'm like, 'Hey…' I was all fangirly. I'm, like, 'Hey, would you sign my guitar?' And she looks at me and she looks at the guitar, and she's, like, 'Oh, I don't sign guitars.' And immediately I'm, like, 'Oh, that's okay. You don't have to.' And she's, like, 'I'm screwing with you. Give me the guitar.' And I'm, like, 'Okay. Phew.'"
It was not the first time Lzzy Hale appeared on a podcast recently. In the middle of this month, she interviewed PMTVUK's Dagan and praised Wolfgang Van Halen, saying he is an incredible player.
"It's gonna be so awesome," reflecting on Halestorm's upcoming shows with Alter Bridge and Mammoth WVH (as transcribed by MetalCastle.net). "I love those boys so much. We haven't seen the Alter Bridge since COVID. We just did some dates with Wolfie. He is a sweetheart – what an incredible player.
"Obviously, UK fans, you know, that rock fans… we've got, back in the day, when we first started touring the UK on our first record, that was our first time really dealing with a fan demoninum. There was a pug of war between us, my little brother, and the crowd, like, 'Yo, we need it back.' It was just awesome."