The 5 Albums Lzzy Hale Listed As Her Favorites Of All Time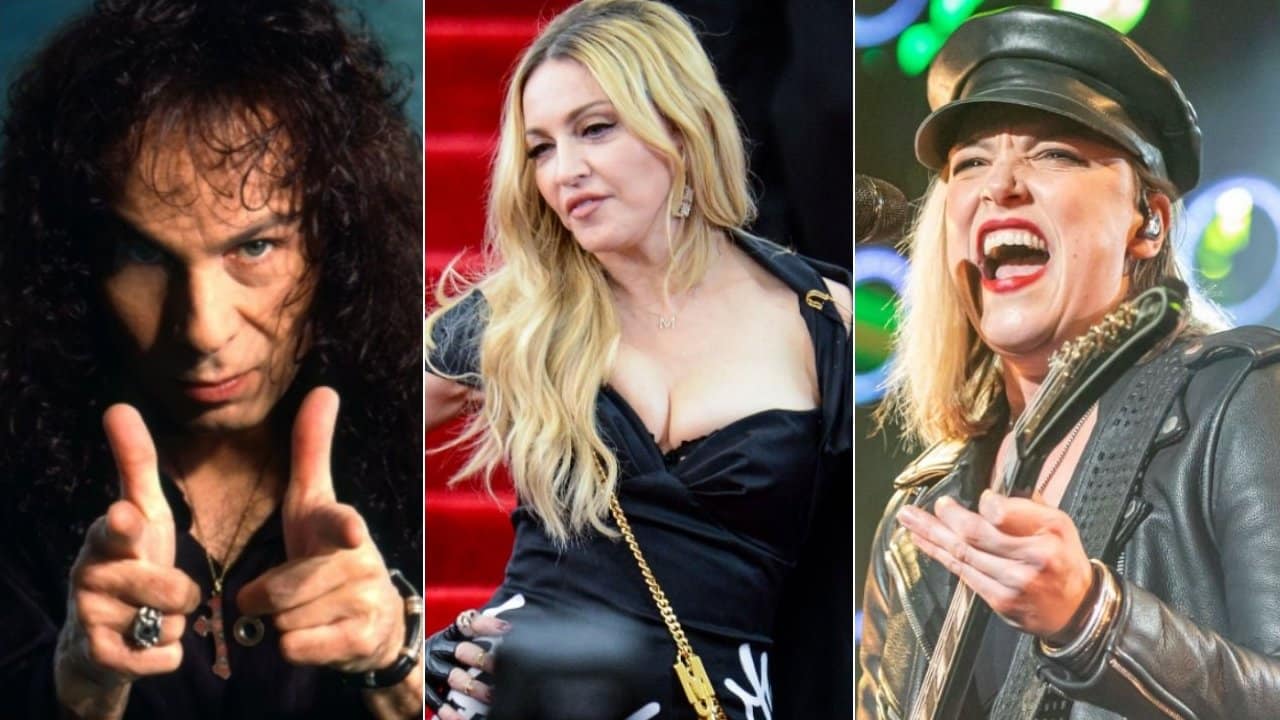 In a new appearance on AXS TV, Halestorm frontwoman Lzzy Hale revealed 5 different albums in different genres and listed them as her favorites of all time. The list was pretty good and heartwarming.
Lzzy Hale has been the rhythm guitarist and lead singer of her co-founded rock band Halestorm. Starting her musical career back in 1997, she has been an iconic female musician who encourages young female artists about making music. Although he is known for her musical successes in Halestorm, she has collaborated with great musicians such as Evanescence's Amy Lee, Twisted Sister's Dee Snider, and Apocalyptica.
Since May 6, 2022, Lzzy Hale and her band Halestorm have been promoting their newest studio album, Back From The Dead. Marking the band's fifth studio album, it received hugely positive reviews from critics and fans. Consisted of 11 tracks in total, the album has over 38-min listening time.
However, as she is one of the most influential female artists in rock, she has artists that have influenced her as well. During her recent appearance on AXS TV, Lzzy Hale was asked what are her five favorite albums of all time. Although the list included familiar rock and metal artists, it also contained an album from pop star Madonna.
The 5 Albums Lzzy Hale Listed As Her Favorites Of All Time
5. Tom Petty – Wildflowers
The list started with Lzzy Hale's picking Tom Petty's second studio album, Wildflowers. The 1994-release consisted of 25 tracks in total, including All The Rest. It also has 3xPlatinum certifications from RIAA.
When Lzzy Hale picked the album, she admitted that whenever she listens to the album, it makes her feel great.
"I don't know what it is about that record, Wildflowers, but no matter what mood I'm in, I can put that on and immediately have it just be in a better mood," Lzzy Hale said (as transcribed by MetalCastle.net). "I don't think you can really argue with Tom Petty either. So, I think that's one of the essentials."
4. Heart – The Road Home
The other album Lzzy Hale picked as her favorite came from the rock band Heart. The album was the band's live album released on August 29, 1995. Consisting of a lot of great songs, the album was produced by John Paul Jones of Led Zeppelin.
When Lzzy Hale started to talk about the album, she explained why the album is so important to her. She also named her favorite song from the album, saying Anne Wilson's voice on Crazy On You was different class.
"This album meant a lot to me as a 15-year-old," Lzzy says. "Because I was – kind of starting to find my voice, my singing voice, and I had heard Heart on the radio – my mom was introducing me to a lot of that. Especially since I was listening to a lot of my dad's music. So they had a little bit of a friendly competition going on as to who likes who.
"And, when I first listened to the song on this album, the live version of Crazy On You, it gave me goosebumps every single time. And the beautiful thing about Anne Wilson's voice and the way that she is so guttural in the way that she sings is that it made my dream of being a… you know – kind of just a tougher singer as to somebody that isn't necessarily sweet alt the time. It made that dream just a little less impossible.
"It bridged the gap between all of the guy music that I liked. And then, kind of see a woman doing it in all of her power with all of that confidence and all of a sudden. That's just all I wanted to be."
3. Jeff Buckley – Grace
The third on the list that Lzzy Hale's favorite albums were Jeff Buckley's Grace, which was the only studio album released by him. It was released on August 23, 1994, and consisted of 10 tracks in its original release.
Citing as one of the best albums of all time by critics and fans, the album currently has 7x platinum certifications in Australia.
This was the album that changed Lzzy Hale's life, as she said when she named the album. Mourning the late musician Jeff Buckley, Lzzy said Jeff's vocals on the album were otherworldly.
"I love this album," she said. "I love sketches for my sweetheart too, but Grace kind of changed my life. What an immense vocal talent – very comforting, very otherworldly. There hasn't been a voice like Jeff Buckley since his passing. Rest in Power, Jeff.
"This would basically be a very spiritual record for me where it's like – if I'm stranded somewhere and I really need to kind of find my inner peace, it would be Jeff Buckley's Grace."
2. Black Sabbath – Heaven And Hell
Lzzy Hale then named Black Sabbath's Heaven And Hell one of her favorite albums of all time. Recalling the first time she owned and listened to the album, Lzzy took fans back to her childhood. According to her, it was a life-changing Black Sabbath album for her.
"I listen to a lot of Black Sabbath," she admits. "You can't go wrong with Black Sabbath. And this album changed my life totally for guitar. It definitely put me in the right direction for just being a hard rock artist.
"I've been listening to [Ronnie James] Dio and Black Sabbath since I was a kid. In fact, Heaven And Hell was one of the first Black Sabbath albums that I owned and listened to.
"So, I kind of introduced to Sabbath during the Ronnie James Dio years. And then I had to go back and rediscover Black Sabbath with Ozzy [Osbourne]. So, it was the gateway drug I believe."
On the other hand, Heaven and Hell was Black Sabbath's ninth studio album and marked the first album to feature the band's late singer Ronnie James Dio. Consisted of 8 tracks in its original release, the band's hit songs Heaven And Hell, Neon Knights, Lady Evil, Die Young, Lonely Is the Word, and Wishing Well are in this album. It was one of the highest-selling Black Sabbath albums of all time.
1. Madonna – Ray of Light
The final album on the list is Madonna's Ray of Light. It was the seventh studio album released by Madonna on February 22, 1998. Peaked at number one on numerous charts all over the world, the album was certified 72x Platinum.
Lzzy Hale hasn't believed herself about listening and picking Madonna as one of her favorites, but she didn't apologize because everyone could have loved everything. She said the Ray Of Light album makes her feel nice when she listens to it.
"I don't know why – but it makes me feel good when I put it on," Lzzy reveals. "So, not apologizing [laughs].
"It's actually – it's the really meditative record, and she's playing a lot of acoustic guitar on it. And I believe that was her maiden voyage. Maybe that's why I like it. Because there is some kind of truth, to she's trying to discover herself.
"Well, I don't know why I liked that record so much. But it's still part of the playlist for some reason."