Keith Richards Reveals Paul McCartney's Private Message After His The Rolling Stones Remarks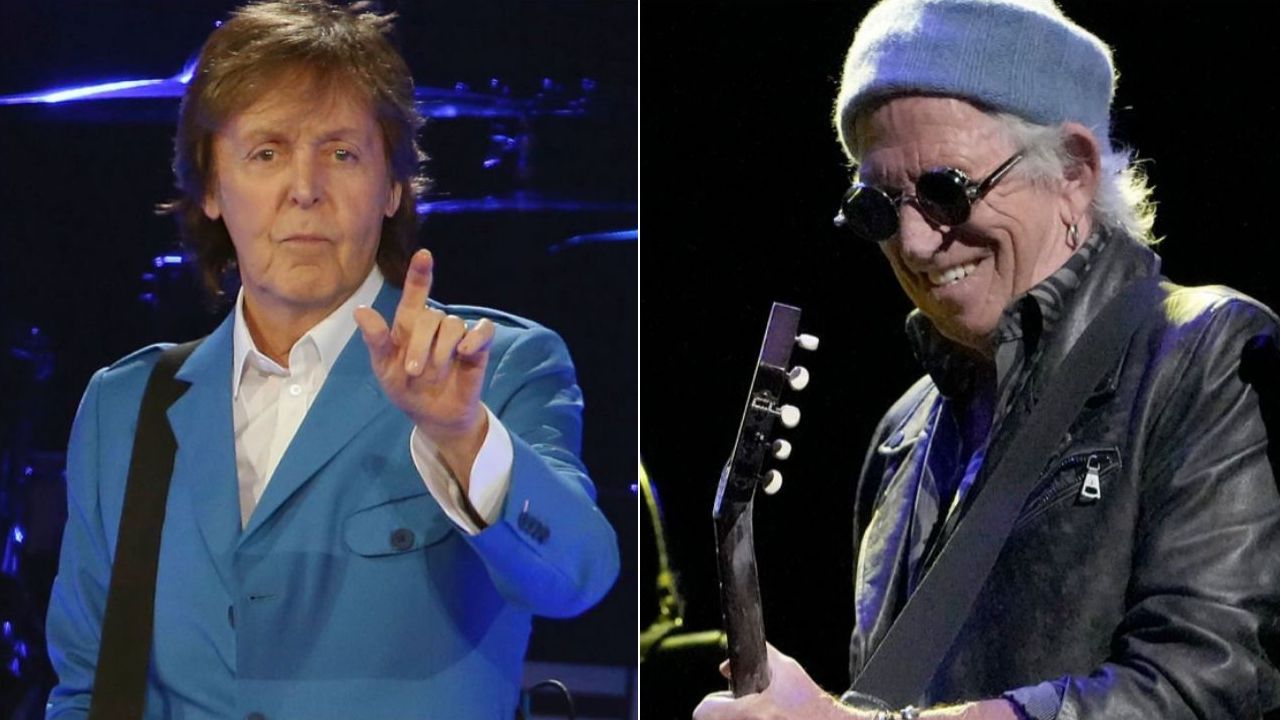 Keith Richards has recently opened up about how his band The Rolling Stones dealt with The Beatles icon Paul McCartney's remarks about his band back in the day. According to Richards, it was not what it was like.
Keith Richards achieved international fame as a member of his co-founded rock band The Rolling Stones. Inducting into the Rock and Roll Hall of Fame as a member of them, Richards contributed to his band's every one of releases. Being one of the most inspirential guitarists of the world, Richards has a huge solo career as well, with whom he released three albums.
On the other hand, the legend of the 10-year rock band The Beatles, Paul McCartney, is the other one who is considered the greatest rock and roll artist ever. Having more than $1.2 billion net worth, Paul McCartney has eighteen solo studio albums. Even though he earned huge respect with his works in The Beatles, McCartney's solo style has been continuing to be an inspiration to the artists.
However, as some of you might remember, Paul McCartney had said to The New Yorker on October 11 that "The Rolling Stones is a blues cover band. I think our net was cast a bit wider than theirs." After those words, the fans got surprised and started to make a challenge between The Beatles and The Rolling Stones about who's better than the other.
Recently, Keith Richards detailed the issue, stating that they cleared up that beef privately. Saying that McCartney contacted him after the interview served, Richards revealed his first thoughts, saying he knew there was something wrong. According to him, they know each other very well.
"He said [to the New Yorker], 'That's what I thought when I first heard them,'" Richards reveals. "Because Paul and I know each other pretty well.
"And so when I first read it, I said, 'Ahhh, there's been a lot of deleting and editing going on here.' And the next day I got a message from Paul saying, 'If you've read this shit, it's all out of context, believe me, boys.'"
Keith Richards Adds 'Paul McCartney Is A Great Man'
In the continuation of the interview, Keith Richards sent praising words for his close friend Paul McCartney. Touching on his unique musical works, Richards said he felt what McCartney wanted to say.
"That could have been the thing, but Paul isn't that way," he claims. "I felt for him. He replied so quickly on that. If he had meant to say it, he wouldn't have bothered replying.
"Hey, Paul's a great guy, man. I mean, Jesus Christ, look at the songs he's written. You can't knock a guy like that. We let little things come out in the press and kind of ignore 'em."
This is not the first time a Rolling Stones member has talked about that issue. The singer Mick Jagger had mocked McCartney during his appearance at the SoFi Stadium in Los Angeles on October 14, 2021.
"There's so many celebrities here tonight, of course, you know, naturally. Megan Fox is here. She's lovely. Leonardo DiCaprio. Lady Gaga. Paul McCartney is here [as well]. He's going to join us in a blues cover later on."
In 1987, Mick Jagger had also said in an interview that the rock band The Beatles' breaking up was a good idea. He also had mentioned his band and had touched on the people's possible reaction to their breaking up.
"No one should care if the Rolling Stones have broken up, should they?" Jagger asked.
"I mean, when the Beatles broke up I couldn't give a shit," the musician continued. "Thought it was a very good idea."
In 2020, Paul McCartney had appeared on The Howard Stern Show. At the time, he said the Stern that The Beatles has been much better than The Rolling Stones.
"There's a lot of differences, and I love the Stones, but I'm with you," McCartney says. "The Beatles were better."