Former Motley Crue Singer Answers If He Replaces Vince Neil Due To His Low Performance
John Corabi has answered if he'd replace Vince Neil due to his low performance.
Former Motley Crue singer John Corabi has taken his official Facebook page to answer if there is a chance to replace with the current Motley Crue singer Vince Neil due to his low performance.
John Corabi joined the heavy metal band Motley Crue in 1992 as the replacement for the band's current singer, Vince Neil, who's been criticized by a lot of Motley Crue fans due to his low performance and overweight. Until 1996, the musician appeared on Crue's four different efforts, sixth studio album Motley Crue, an EP titled Quaternary, Generation Swine as the writer, and anthology album Red, White & Crüe.
For a long time, Motley Crue fans criticizing the band's current singer Vince Neil due to his low performance. As the result of the criticisms, although he admitted on his Iowa shot that his voice is gone, Vince Neil has been working hard on a special fat-burning exercise to get in shape for Motley Crue's Stadium Tour.
Recently, after a recent letter emerged online claiming that the band's bassist Nikki Sixx issued an ultimatum to Vince Neil to lose his overweight for the band's Stadium Tour or be replaced by John or be fired, Corabi took to his social channel to touch on the issue. He said that it was fake news. He also denied the rumors that Motley Crue held a series of rehearsals in Los Angeles late last month with him.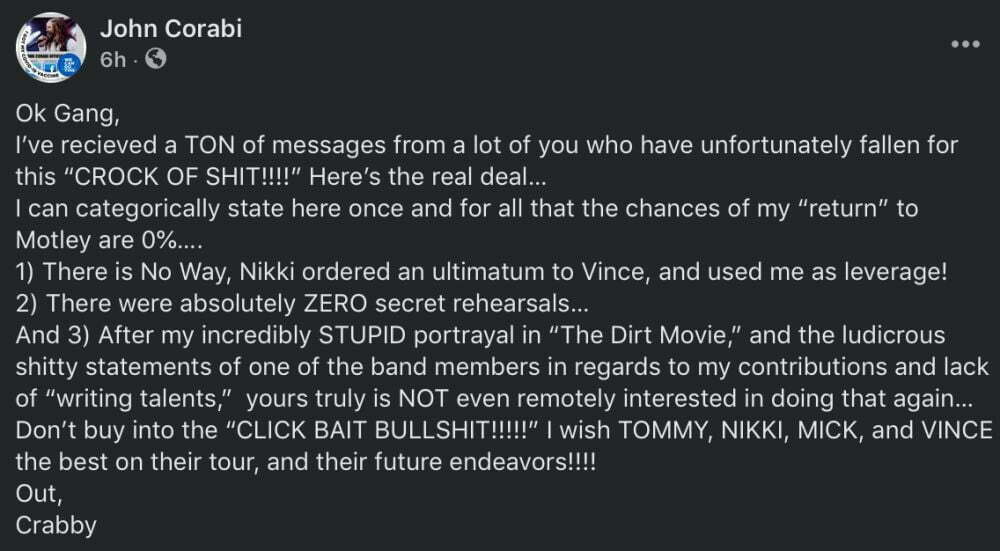 "Ok Gang, I've recieved a TON of messages from a lot of you who have unfortunately fallen for this 'CROCK OF SHIT,'" Corabi shared in the statement.
"Here's the real deal… I can categorically state here once and for all that the chances of my 'return' to Motley are 0%…
"1) There is No Way, Nikki ordered an ultimatum to Vince, and used me as leverage! 2) There were absolutely ZERO secret rehearsals… And 3) After my incredibly STUPID portrayal in 'The Dirt Movie,' and the ludicrous shitty statements of one of the band members in regards to my contributions and lack of 'writing talents,' yours truly is NOT even remotely interested in doing that again…
"Don't buy into the 'CLICK BAIT BULLSHIT!!!!!'
"I wish Tommy, Nikki, Mick, and Vince the best on their tour, and their future endeavors!!!!"
Vince Neil Works Hard To Get In Shape
After the criticisms raised against Vince Neil, the musician shared a workout video that was included by a piece of moments of his exercises. According to the musician, he's been trying all ways to get in shape until the band's Stadium Tour.
"Trying it all," Vince Neil captioned on Instagram. "Check out Emsculpt Neo abs, They say it's 20,000 crunches in just 30 minutes!! #EmsculptNeo #emsculptpartner #moremusclelessfat #emsculpt @BTLAesthetics."