David Coverdale Reveals Main Reason Behind Inviting Steve Vai To Whitesnake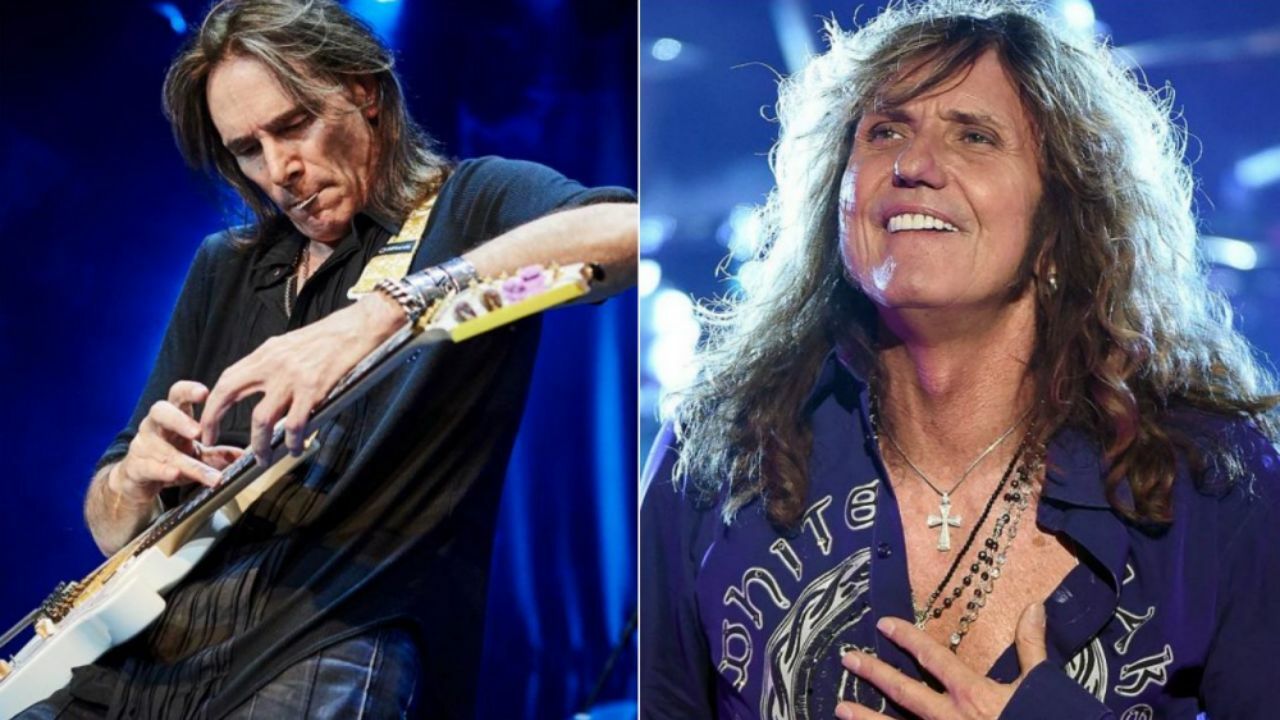 Whitesnake legend David Coverdale has just opened up about Steve Vai's joining Whitesnake and revealed the main reason behind inviting him into his band Whitesnake.
David Coverdale came to world prominence as a member of his rock band Whitesnake. Debuted in 1978 with Trouble, David Coverdale performed in the entire Whitesnake albums throughout his career. His latest album with the band was their thirteenth and latest studio album, Flesh & Blood, released on May 10, 2019.
On the other hand, Steve Vai is the three-time Grammy Award-winner American guitarist who appeared alongside international artists such as Billy Sheehan, Paul Gilbert, Eric Johnson, Joe Satriani, Frank Zappa, Whitesnake, and many more.
From 1989 to 1990, Steve Vai had performed in the rock band Whitesnake. During his tenure with the band, he contributed Whitesnake's eighth studio album, Slip Of The Tongue, which was released in 1990. In 2011, he appeared on the band's live album Live At Donington 1990.
However, during a recent appearance on Appetite For Distortion, David Coverdale has mentioned how he decided to invite Steve Vai to Whitesnake. Saying that he saw Steve Vai and his guitar style in a movie, Covedale added that he thought he was the person who would be fit perfectly on the other side of the stage to Jonh Sykes.
"While I was still working with John Sykes, I saw the movie 'Crossroads,' and that was the first time I was exposed to – if you excuse the expression, public indecency," Coverdale says.
"I was exposed to Steve Vai, who in that movie was playing the devil's guitar slinger.
"And I thought, 'Oh my god!' And I called John [Sykes], I said, 'I've just seen this amazing guitar player, I think would be perfect on the other side of the stage to you.'
"And of course, John wasn't remotely interested in sharing the stage. But I had been made aware of Steve."
Coverdale Reveals How He Decided To Invite Steve Vai To Whitesnake
Later then, the musician continued by revealing why and how he decided to invite the Grammy Award-winner guitarist Steve Vai to his band Whitesnake. According to him, Steve Vai is a wonderful guy.
"So, I don't know what the elements were, but I know after Adrian Vandenberg injured his wrists and couldn't perform, I escalated my approach to Steve," Coverdale continued.
"And thankfully, he agreed to become a member of the Snake. We text each other almost every day, a beautiful guy.
"I don't know whether you saw it but last year we had the 30th anniversary of a big, big festival we did in England called Monsters of Rock in 1990.
"And that was the 30th anniversary of that, and we brought all the bands together, Rhino established this kind of Zoom call. It was really fun, very cool."
Elsewhere in the interview, David Coverdale had said the upcoming Whitesnake tour will be his farewell tour. According to him, it was mind-blowing to announce his farewell from the band.
"I planned to retire on the 2020 tour when I was 69," Coverdale said. "I thought that was the perfect age for the singer of Whitesnake to call it a day. But sadly, it was not to be, as we know – other events were in store.
"So now the t-shirt designs don't resonate as well for 70. But it's mind-blowing to me that I'm preparing my farewell tour. And it is – make no mistake, this is the farewell tour.
"I'm 70. It's a very physically challenging thing for me to do at the best of times.
"But it's very important for me to achieve completion and to express my appreciation and gratitude to all the people – the millions of people over the years – who've supported me for five decades, 50 years.
"It blows my mind – it really does.
"A lot of my peers and contemporaries are on their 20th retirement tour. I don't intend to plan that. I must explain, though – it's me, just David Coverdale, who's retiring from touring at that level."