Yngwie Malmsteen On Eddie Van Halen: "He Was A Great Idol For Everybody"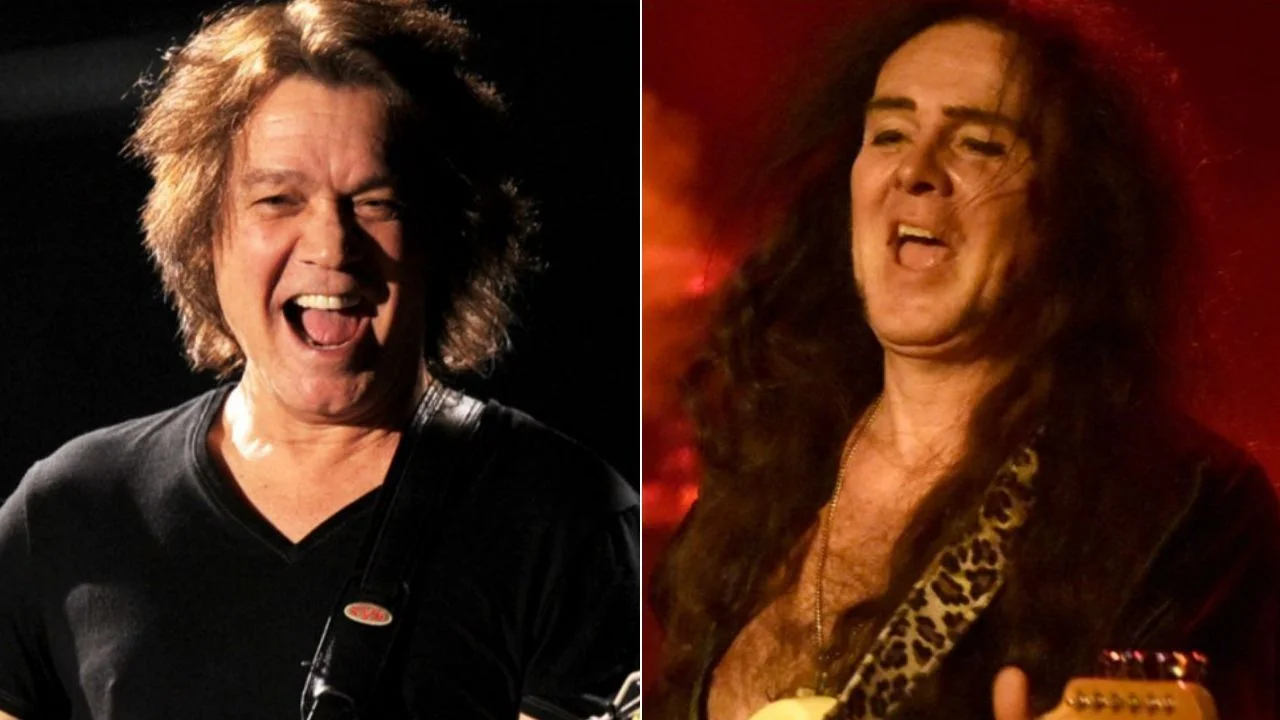 The Swedish guitar mastermind Yngwie Malmsteen once again paid his tribute to the late Van Halen leader Eddie Van Halen and said Eddie was a great idol for everybody who spends time in the music community.
Yngwie Malmsteen is one of those guitar legends in the rock and roll world. Starting his musical career in 1978, Yngwie Malmsteen has released 22 solo studio albums since then. The musician has been creating music and his own legacy for over 40 years.
On the other hand, the late Van Halen guitarist and co-founder Eddie Van Halen was one of those inspirational guitarists of the rock and roll community. Widely regarded as one of the greatest guitarists of all time with his Van Halen career, Eddie Van Halen's musical style, and legacy has been continuing to be an inspiration for generations.
On October 6, 2020, it was announced that Eddie Van Halen passed away due to cancer. Giving his last breathes, Eddie's wife Janie Van Halen, his son Wolfgang, his ex-wife Valerie Bertinelli, and Alex Van Halen were alongside him. After the saddening news, some rock and roll icons had paid their tribute to the guitar legend.
In a new appearance on Radioactive Mike Z, the 58-year-old guitarist Yngwie Malmsteen talked about Eddie Van Halen, Van Halen's hit song Eruption, Metallica, and Metallica's self-titled The Black Album. At first, Malmsteen answered if he ever met with Eddie. Saying that he was an amazing person, Malmsteen added that Eddie was a huge idol for people.
https://soundcloud.com/radioactivemikez/yngwie-malmsteen-podcast
"Yeah, I loved everything he did," he says.
"I remember when he came out, I was just a kid, but he was amazing. Definitely, he was a great idol for everybody, loved it."
Yngwie Malmsteen Admits He Has No Favorite Eddie Van Halen Solo
Yngwie Malmsteen then admitted that he has no favorite Eddie Van Halen song or solo. When the interviewer asked about the topic, he named his favorite Van Halen albums and said the band's first two albums, Van Halen and Van Halen II, are his favorites.
"No," Yngwie says. "The first two albums I think were the ones I liked the most-raw, I liked that, but everything was good."
When the interviewer asked his first reaction to Van Halen's Eruption, Malmsteen admitted he thought it was great.
"Well, I thought it was great, but to me, the whole feeling of the way the whole band did it, that's what I really reacted on," he says. "Just a very live, raw feel, I thought it was amazing."
Elsewhere in the interview, Yngwie Malmsteen was asked what was the first time he heard Metallica. He revealed their first meeting and touched on their friendship with Metallica drummer Lars Ulrich.
"Actually, I remember the first time meeting the guys, because I was in a band called Alcatraz back in '82, '83," he reveals. "We used to go up to do photoshoots and stuff, that's when I met them.
"And you know, I'm Swedish, and Lars [Ulrich, drum,s] is Danish, so we hit it off for a very good time. I loved the band, amazing, I think they're incredible."
Concluding, the guitarist named his favorite Metallica song from The Black Album.
"I really love 'Enter Sandman,'" Yngwie says. "I know it's probably a typical song, but I love it."
Back on this past October, Yngwie Malmsteen had sent praising words for Eddie Van Halen during his live fan Q&A session via his YouTube channel. According to him, Eddie Van Halen changed everything.
"What can you say about Eddie? He changed everything," Malmsteen says.
"I had already been playing for a while when I heard him. It was complete – it was like, 'Wow,' you know, the whole band when it came out in the first album, and everybody I knew would hack up their straps and put humbuckers and start tapping.
"I didn't want to do that because that's Eddie and let Eddie be Eddie.
"He influenced me in other ways. Just to be spontaneous, which I have always been anyway, but the way they made those first two albums, I loved everything about it. It was so live in the studio kind of thing.
"I really love that, and it was a great whole thing. Eddie was amazing. God bless him. Amazing. There are not enough words really."