Megadeth Drummer Reveals Main Reason Why He Says John Bonham Is Better Than Rush Icon Neil Peart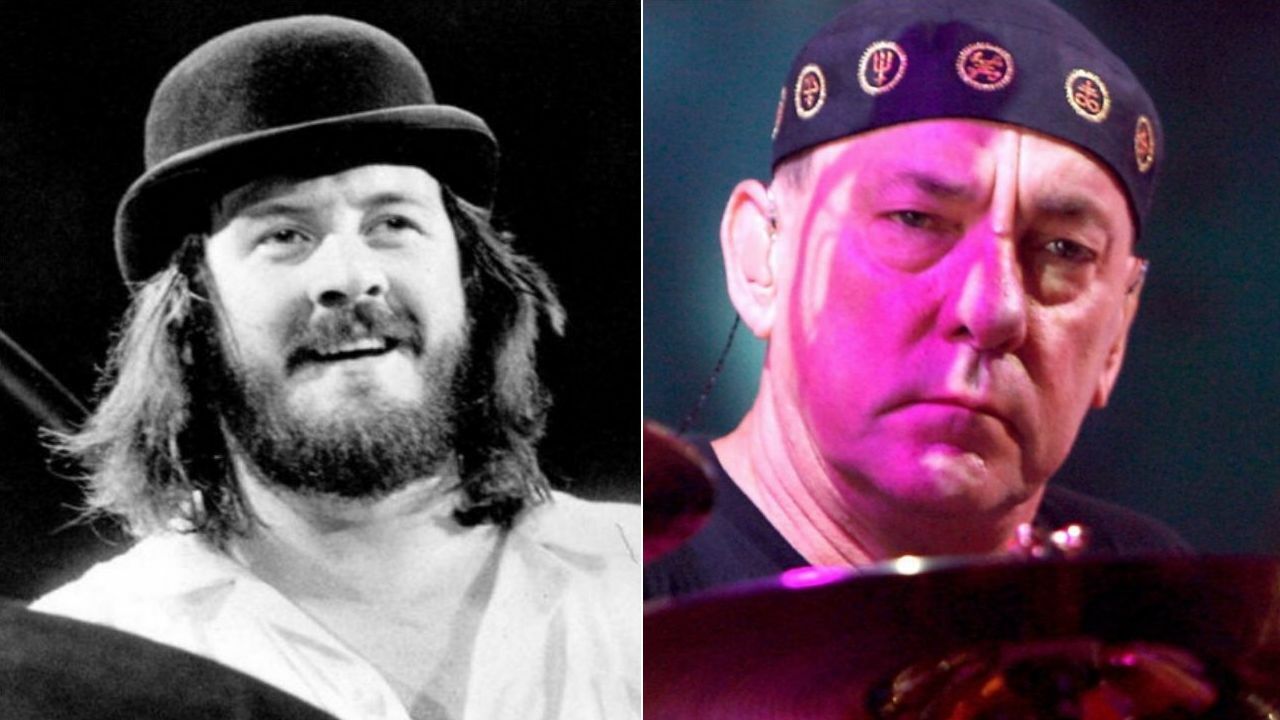 Megadeth drummer Dirk Verbeuren has shared his honest opinion on why he thinks the late Led Zeppelin drummer John Bonham is easily better than the late Rush drummer Neil Peart and said Bonham's style is extremely close to him.
In the whole world of rock and metal, there are numerous legendary musicians who proved themselves with their undeniable legacy. Although some of them have passed away during the successes they have had with their bands, many of them still continue to rock the stage with their bands today. Rush drummer Neil Peart and Led Zeppelin drummer John Bonham were two of those legendary musicians who passed away in full of successes.
Neil Peart was the drummer who was influenced by the greatest drummers such as Phil Collins, Keith Moon, Pete Thomas, and John Bonham himself. With his respectable legacy with Rush, Neil Peart is widely considered one of the most innovative drummers in rock history.
On the other hand, John Bonham was the drummer who was posthumously inducted into the Rock and Roll Hall of Fame in 1995 as a member of Led Zeppelin. His influences were included by musicians such as Max Roach, Gene Krupa, and Buddy Rich. Throughout his musical career, he has influenced numerous drummers, including Neil Peart, Dave Grohl, Dave Lombardo, and Chad Smith.
Recently, the 46-year-old drummer has shared his honest opinions on The Beatles, The Rolling Stones, Neil Peart, and John Bonham. At first, the drummer answered which band is better between The Rolling Stones and The Beatles. According to him, the nasty and dirty style of The Rolling Stones speaks to him.
"Well, I'm kinda partial to The Stones, they're my wife's favorite band," he says. "And she's taken me to see them.
"Growing up, I heard more Beatles because my dad was a Beatles fan, so as all my friends, and so I heard a lot of this.
"But somehow the dirty, nasty rock 'n' roll vibe of The Stones… I'm going with The Stones."
Verbeuren Reveals Why John Bonham Is Easily Better Than Rush Icon Neil Peart
Verbeuren then continued by answering the question of which drummer is better between John Bonham and Neil Peart. Saying that he has no disrespect for Neil Peart, the drummer explained why he thinks John Bonham is easily better than Rush drummer Neil Peart.
"Without sounding disrespectful here because that's really not my point, for me, that's not so tough," he continues.
"I would definitely go with John Bonham for two simple reasons. One of the reasons is that I never really listened to Rush over the years.
"The other reason is that John Bonham's style just speaks more to me personally. But that, again, I just want to make it clear that I'm not disrespecting Neil in any way."
Concluding, he mentioned the greatness of Neil Peart but explained why he insists on John Bonham.
"He's an incredible drummer. Obviously, he's on the covers of magazines for a reason, and I've since grown to enjoy some of their music a lot, nothing but respect.
"But John has a personal feel because when I was growing up, my dad always played Led Zeppelin to me."
Back on this past June, Def Leppard drummer Rick Allen had paid his tribute to the late drummer Neil Peart. When the interviewer asked if he ever met with Peart, the drummer revealed what he acted when he heard Neil Peart had passed away.
"I did, briefly. We shared the same rehearsal space, so we met on occasion.
"But yeah, that was one of those occasions where I was just so deeply sort of shocked by the whole situation, that was the first thing that I did when I got home, I started a Neil Peart painting.
"It's actually really cool, you know, all these pieces, I get started on them, and by the time I'm three-quarters of the way through, I don't want to let them go. I'd sell all this art, and I don't have one piece hanging in the house, you know."