Tony Iommi Reveals Ronnie James Dio's Last Plan With Heaven & Hell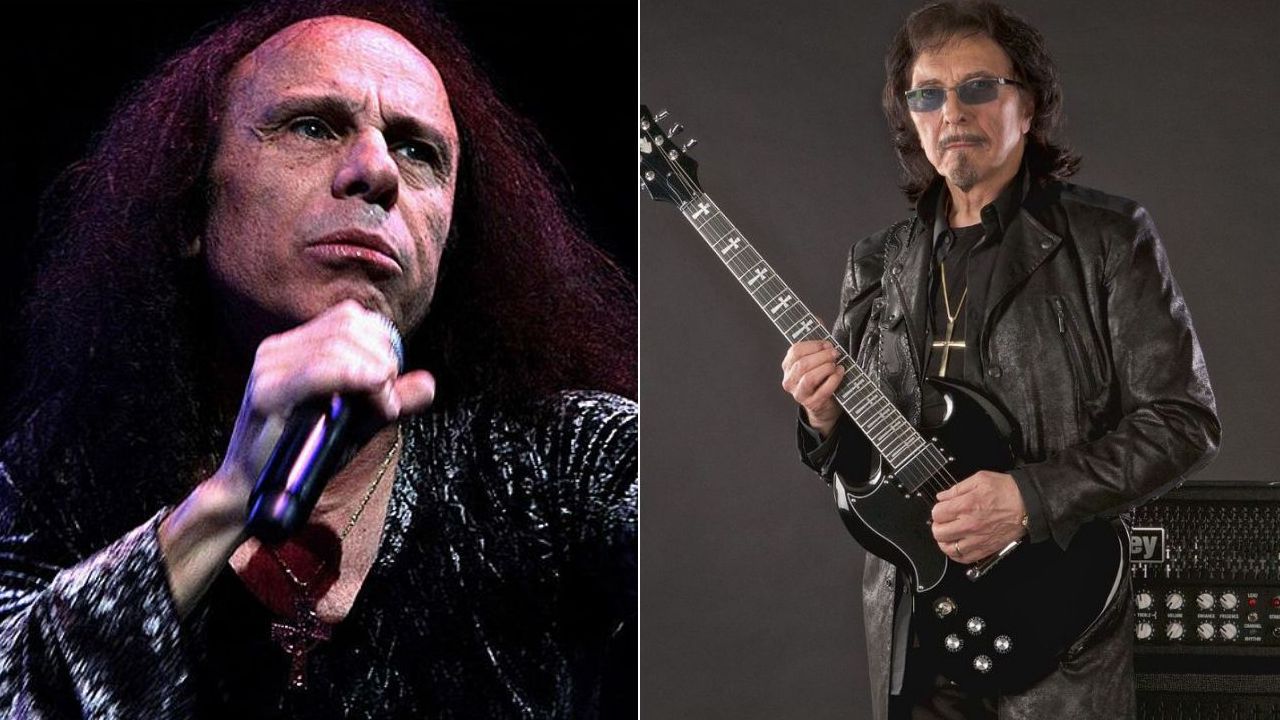 Black Sabbath legend Tony Iommi answered the questions of Metal Talk when he attended the premiere of Ronnie James Dio's documentary. During the interview, he revealed what was Ronnie James Dio's last plan with his band Heaven & Hell.
Tony Iommi and Ronnie James Dio had a special friendship, as both artists played and recorded a lot of pieces in two bands, Black Sabbath and Heaven & Hell. They first communicated with each other at the time Black Sabbath fired lead singer Ozzy Osbourne in 1979. They immediately started making stuff to add more studio albums to history. One year later, in 1980, they did what they planned and released the ninth album of the band, Heaven & Hell, which marked Ronnie's first album with the band.
The years came and gone, and both sides focused on their own works until 2006, the time Rhino Records released a compilation CD that featured Ronnie James Dio's recordings during his era. That release led Tony Iommi, Geezer Butler, Vinny Appice, and Ronnie James Dio to reunite to record new songs as Black Sabbath. Following the release of the CD, the four music legends embarked on a tour under the name of Heaven & Hell. In 2009, they released the band's only studio album, named "The Devil You Know."
It seemed "The Devil You Know" was not the only album Ronnie James Dio wanted to make as Heaven & Hell. During his attendance at the Curzon Soho Theatre to honor Ronnie, Iommi revealed Dio's last plans about Heaven & Hell band. Detailing their relationship during that 4-year period with Heaven & Hell, Iommi said there was a plan to do another album.
"It was real sad because we were really on a roll when we'd done 'The Devil You Know' and we were touring and we were really enjoying it," Iommi said (as Blabbermouth reported). "I remember talking to Ronnie when we were in Japan. We went for dinner one night. We said, 'Look, we're not gonna say we're gonna go for five years or whatever. We'll just try it and see where it goes'.
"So we'd done the tour; we loved it and we enjoyed it. And when we were in this restaurant, I said to Ronnie, 'Do you fancy doing anything more?' And he said, 'Oh, yeah. We've gotta do another album. Let's do another album, another tour.' And that was the plan.
"That's what we were gonna do. And, of course, Ronnie didn't make it. But it was going so well and we had a great time being together. We loved working together. I loved working with Ronnie."
Back in 2020, Tony Iommi paid his tribute to Ronnie James Dio when he appeared on The Eddie Trunk Podcast. According to Tony Iommi, "Children of the Sea" was the first song that Ronnie wrote for Sabbath.
"Yeah, I had that riff beforehand because we tried that with Ozzy, and it was just one of those you play and that was it," Iommi recalled. "We never had sort of done anything with it, and so once Ronnie came in, we developed it into a song.
"So that was the first one we sort of worked on, really. I had that riff, I had the beginning part – it was the quiet part, and then the riff that goes later, that part, and that's as far as we went. So, as Ronnie came in, we started working on it."
Ronnie James Dio Was Happy When He Talked With Tony Iommi To Make Heaven & Hell Band
Was Ronnie James Dio against forming Heaven & Hell at first? The late singer's former guitarist Doug Aldrich appeared on Metal Injection to reflect on the topic. Explaining why the late musician initially didn't want to work with his friends from Black Sabbath in Heaven & Hell band, he revealed how happy Ronnie was after he met with Tony Iommi.
"I saw him in the elevator going down to meet Tony and he was all dressed up," he says. "He looked really cool and he was just like 'oh yeah, whatever. I'm just going to talk to him.'
"And he came back and he had a real bounce in his step. He was just really happy. It was like how'd it go? He goes, 'It went great! It was so good to catch up with Tony. We had a blast, we had a great conversation,' and he's like, 'He's going to come to the show tonight,' blah, blah, blah.
"So I was there that day that they kind of got back and talked and it was cool because at first he wasn't excited and then he was really excited. And then they made a couple of great songs and then they started touring and they made an album and Heaven & Hell was there."