The Who's Pete Townshend On New Keith Moon Biopic: "I Don't Give A Fuck"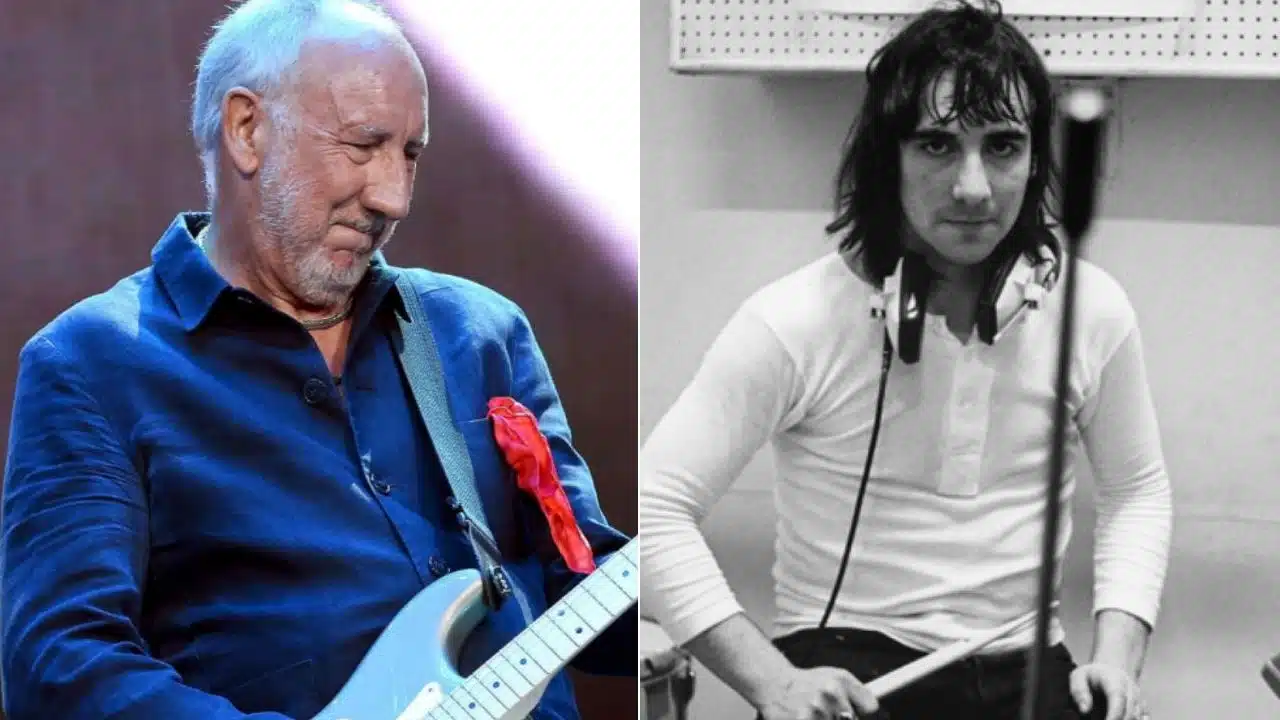 The Who guitarist Pete Townshend has shared his honest thoughts about the new Keith Moon biopic and admitted that he is not excited about it.
Pete Townshend is the guitarist, leader, and backing vocalist of his co-founded rock band The Who. Contributing to the band's entire discography, Pete Townshend has released 12 studio albums, 16 live albums, 27 compilation albums, and much more stuff with The Who. He is the writer of the band's beloved songs Cut My Hair, Odorono, Slip Kid, Imagine a Man, Dreaming from the Waist.
Pete Townshend and Keith Moon were the bandmates from The Who. From 1964 until his passing in 1978, Keith Moon played drums for the band. He was also the backing vocalist of The Who. Throughout his career with the band, Keith Moon contributed to the band's ten studio albums in total, which includes all UK and US releases.
After Keith Moon passed away in 1978 due to an overdose of Heminevrin, the rock community had saddened deeply. To show their respect to the late musician, The Who singer Roger Daltrey and the writer John Lahr worked together to make a biopic in the early '93s. At the beginning of this month, in early February 2022, it is announced that the new Keith Moon biopic, which is provisionally called The Real Me after the Quadrophenia song, will be set to begin this summer.
Recently, Pete Townshend has opened up about the new film project during a recent conversation with Rolling Stone magazine. When the interviewer mentioned the '90s he read about Keith Moon biopic, Townshend explained what the biopic would like. According to him, the Keith Moon biopic is going to be the first semi-fictionalized The Who story.
"When you talk about it as a Keith Moon biopic, it's going to be the first semi-fictionalized, dramatized Who story," Pete claims. "It will be a Who biopic. Somebody is going to have to play Pete Townshend.
"I've read some very, very varied opinions about what my relationship was like with Keith. I view it one way, and another people view it another way. I certainly was never at war with Keith, but neither was I his puppy.
"He was a great manipulator, and a great character, a great showman. He brought a lot of joy, but he also brought a lot of hardship and difficulty. I've always been honest about that. It will be interesting to see how that evolves."
Pete Townshend Admits He Is Not Excited About The New Keith Moon Biopic
In the continuation of his words, Pete Townshend revealed if he is excited about the upcoming Keith Moon film project. Saying that he "doesn't give a fuck" about it, Townshend recalled the '90s he made a conversation with his writer friend John Lahr who sent him a script. Pete stated that he begged John to get the true story about Keith Moon. He begged him because John got those stories from Roger Daltrey, who would turn him into a Rock God.
"I certainly don't see a position where if I didn't like the way the story was being told, I'd block it," he continued. "I don't give a fuck, to be honest. I hope it happens because Roger has been working on it.
"The first script I saw for a Keith Moon film, I was in New York in 1993 working on the Tommy Broadway production. I was sent a script by my friend John Lahr, the writer. It was just OK.
"[So], I called him up and said, 'John, where did you get this Who story from?' He said, 'From Roger.' I said, 'You really need to talk to me. You really need to talk to Bill Curbishley [The Who manager]. You really need to talk to John Entwistle. You really need to talk to his ex-wife. You really need to talk to everybody because what you've got here is just Roger's almost fantastical adoration of Keith.' He'd turned him into a Rock God, in a sense. But how long ago is that? That's over 25 years."
Roger Daltrey's Response To Pete Townshend's 'Rubbish' Words
As some of you might remember, The Who star Roger Daltrey has reacted to Pete Townshend after the guitarist claimed that Daltrey wanted to be Tommy during the band's 1975's film Tommy. Roger said Townshend told rubbish words.
"That's bullshit," Daltrey told during an interview with The Coda Collection. "We didn't know what 'Tommy' was when we were making the album. What a load of rubbish he comes up with!
"But you have to live with it, a funny bunch of fellas…
"Now, when we were making 'Tommy,' he had one kernel of an idea, a little kind of idea in a nutshell, which was, 'I wonder what it would be like to go through life and all you did was experience vibrations. You couldn't hear anything, see anything, or speak anything but there were vibrations coming at you.' And I thought that's an interesting concept, really interesting.
"And then it was the one song which you can hear the roots of, 'Amazing Journey,' you can hear the roots of that song in 'Rael' from 'The Who Sell Out.'
"And, of course, the idea was really, really interesting. So we recorded that one song but it didn't have the whole idea of 'Tommy.'
"We were pitching it together in the studio with ideas kind of coming in from everywhere. The root idea of it was a spiritual journey by someone who was traumatized into being deaf, dumb, and blind.
"But where it was going to end, where it went on its journey was being made up as we went along."