The Top 5 Musicians That Angus Young Named His Favorites Ever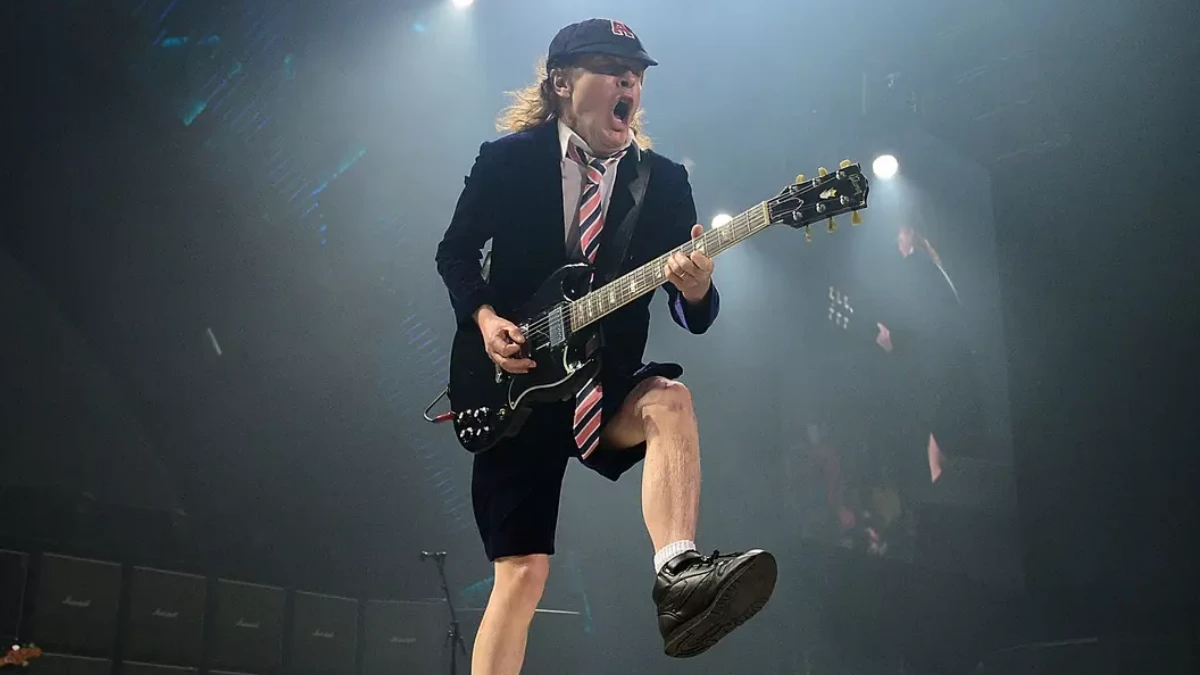 With his signature schoolboy outfit and blazing guitar riffs, Angus Young is a driving force in the Australian rock band AC/DC. His playing style is marked by his high-energy stage presence and blazing guitar riffs. Moreover, Young is known for his use of power chords and quick, precise picking, often using just a few notes to create unforgettable riffs. Since his first day in music, he has been influenced by different guitarists. In this piece, we will reveal the musicians Angus Young named his favorites of all time.
Born in Glasgow, Scotland in 1955, Angus and his family moved to Sydney, Australia when he was still a child. It was there that he would meet future AC/DC members, including his older brother Malcolm Young, with whom he would form the band in 1973. Despite the ups and downs of AC/DC's career, Young has remained committed to the band and their music. He continues to tour and record new material with the band, with their most recent album, Power Up, released in 2020 to critical and commercial acclaim.
One of the defining characteristics of AC/DC's music is its simplicity and straight-ahead approach, and Angus Young's guitar playing is no exception. He incorporates elements of blues and boogie-woogie into his playing, often using the pentatonic scale and incorporating bends and vibrato for added expression. Despite his seemingly simple approach, Young's playing requires a great deal of skill and precision. He has an impeccable sense of timing and an innate ability to create tension and release within a song, making his solos and riffs all the more powerful.
However, let's name the musicians that Angus Young picked as his favorites ever.
The 5 Musicians That Angus Young Picked As His Favorites Of All Time
From the beginning, Angus Young's guitar playing-style was marked by his energetic stage presence and blistering solos. He drew inspiration from the blues and rock and roll legends of the 1950s and 60s, such as Chuck Berry and Little Richard, and added his own distinctive flair. Over the years, Angus Young has named his influences in various interviews. So, let's learn the musicians that influenced Angus Young.
#5. Little Richard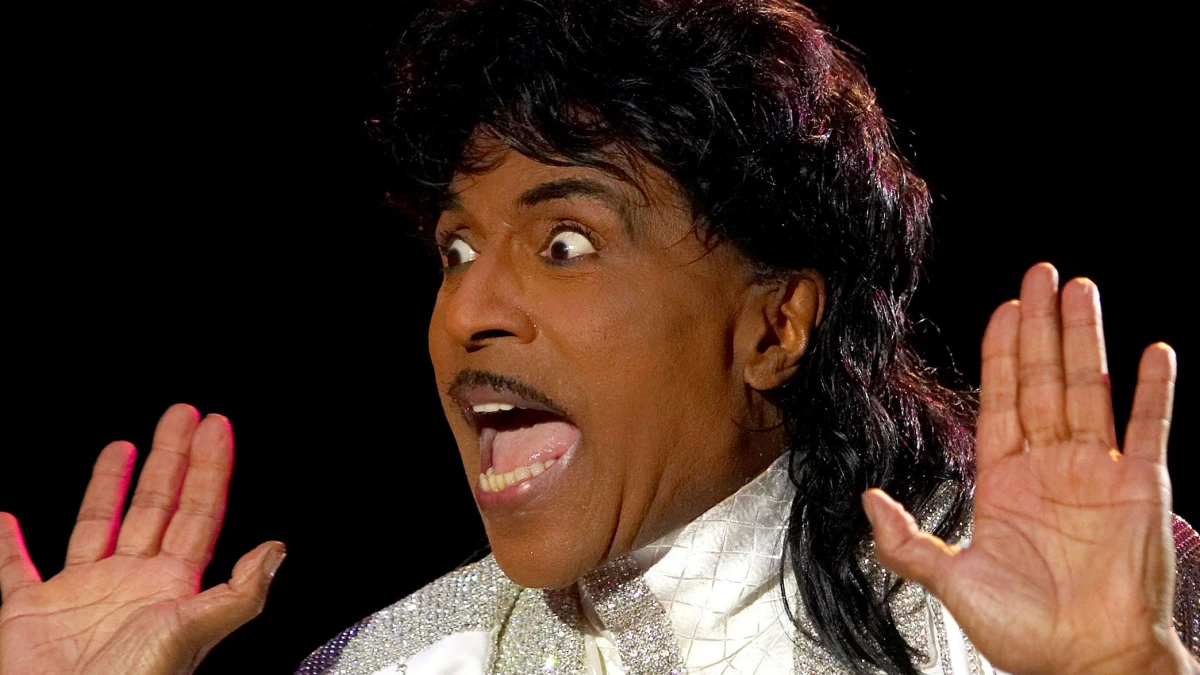 Little Richard, born Richard Wayne Penniman, was one of rock and roll's most influential and dynamic figures. His playing style was a unique blend of boogie-woogie piano, gospel music, and early rock and roll, and Angus Young was influenced by Richard's playing style very much.
The late music legend was also known for his dynamic sense of timing and his ability to build tension and release within a song. He would often start out slow and build to a frenzied climax, unleashing his powerful voice and pounding the keys of the piano with wild abandon. Little Richard's playing style profoundly influenced the early rock and roll scene, inspiring countless musicians to pick up an instrument and start playing.
In 2016, Angus Young named Little Richard his inspiration as a child, saying: "It's a great rock and roll song, first real rock and roll song I ever heard."
Furthermore, Angus Young recalled Bon Scott's reacting first hearing Brian Johnson. At the time, Young said Bon thought Johnson sounded like Little Richard.
"Bon had been in a band that had toured in Britain, and they were opening for the band Brian was in, which was a band called Geordie," he says.
"Anyhow, they were gigging away, and as Bon told the story, he was saying he was listening to Geordie performing and listening to Brian, and then he heard this screaming. He said it sounded great – he said it sounded like Little Richard was on the stage. He said this guy was howling and yelling. And then he said then he saw the guy on the floor. Bon thought it was great – it was the best act he had seen – and a singer – in a long time."
#4. Jerry Lee Lewis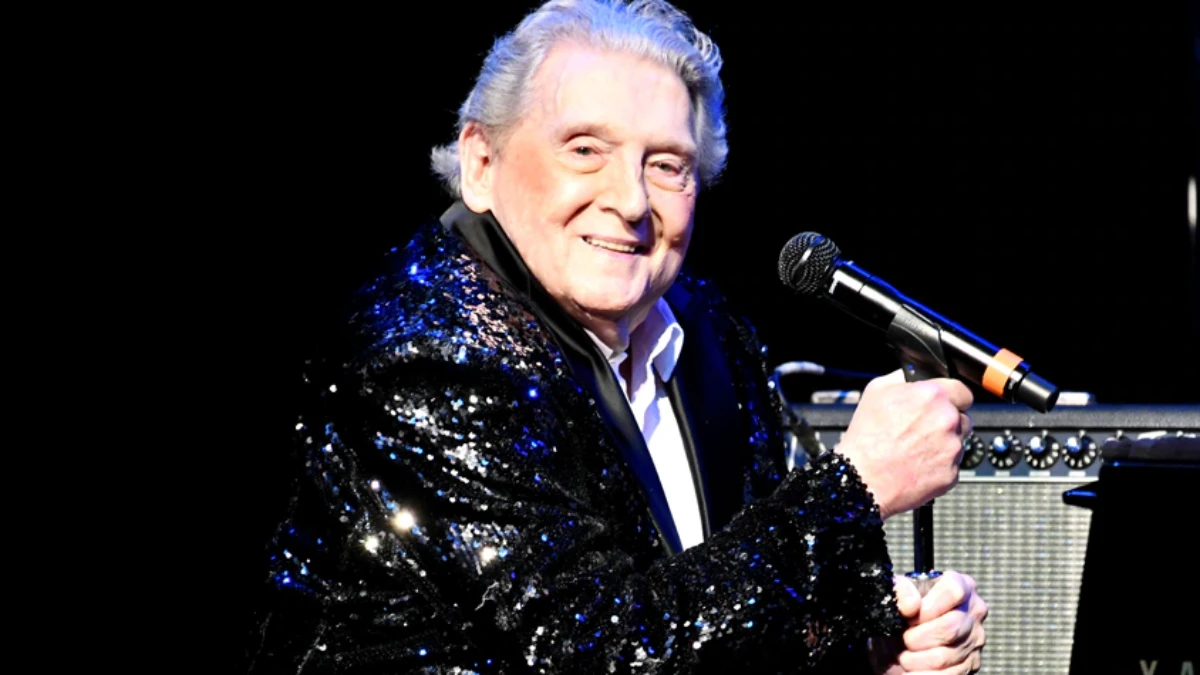 Jerry Lee Lewis' playing style is a testament to his incredible talent and his larger-than-life personality. He helped to define the sound of early rock and roll, inspiring countless musicians to pick up an instrument and start playing. His songs, such as Great Balls of Fire and Whole Lotta Shakin' Goin' On, continue to be beloved by fans of all ages, and his influence on the world of music will undoubtedly continue to be felt for years to come.
One of Lewis' signature techniques is the use of the "glissando," in which he slides his hand up and down the keyboard to create a dramatic effect. He also incorporates elements of gospel music into his playing, with his songs often featuring call-and-response vocals and a sense of spiritual urgency.
Lewis's piano playing is characterized by his frenetic energy, and lightning-fast runs up and down the keyboard. He often plays with a pounding, percussive style, using his left hand to create a driving bassline while his right-hand plays complex, melodic patterns and explosive chords.
Jerry Lee Lewis inspired Angus Young in many ways. One of the most notable aspects of Lewis' playing that influenced Young is his sense of showmanship. Lewis was known for his electrifying performances, often involving standing on his piano and playing with wild abandon. This sense of showmanship and stage presence has clearly rubbed off on Young, who is also known for his high-energy live shows.
#3. Chuck Berry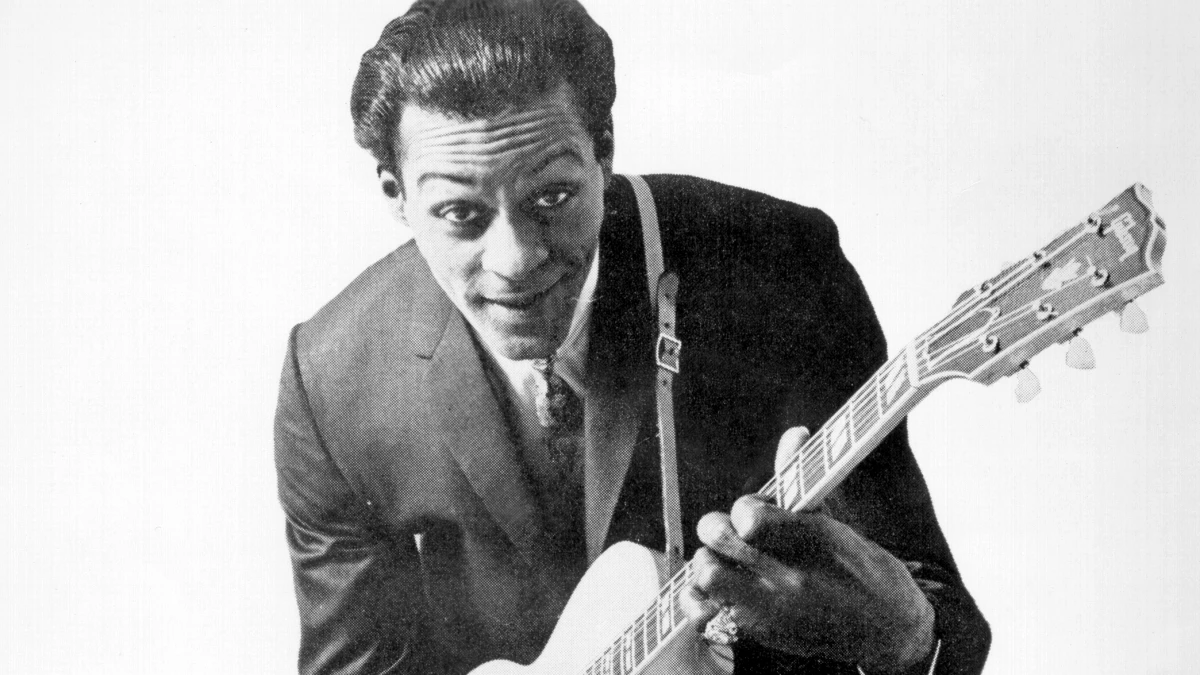 Angus Young also named Chuck Berry one of his influences. He pioneered rock and roll, and his playing style revolutionized music in the 1950s and beyond. He was nicknamed "Father of Rock and Roll" after his works in music.
Berry's most iconic technique was his use of double stops, which involved playing two strings simultaneously to create a melodic and rhythmic effect. He would also frequently use slides, bends, and vibrato to add expressiveness to his playing. His riffs were often simple yet catchy and memorable, which helped to make his songs instantly recognizable.
Focusing on Berry's musical style, his breakthrough came in the mid-1950s with a string of hit singles that would become classics of the rock and roll canon, including Maybellene, Roll Over Beethoven, and Johnny B. Goode. Berry's songs were known for their catchy melodies, driving rhythms, and clever lyrics that often told stories of teenage life and rebellion.
In the past, Angus Young named Chuck Berry his rock god during The Rock Show With Johnnie Walker's Rock God segment. He explained what made Chuck Berry one of the greatest guitarists of all time.
"Chuck Berry was probably one of the great guitar people for rock and roll. He combined a lot of elements — he combined blues, a bit of jazz and his own unique style," Young says.
"He melded all these kind of different genres of music, but he seemed to bring it together and bring it out and it [came] out in that rock and roll style — so plain and simple, but it was so effective."
#2. Jimi Hendrix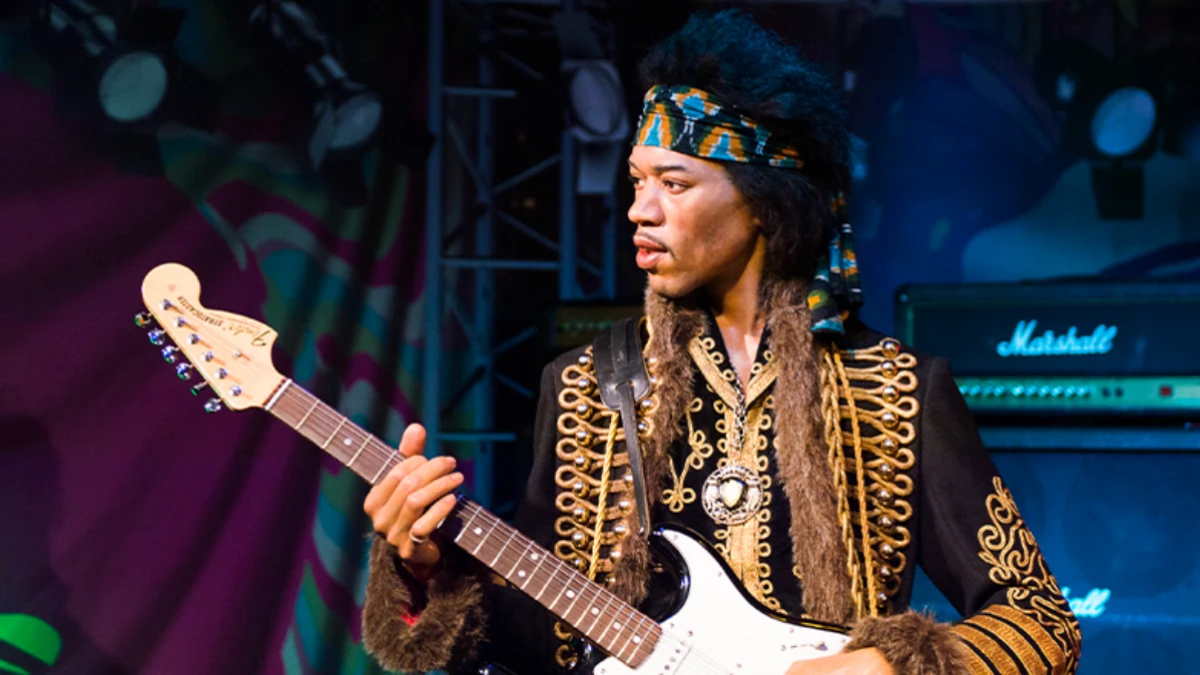 Jimi Hendrix's career was short, but his impact on music was profound. In the early 1960s, Hendrix moved to New York City and began playing in various bands, including the Isley Brothers and Little Richard. He eventually formed his own band, the Jimi Hendrix Experience, and in 1967 they released their debut album, Are You Experienced? The album was a critical and commercial success.
Over the next few years, Hendrix released a series of classic albums, including Axis: Bold as Love and Electric Ladyland, and embarked on a series of high-profile tours. He also made a number of memorable appearances at music festivals, including the Monterey Pop Festival and Woodstock, where he cemented his reputation as one of the most exciting and innovative guitarists in the world.
In April 2021, Angus Young discussed what inspired AC/DC in the making process of the Power Up album. According to him, he was impressed by Purple Haze.
"Around when I was about 13, 14, that's when Jimi Hendrix appeared on the horizon, and when I first heard the song 'Purple Haze', I was totally enthralled," Young said. "I was just so impressed with it. When along came Hendrix, you kind of went, 'Woah! This is another level on guitar.' So I was very much a fan of that."
#1. Muddy Waters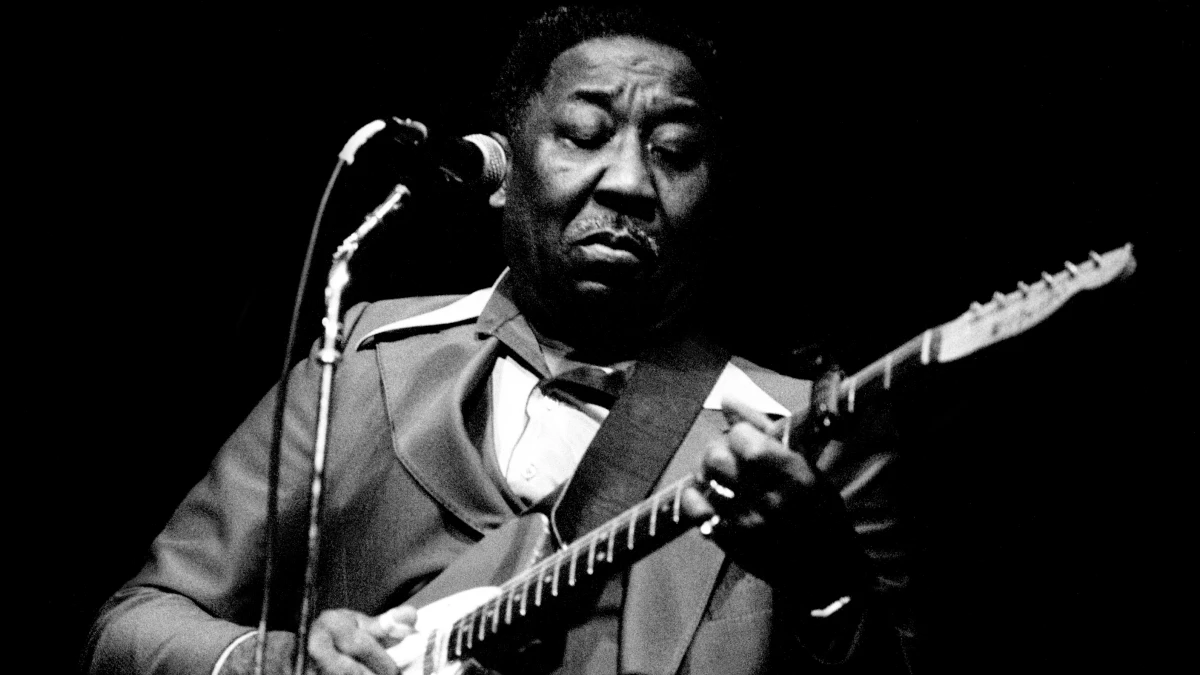 Waters' influence on the blues and rock and roll genres was immense. He inspired countless musicians, including Eric Clapton, Jimi Hendrix, and The Rolling Stones, who took their names from one of his songs. Waters continued to perform and record throughout his career, earning numerous accolades, including a Grammy Award in 1971. Angus Young was also the guitarist who was influenced by Muddy Waters.
The guitar legend began playing the harmonica as a child and later learned to play the guitar. In the late 1930s, he moved to Chicago, where he began playing in the city's blues clubs. He was discovered by music producer Lester Melrose, who helped him secure a recording contract with the Chess record label.
In the 1940s and 1950s, Waters recorded a series of influential blues songs, including Rollin' Stone, I Can't Be Satisfied, and Hoochie Coochie Man. He became known for his powerful vocals and innovative guitar playing, which combined traditional blues with elements of rock and roll.
In 2020, Angus Young admitted he loved Muddy Waters' happiness in music.
"I've never really been into the depression stuff," Young reveals. "I've always liked the happy sort of blues music, like Muddy Waters. Even though he might have been singing about his woman running off with a nineteen year-old bus driver from Florida, there would be an element of humor in it, and that's what I've always loved."
Angus Young's Favorite Musicians:
Chuck Berry
Muddy Waters
Jimi Hendrix
Jerry Lee Lewis
Little Richard